Do you remember great sound? Perhaps you're seeking it again, and you should be. The Klipsch RF-7 III floor standing speakers will not only bring back the memories of great sound, they will set the new standard.
Already decided on these tower speakers? Check out the box below, click the button and it will take you to the best price at Amazon.
The Klipsch RF-7 III Floor Standing Speaker
Incredible sound with performance well above its price point, the Klipsch RF-7 III was designed for music and movie fanatics.
Take a look at some customer reviews we gathered up to highlight some of key features every owner is raving about.
Start powering up your sound system today!
Klipsch has been doing all things audio for decades, and at a high level. A world class company, they are proud that all their speakers are engineered in America. Now, that doesn't necessarily mean it's the best, but most audio companies manufacturer in Asia, so it's nice to know that everything is made in-house.
​The RF-7 III has some incredible features and some vintage Klipsch technologies that will rock your world.
Top Features Klipsch RF-7 III Review
Learning the features will help you choose a tower speaker that is right for you. By now, you should be checking out the pros and cons to each speaker you are interested in. Hopefully, this guide will get you one step closer to pulling the trigger. Just take a look at these amazing features the klipsch rf 7 iii has:
​Newly constructed 1 ¾" Titanium Compression Driver
​Molded rubber Tractrix horn (90×90 compressed)
​Totally redesigned and upgraded bifurcated cabinet
Dual Tractrix Ports
Little vibration
Woofers – dual ten-inch cast basket cerametallic
​Finished in a high quality (premium) furniture-grade wood veneer
​Assembled in America
Lightweight so you can easily move them around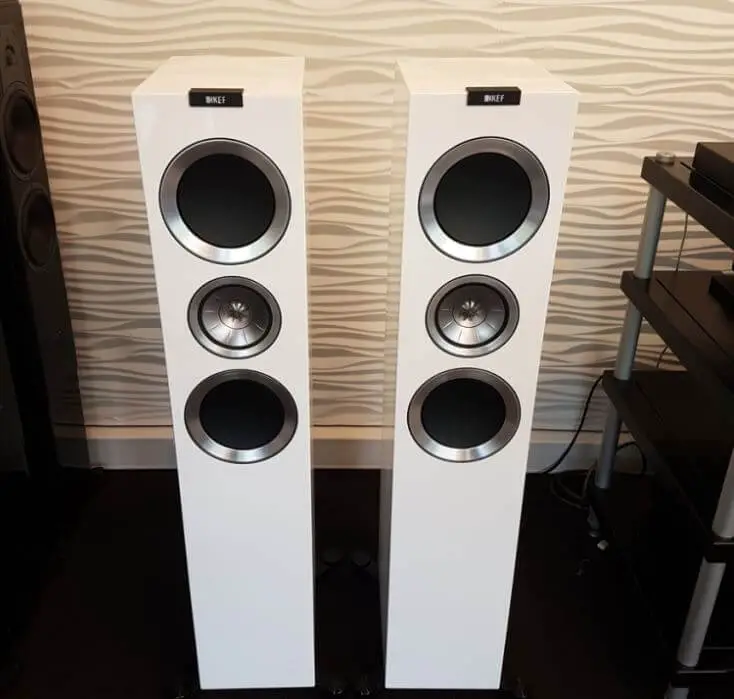 The titanium compression drive helps make the sound more full, without losing the crispness. For example, if you like listening to classic rock music, you will fully hear all the instruments and the song all together. There isn't one sound you will miss. These drivers are the real deal.
Customers rave about their drivers, which are designed in-house, but they also love the vintage Tractrix horn. It's something that Klipsch is known for because its very unique to their brand, and many other brands don't have the secret recipe
Klipsch is always trying to improve its tractrix horn, and this one has been redesigned to further improve high-frequency response and extension. At the same time, the tractrix horn enhances dynamics and imaging. Because the molded rubber is compressed, it improves sound detail to create clean, natural sound (which is what we're all after).
Customer Reviews
Audiophile fanatics absolutely love these speakers. The thing is, they are dead nuts right. Once you hear what these can do in person, your whole body gets an adrenaline rush like you've never felt. The sound is so impressive and we just can't say enough good things about it.
Check out what a few others say about them:
Insert Image
Comparable Competitors
First off, if you haven't checked it out, we did a top ten tower speakers review and buying guide. Second, there are some individual competitor speakers out there that compare with the Klipsch RF-7 III. Let's take a closer look at those right now.
Focal Aria 948 (click for review)
Now, the Focal Aria 948 is a bit more expensive, but very comparable in terms of the features and some of the specs. With all the technical talk set aside, you are getting a little bit better of a speaker with the Focal Aria 948, but not by much. It's pretty even and we love both of them. Literally can't go wrong with either product.
The Klipsch RF-7 III vs KEF R900 is an excellent comparison. Different companies of course, but wow! AMAZING sound on both of them. If we had to choose one or the other, we would of course go with the Klipsch
Klipsch RP-280F (click for review)
MUCH cheaper option, but not as much power (obviously). However, if your budget is not even close to the RF-7 III, then please take a good, hard look at the RP-280F because they are incredible for the price. The great news is you are going to get the Tractrix horn and copper woofers – they make for a fantastic sound. Again, they are just not going to be as powerful as the RF-7 III.
Conclusion
Our entire objective is to help you find which speaker will work for you best. It's not about buying this exact make and model, it's about getting the information you need to make a great buying decision.
We can say with full confidence that the Klipsch RF-7 III is something that you will absolutely love and will last you for a very, very long time. These speakers are built to last, especially when you stack them with the right audio equipment.
Overall, we know for a fact these floorstanding speakers are one for the ages. The sound they produce makes listening to music or watching movies fun again. So, bring back those memories of great sound, we already have and we aren't looking back.
Ready to Supercharge Your Sound System?
Experience sound like you have never heard with these loud speakers. Get ready for an enhanced sound experience with your music, movie or games. Now is the time to power up your sound system!