We're excited to bring you a full review on the KEF R900 because of how incredible these hi-fi speakers are. With so many people wanting to improve their audio experience when watching movies, listening to music or gaming, it's not easy finding a tower speaker that will make you happy.
Already decided on purchasing the KEF R900 Floorstanding Speakers? If so, check out the latest price at Amazon. Our website receives a commission if you purchase through our link without any extra cost to you. We are very thankful if you do because it helps keep our site going to provide everyone accurate information on all things music and audio.
KEF R900 Floor Standing Speakers
Beautiful, sleek and sexy design, these babies will power up your sound system.
We have some recommended power amps to go along with the r900, once you decide they are for you.
Featuring an amazing bass plus treble combination, these are an excellent buy for anyone who loves music or movies at an enhanced level.
Our entire goal is to provide you with information that will help you decide. We have a whole list of floor standing speakers, and we break them down by budget.
If you're a Marvel movie fan, or classic rock die-hard, these speakers will ROCK your world. When you hear these for the first time in person, you will be almost awe-struck. The mix of bass and treble alone is so impressive.
KEF has been in the industry for years and are based out of the UK. Now, they are designed in the UK, but manufactured in China. That's not necessarily a bad thing because almost ALL audio companies manufacture their products in Asia. Some of the best technologies are produced in China and it's perfectly fine.
There are more expensive KEF models out there, such as the Blade and Blade 2. As good as the Blade models are, the r900's specs are not too far off and cost way less than half the price. In addition, they have an astonishingly good sound, projective accuracy and may present enough features for you to pull the trigger.
Top Features KEF R900 Review
We love strong, clear and precise sound. Here's the deal, that's what you're going to get with these. There are some amazing features to say the least. We'll show you a list below of what everyone loves about them, then we'll go more in depth below the list.
​5.25 inch Uni-Q driver array – helps create a more natural sound
​Twin 8 inch low-frequency drivers above and below the Uni-Q array – ensures clean and deep bass
​'Tangerine' waveguide technology – helps enhance the natural sounds and you don't have to point the speaker directly where you're sitting to get all the effects
Cutting-Edge Bass Driver
Little vibration
One-inch aluminum dome tweeter right at its acoustic center
​Eight inch aluminum cone woofer
​Magnetically attached grille
​Lighter in weight (65 pounds each)
​Four-spike special mounting platform (easy to install)
​Two pairs of binding posts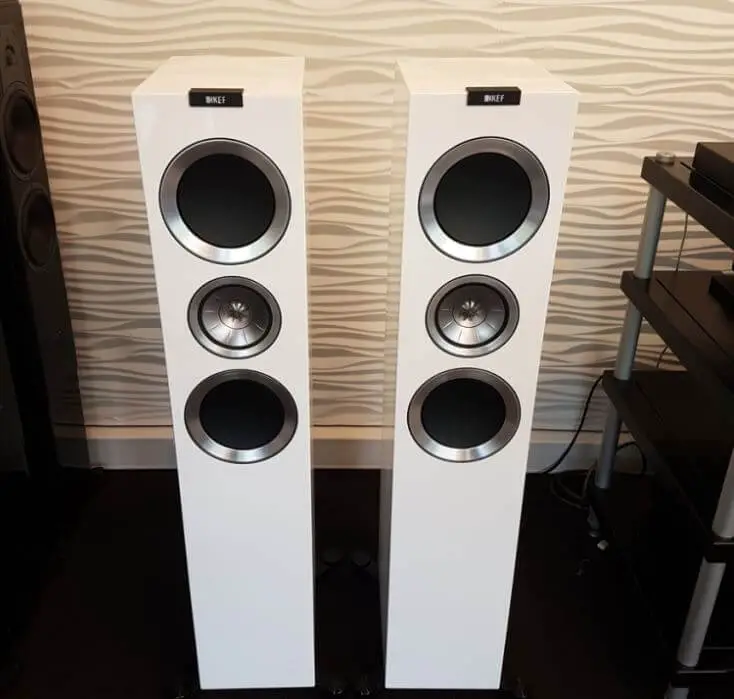 As soon as you listen to this specific tower speaker in person (and crank up the volume) you will understand exactly how amazing the sound is. It is a well-conceived, three way floorstanding speaker that is far more valuable than its price point.
The 1-inch aluminum dome tweeter doesn't jump out at you, but it's just there. Voices and solo instruments will be clear and open, without boxiness or bloat. This tweeter is the same sophisticated technology as the Blade. In fact, there are a lot of similar features, the only major difference is the power / specs.
Our Recommended Power Amps for KEF R900
Component matching isn't always simple, that's for sure. In order for you to save some time looking or asking around, we put a few power amps that you can stack your new speaker up with.
This is everything you need in one and it sounds fantastic!
So many people have been using this power amp because it offers so much. Lots of great reviews on it, especially with the r900.
Parasound Power Amp (check price)
Really great power amp to pair with this model.
Competitor Comparisons
Many audiophiles compare the Focal Aria 948 vs KEF R900 for many reasons. First, their prices are pretty comparable. Second, their specs can be considered very similar. Lastly, and probably more importantly, the sounds they produce are really good. Check out our full Focal Aria 948 review, which we believe is better than the KEF R900, to get a good idea of how they stack up against each other. Both are excellent choices, so it's really which ever will make you more happy.
Conclusion
When looking into a hi-fi tower speaker, you cannot look past the KEF R900. The bass plus treble mix alone is worth every penny. In fact, you're actually getting a really good bargain because we believe the price is lower than what it's worth.
Compared to the Blade, which is VERY expensive, you're getting something just as special at a huge reduction in price. We'll leave you with this: always remember to find out what you want your speakers to do and which ones will make you happy.
Ready to Take Your Sound System to the Next Level?
Imagine these loud speakers sitting in the corners of your living room creating an experience of a lifetime. There's nothing like getting lost in the sweet sounds of your favorite movie and music that catch every detail imaginable. This is the time to get your sound to the next level!