Every audio company on the market today has its critics. There's always the people who don't like the speakers or amps that the company produces.
With KEF, there's one complaint that we hear above just about anything else regarding why people don't like it, which is the top end sound.
Is it just a myth? Or, is it true? And… have they fixed it? More on this later…
But today, we're here to show you what the KEF Q150 bookshelf speakers bring to the table. We'll show you the glaring pros and cons. In addition, we'll sum up customer reviews.
These speakers are worth every second of your time to check out as you will get a thumping bass power, compact design and a sleek look to match your sound space.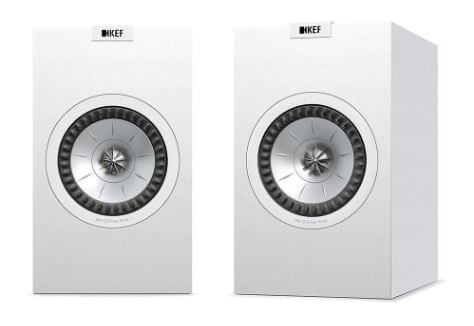 Already decided on them? Go here (amazon) for the current price.
If you aren't ready to pull the trigger, use the table below or keep reading this review on the KEF Q150 to make an informed buying decision.
Table of Contents
Presenting the KEF Q150 Bookshelf Speakers
First and foremost, the KEF Q150 bookshelf speaker is not soft, but warm and smooth. It does have a fair bit of detail, but it's not overwhelming, not overly analytical, not ever harsh by any calculation.
There isn't one review out there mentioning the treble being too bright. Let's take a look at all the top features.
Want detail in your sound? This speaker produces clear, warm and smooth sound that you just can't get enough of, but that's not all it does. The Q150 by KEF is a perfect choice for you if you are looking for:
Outstanding tweeter placed in the center of the midrange cone
Impeccable and accurate acoustics
Great for medium-sized rooms
Improved clarity from previous model
Amazing detail
Can play lower frequencies
Place anywhere
Good soundstage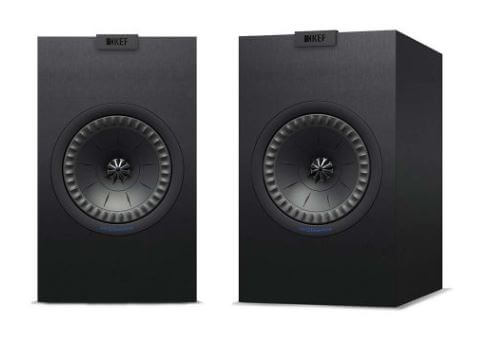 Let's take a closer at the pros and cons of these pair of speakers.
Pros of the KEF Q150:
Amazing soundstage
Two-way bass-reflex design
Redesigned interior cabinet (reduces internal resonance for clear sound)
1-inch tweeter
Enhanced 5.25-inch Uni-Q driver array
Compact, sleek and sophisticated design
MDF cabinet
Soundstage and the disappearing act. The Q150 is one of the more elusive speakers we have played around with. In terms of sound in the room you have it set up in, the speaker will never know where you are. Meaning, it sounds the same wherever you stand in that room.
The KEF Q150s are very forgiving in terms of placement. You can back them into the wall or you can pull them far out. With that being said, you're still going to get fairly good soundstage in sub-optimal positions. On the other hand, they do a great job of rewarding you if you do place them in their optimal position, which is actually pulled out really far away from the wall.
When set up optimally, this speaker is incredible to say the least. It is a testament to imaging and soundstage like its a sport.
The Q150 is also very good at vocals, but the vocals have a particular style and more has to do with imaging and soundstaging to delivery. It's very backed-up into the music. So, it's not going to be as forward as some other speakers. Depending on your preference, you may like one side over the other.
We are big Postmodern Jukebox fans and listening to them on these speakers is absolutely legendary. The whole discography is amazing.
Cons of the KEF Q150:
Midrange isn't high end
No speaker grills
The sound is close to excellent, but not perfect.
Let's take a closer look as to why.
Bass response is warm, fairly deep and detailed to a point. Once you start pushing these speakers a bit, you're probably going to find a limit to it if you try to.
We also don't like these in large rooms because of the limitations of the driver. We recommend small or medium sized rooms, medium rooms will be optimal for the Q150.
Another potentially bad thing is that it is not an analytical speaker. It emphasizes enjoyability and smooth, rich sound over just about every other feature. And, if you want that, this speaker isn't going to be the one for you.
The other downside is the price for some people. We feature this in our under $1,000 top seven list because we love it so much.
Sometimes they go on sale for under $500. Normally they sell for just under $600. Obviously, if you find them on sale go for it. Even if they aren't, we still highly recommend this speaker.
Now that you have our humble opinion on the Q150's, let's check out what customers are saying about these pair of speakers.
KEF Q150 Reviews: What are buyers saying online?
According to buyers on amazon, the average rating customer reviews is 4.6 out of 5 stars with only a handful of complaints.

After reading all negative reviews, we found that these customers were looking to get better midrange quality out of their bookshelf speakers. They note that the midrange quality is very good, but not up to their personal standards. This is a matter of opinion and there's only a few of these across the web, which shows that the Q150's are legit.
Many customers have expressed how the KEF Q150 series is much better than the Q100 series, and they immediately recognize that out of the box. The users love the Uni-Q sound, CFD designed port and the Q Series Optimised features. In addition, buyers adore the look, feel and design of the Q150's.
To sum it up, nearly all reviews are positive and they are becoming a popular bookshelf speaker due to their high performance reputation.
Check latest price at amazon.com ????
According to customers, how does the KEF Q 150 sound with Music?
Depending on what you like to hear, the KEF Q150 can sound absolutely beautiful. Like we mentioned before, your will get unbelievable discography with band-type music. We love Postmodern Jukebox (for obvious reasons) and you can get some articulate dynamics. In addition, classic rock is great with these.
According to customers, how does the KEF Q150 sound with Movies?
If you plan on using your bookshelf speakers for surround sound, the Q150s are quite impressive. Just based off the characteristics we mentioned already, you're going to get dynamic sound with great vocals, which is exactly what you should be looking for with surround sound speakers.
Comparable Competitors
If you have $600 to spend, we have a few comparable competitors. Carefully read each speaker's description so you can get a good feel for what you'll be getting.
Elac UB5
If you have $600 to spend, and you're looking for a pair of bookshelf speakers, we actually recommend the Elac UB5 vs KEF Q150. In almost every category, it's just a better deal and a better speaker.
If you aren't chasing after an extremely smooth characteristic speaker (which is what the KEF Q150 is) the Elac UB5 is better in just about every category. Build quality, dynamics and analytical sound without being too harsh or too taxing on your system. You just feel like you have a better understanding of the music and that's what this boils down to.
If you don't have a big budget, the JBL 530s are an excellent choice. Now, they are a discontinued item, but you can still find them online. Audiophiles absolutely love these speakers and will have some of the same features as the Q150. So, a very comparable speaker in terms of features. Design wise, the Q150s look and feel much better. Read full review here.
Klipsch RP-600M
An amazing bookshelf speaker to say the least, the Klipsch RP-600M has got it going on! You're going to get an entire step above the Q150s. The sound is just incredible and the bass has a little more power to it. Now, the downside is the price will be a little higher as well. However, if you have $700 to spend on bookshelf speakers, definitely go with these.
Final Verdict
What a great bookshelf speaker to own and enjoy music, movies or games. Good sound is hard to come by, but it's all possible with the KEF Q150. Even the comparable competitor section – if you choose any of those, you're getting a high-quality speaker. In closing, if you have the budget for the Q150, go for it. You will LOVE it.
Ready to Finally Listen to what is Supposed to be Heard?
These speakers will give you a smooth, transparent and dynamic sound. Charge up your sound system, you can't go wrong with these.