A great floor standing speaker, the JBL Studio 590 delivers massive amounts of super accurate sound when listening to your favorite movies or music. One of the best qualities the 590 has is it allows you to listen to music and enjoy a full range sound. The tough part is actually finding one for sale.
If you already decided on this tower speaker, we found one for sale (used – like new) at Amazon. There are not many left, so we recommend at the very least add it to your cart while shopping around other marketplaces.

Sometimes Old School is better than New School! Just ask any audiophile fanatic out there!
The main feature is the clear, clean, and articulate bass. It drives the sounds and can put you in a wonderful vibration!
Our review is completely unbiased because we want you to choose a speaker that will work for you best and make you happy, all while lasting a long time.
With that being said, we do really like the Studio 590. It's amazing how many people out there are still looking for this exact model speaker. Like we said before, if you can find one, and you already decided on it, get it ASAP.
If you do get lucky enough to find and get one, you're going to have a speaker that performs well above its price tag. However, if you're having trouble finding one, there are other great options as you will see in our comparable competitors section.
JBL is one of the most well respected names in sound. They did a fantastic job with the inside parts of the speaker. On the other hand, some people don't like their looks. However, we think they are very unique and go with almost any room you can imagine. There are plenty of features, so let's take a look at them.
Top Features JBL Studio 590 Reviews
Designed right the first time around, these babies will give you everything you need for any type of music. Movies, on the other hand, we'll discuss that a little later. For now, let's check out these features.
25-250 Watts Suggested Amplifier Power Range
​Dual 8" Woofer Cones
​Symmetrical Field Geometry magnet assembly
One-inch high-frequency compression driver
Small vibration
Glass-filled frequency horn
​Clean transition sounds
​Not super heavy
​Reduced distortion
​Outstanding Bass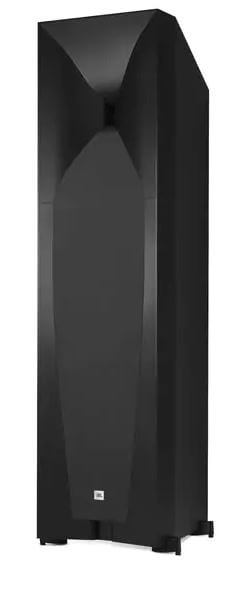 This is one of the few tower speakers that was so incredibly made years ago and is still a hot commodity. There are plenty of stories out there of people wishing they hadn't sold their pair because it was the best speaker they ever had.
We mention in almost every speaker review that, if you're on the fence about a speaker, go listen to a bunch of them live (in person). There are drivers, woofers and horns that perform differently with specific speakers, so it will all come down to preference.
With the JBL Studio 590, you're going to get enhanced room-filling sound with the 25-250 watt suggested power amplifier feature. Then, with the dual 8" ribbed PolyPlas woofer cones, like we mentioned above, will provide a rich, articulate and powerful bass. It's the type of bass that you will feel with your body. Only those who have owned them in the past will be able to relate to that statement.
The sound clarity, loudness and zero distortion is what separates this speaker from most brands and models. However, like we said before, there are some really comparable competitors that we should take a look at before we just decide on the 590s.
Comparable Competitors
Klipsch RP-280F
Sometimes, they put these bad boys on sale, and when they do, jump on them. It's like if the 590s went on sale – you just don't pass that deal up. Very comparable tower speaker to say the least. Bass and woofers, performance-wise, may be the best you can get for the price tag. Great for classic rock, house, jazz, pop and movies.
SVS Ultra Towers
Identical in price range and almost the same exact features, you aren't going to get too much closer than this option. JBL Studio 590's bass is what it's known for, but we can tell you for a fact that the SVS Towers have a deeper, clearer bass.
KEF R900
Far above the price range (but you get what you pay for), these speakers as we mentioned in our full review will rock your world. They have a little bit more power in the drivers compared to the JBL Studio 590. The bass' are comparable, but the over sound goes to KEF.
Focal Aria 926
Not too far off in pice (you can get a pair for under $2,500). These are some of our favorite speakers. Very well designed and you'll get some real deal power out of them. Overall a better choice than the JBL Studio 590.
If Price isn't an issue:
We say take a look at the Klipsch RF-7 III (in-depth review) or the Focal Aria 948 (extensive review). We also review plenty of floor standing speakers and break them down by budget.
How do they sound with Music?
For music lovers, these speakers are really good and we will give it a four out of five stars. Listening to classic rock, you will hear the bass guitar as well as detailed vocals. It's almost as if you are in the front row of a rock concert. It's pretty unique and almost addicting. If you like house music, it's really good with that too because of the bass.
Drum notes sound excellent as well, which is important for getting into the beat. Furthermore, the bass is very deep (which isn't for everyone).
How do they sound with Movies?
Not a ton of connectivity options because it is an older model. Now, if you are an experienced audiophile and can figure out what to pair it with – you'll love it with movies. Amazingly powerful bass. Vocals are accurate and natural. The midrange is neutral, but not very prominent. Overall you'll get a good experience watching a good action flick. This is way more of a music speaker than a movie speaker. Go with one of the alternatives / competitor speakers if you are looking to enhance your movie sound system.
The Verdict
If you are ever on the fence about a few speakers, make sure you test them out and read more of our reviews for comparisons, pros and cons.
Not everyone needs to do this, but go to your local audio store and listen to the ones you like the most. Sometimes you just need to hear music to get a feel for what you like because every speaker is going to sound a little different.
If you don't have the time (like most people) we do highly recommend this speaker. At the same time, if we had to choose between the 590 and some of the other options, we would give them a serious look.
Still Going to Get the JBL Studio 590?
Perhaps its been a long time coming, or you're brand new to the audio world. In either case, its an exciting time purchasing a world-class tower speaker. ROCK ON!