A true acoustic loudspeaker, the Focal Aria 948 is considered the tower of power by many audiophiles. Before we dive into specs, let's get one thing straight, this is a statement speaker.
If you like listening to classic rock, pop some Led Zeppelin and the 948s will literally rock your world. Pair them with a 36 watt tube amplifier you'll be blown away by the sound it can produce.
We love this speaker so much that in our best floor standing speakers top ten list, we slotted the Focal Aria 948 in the number one slot.
Table of Contents 1Reviews of Focal Aria 948: What Are Customers Saying About These Loudspeakers?2Rating Focal Aria's 948 Top Features: My EvalDesignConclusionReady to Supercharge Your Sound System?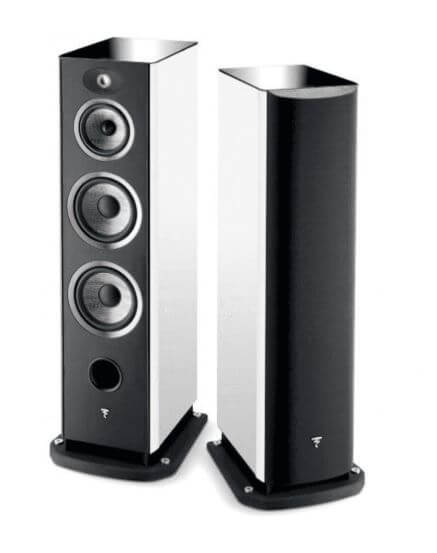 Focal Aria 948 Floor Standing Speakers
Already decided on buying the 948s? If you have, here's the link to the product page at Amazon. Focal is one of those brands that doesn't sell on their website, but their brand does sell at Amazon. Check out their amazon brand page here.
If you aren't ready to buy just yet, keep scrolling down and take the time to really learn about these. They are an amazing product and it's really hard to tell anyone how good they actually are.
You see, Focal is the real deal. They used to make drivers for almost every other speaker company out there. This was before they manufactured speakers themselves. Finally, after producing the most important piece of technology and distributing it to speaker manufacturers, they thought, we should create our own speakers.
Good thing they did because they create masterpieces that pretty much no other manufacturer can replicate.
First, let's take a look at what verified customers that purchased these loudspeakers have to say. Then, I'll show you my personal thoughts and my final evaluation.
Reviews of Focal Aria 948: What Are Customers Saying About These Loudspeakers?
According to their website, 61 reviews for Focal Aria 948 floor standing speakers are 5 out of 5 stars, while only a few that are 3 stars or below. At first glance, I cannot think of one reason why anyone would submit a complaint about these babies. So, I decided to check out what happened.
After reading all negative reviews, I found that all of them had to do with either complaints about the leather finish or a rare technical issue. However, all complaints were promptly answered by Focal's support team, which shows a strong sign of outstanding customer service and professionalism.
Most audiophiles would agree that a set of loudspeakers like these have been on all of our wish lists for years. This company allows for people to fill that wish quickly and at a bargain of a price.
Overall, people that have purchased the 948's are so excited about the performance, finish, intense base and the full and direct sound these speakers produce. Let's check out the testimonials left by verified buyers below: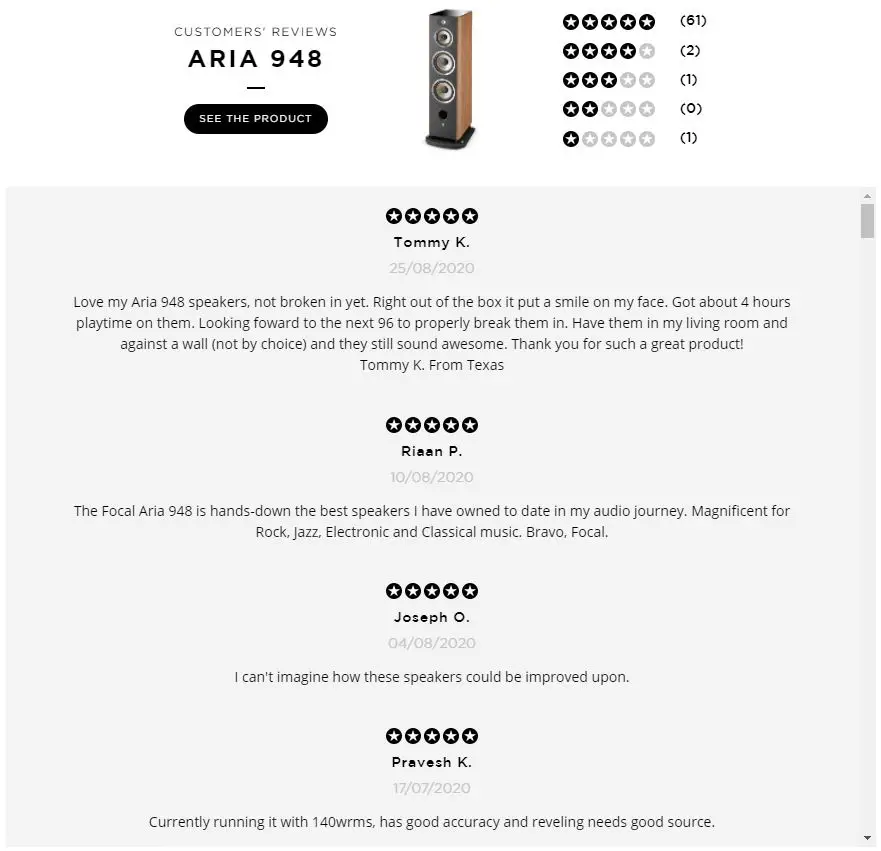 Rating Focal Aria's 948 Top Features: My Eval
This is an updated section that I just had to add because so many people have been asking me about the performance aspect of these loudspeakers. Here's the deal, this is completely unbiased. I have used and tested tons of floor standing speakers (some highly rated, some not). This is my personal opinion of the 948's, or as I like to call them…
A gift from the gods. Check out the table below, which represents my ratings and how I feel about this product.
| 948's | Bass | Vibration | Midrange | Drivers | Tweeters | Design |
| --- | --- | --- | --- | --- | --- | --- |
| Ratings | | | | | | |
So many amazing features. Here's a quick view list for you to gaze over, and just underneath is our more in depth analysis. This is an exciting review for us because we know for a fact if you buy them you will be ecstatic with your decision. It's literally a no brainer, IF you have the budget.
If you do have the budget and you're on the fence about pulling the trigger, take a look at these features.
Intense Bass
Flax midrange cone for a very Natural Sound and impressive presence
New TNF tweeter with Poron suspension, which creates smoother sound
Soft Treble
Very little vibration
Floor-facing vent for increased depth
Flax bass cone for articulate bass
Drivers developed and manufactured in France by Focal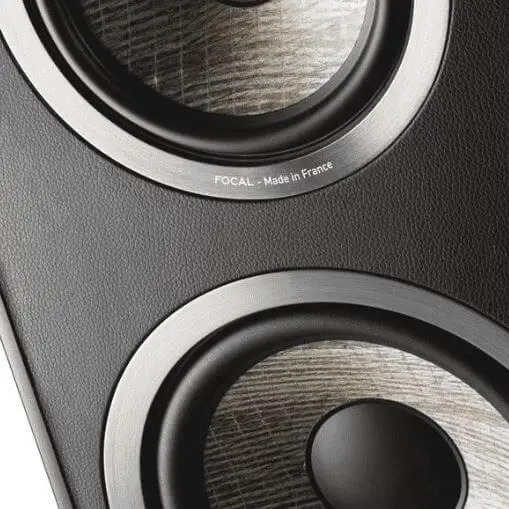 There are some impressive features with this tower speaker. Once you turn up the volume, you will understand just how intense the bass actually is. The crazy part is that it has near zero vibration. It's very little for how articulate the bass is.
Everything they make is in-house. It's 100% European and not made in China, which is extremely hard to come by in this industry.
The magnesium and aluminum inverted dome tweeter is something that Focal has pioneered. It is an absolutely perfect tweeter. The top end sound goes on forever, yet it doesn't sound bitey.
Design
Beautiful, elegant, impeccable and sexy. These are the four words we think of when looking at it in person. First, the cabinet, just like everything else, is made in-house. Second, you have a fabulous glass top, an amazing dense cabinet and then you get REAL leather (not faux) on the front panel. Finally, and we'll say it again, this is a true European speaker, with European engineering with drivers and cabinets that are made in-house.
Conclusion
It is near impossible to tell you how good it is. At this price, it is a ROCKIN' speaker that has all the glory you can ask for. Here's the thing, we review almost every floorstanding speaker and we don't play favorites. With that being said, we'll have all the information you need on each tower speaker and you choose which one will make your happy long-term.
Don't buy something just because it gets a good review. Buy the thing that is appropriate for you, something that you really want, the speaker that does all the things you want it to do and for the room you want it in. Our entire goal is to help you with that.
Ready to Supercharge Your Sound System?
For most of us, we want that extra oomph when listening to the music we love, or the movies we live for. That opportunity is here with this speaker. It is SO good and like we said before, it will rock your world!