The limited-edition Dynaudio Special 40 was created to celebrate the Danish company's 40th anniversary. This is one of those speakers that do not come around too often. Dynaudio is a very reputable brand that lives and breathes audio equipment, and they knocked these bookshelf speakers out of the park.
It's a very special speaker that has tremendous bass weight to it where you can actually feel the bass from anywhere in the room. At the same time, however, that powerful bass does not muddy up the highs.
There's an underlying problem with bookshelf speakers a lot of the time, and that is you get a lot of bass. The highs are usually muddled, or obscured by that bass (or mid bass) warmth. So for those who really like detail in their sound, it gets kind of distorted in a way.
With the Special 40s, you will get astonishing bass warmth and super accurate details when listening to music or using them for movies. The Special 40s are indeed special, and are at a great price tag.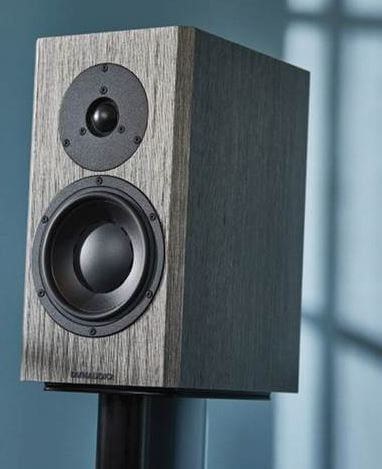 Already decided on these? Check out the price below. Sometimes they go on sale, so act fast if you can get them for a bargain.
Get something that will last you for a long time, and a speaker that will make you happy. We truly believe that getting a pair of the Special 40s (along with a power amp) you will have what every music lover wants – special sound from a hi fi 2 channel speaker set up.
These amazing set of speakers are the most powerful, well balanced and amazing sounding masterpieces that we've heard in a bookshelf under $10,000.
So, if you're looking for a balanced speaker where you can get lows, mids and highs that all balance out and form a cohesive sound, the Dynaudio Special 40 might be what you're looking for.
Precise imaging where you hear the instruments in space floating in front of you while they're played. That's the attributes of a magical sound system. The soundstage is absolutely stunning and is so wide where you can hear the singer along with the rest of the instruments.
For those who are just looking to get some good background music going in your living room, these speakers are a great choice for that. On the flip side, for any audiophile out there that is looking for an upgrade, and that magical experience, these can do it for you.
With that being said, you'll need the right amplification and the right cables. Any power amp that has 40 watts will do the trick. Look for high current amps, which are better to have than watts. For whatever reason, the Special 40s work better with high current amps – so take that for what it's worth.
Top Features Dynaudio Special 40 Review
So many great features with these. Check them out and see if it matched what you are looking for.
Cutting-edge acoustic technology
​17cm woofer with an AirFlow Basket and hybrid magnet system
​Classic Dynaudio crossover
Made in-house
DSR precision-coated 28mm soft-dome tweeter
Special finishes
​Aluminium voice-coils
​Dimensions: 7.8″W x 14.2″H x 12.7″D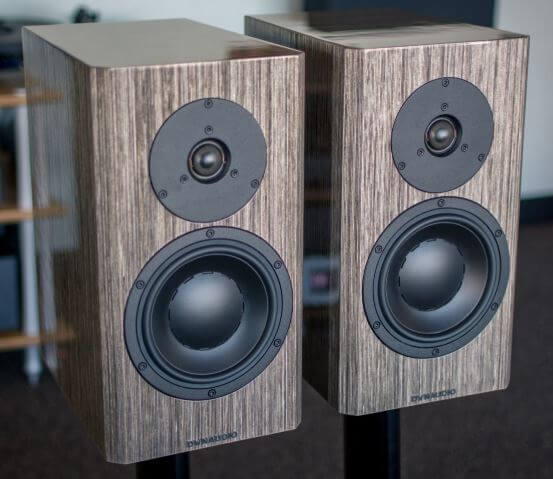 What Equipment Can You Power it up with?
We're going to start you off with amps, then work to our preferred DAC and then Cables. If you love two channel music, it's time to look into an amp as well as the speaker. Here are three power amps that can go really well with these bookshelf speakers.
Remember we talked about having HIGH POWERED current? And, that it is more important than watts? Well, the Denon PMA-100NE is powered by the Denon Advanced Ultra-High Current single push-pull circuit power amplifier. This is a great option.
If you have some money to spend, this is a pure beauty. It's a great option if you are planning to have your speakers in a larger room. Extremely efficient and super powerful current. All Dynaudio runs better with high power and high current. Prepare to spend some dough if you're going this route.
Cambridge Audio – CXA60 Integrated Amp
A more affordable option out of all three, this amp does what you may need it to do. The smaller the room, the better it will help. If you are using for a larger room, this amp may not be the right choice for you.
DAC
You can also integrate a DAC. There are plenty of options out there, but we would recommend the Chord Qutest Digital to Analog Converter (DAC). A DAC like this will add some rhythmic drive to the sound of these speakers. The bass is tremendous on the Chord DAC. There's detail without ever being analytical or harsh.
Cables / Wires
Audioquest Leopard Tonearm Cable 72V Dbs (1.2M) – DIN to RCA
Speaker Stands
This is an absolute must with bookshelf speakers of this caliber or higher, or else you aren't going to hear what they are capable of.
Here's our preferred choice:
Pangea Audio DS400 Heavy Duty Speaker Stands (24 Inch)
What Size Room are these Best for?
We recommend these for smaller to medium sized rooms, unless you are just looking for some background music in your living room. If you have a listening room, then once you pair it with the right high current amp and cables, you're going to create a masterpiece.
How does it sound with Music?
We love classic rock, Postmodern Jukebox and Sam Smith types of music so hopefully you can relate. These speakers are super balanced and you will feel like you are at the front stage of a concert.
What we mean is, you'll be able to hear the singer's voice so clearly along with the instruments and you'll feel like they are literally right there.
Again, you will only get this type of sound if you get the right amp and cables. You have to get the setup correct to get the magical sound.
How does it sound with Movies?
Depending on how you use them, of course, but for surround sound these are near perfect. If you are planning to use these as the main source (assuming you also have an amp to go with it) you will be disappointed if its a larger room.
If you plan on using for a larger room, go with floor standing speakers. Surround sound, these babies are like their name – Special. With that being said, it all depends on if you're interested in pairing it up with a power amp and some good cables.
The Final Verdict
For anyone who has up to $3,000 to spend on speakers, if you buy these, you can't go wrong. Just make sure you have a decent amp powering them.
We really want everyone to know that you don't need to spend over $20,000 just to get sound that you want. What we just mentioned above, with the speakers, the amp, the DAC, the cables and the stand, you're close to under $5,000. This price point is unheard of with the AMAZING sound you will be getting. Ten out of ten stars, the Dynaudio Special 40 is a keeper.
Ready to Own the Best?
It's a bold statement, but we really believe its true. These are REALLY Special speakers!