Music is phenomenal; it heals the soul and expresses humanity in a way that nothing else can. Everyone has a select type of music that touches them every time it plays, regardless of their background culture. As such, getting the top of the line equipment to play your music is essential and should be done correctly.
Shopping for your audio player can be a great challenge considering the high number of audio players available. The record players vary in price, but you should not spend too much on one since you can easily find the what you are looking for. The record players ranging in this bracket are of high quality, and there is a variety that you can choose from.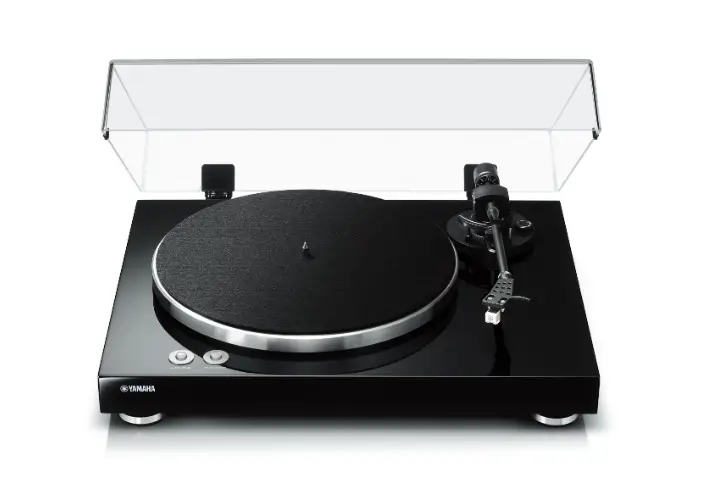 *Featured & Under 500*
Yamaha TT-S303 – Experts in Sound
What's better than the nostalgic sound of vinyl that connects you to the music? Yamaha is one of the top brands in sounds and will provide you the inspiration to make PURE Music!
The 9 Best Turntables Under $500
The list provided below has something for everyone below five hundred dollars. Some of the record players listed have speakers while some do not. However, you can rest assured that there is something for you.
| Rank | Product | Known For |
| --- | --- | --- |
| 1 | Yamaha TT-S303 | Our Audiophile Turntable Choice |
| 2 | Pro-Ject Debut Carbon (DC) | The Minimalist Choice |
| 3 | Audio-Technica AT-LP1240-USB | USB Turntable |
| 4 | Fluance RT81 | The Vintage Record Player Option |
| 5 | Crosley K200 | Turntable with Speakers |
| 6 | Audio-Technica AT-LP5 | J-Shaped Tonearm |
| 7 | Pro-Ject VT-E | Best Vertical Turntable Under $500 |
| 8 | U-Turn Audio Orbit Plus | A Simple Option |
| 9 | Vestax Handy Trax USB | USB Record Player |
#1: Yamaha TT-S303 (For Audiophiles)
For ages, Yamaha has remained a top brand in audio equipment, and the Yamaha TT-S303 leaves up to the quality expectations. It has a sleek appearance, which makes it look great, and the sound quality is top-notch. It is everything you can ask for, and expect from a high-end turntable that is below five hundred bucks.
If you love great sound reproduction, the Yamaha TT-S303 is our top choice for audiophile turntables under $500. It's a great option that produces excellent sound clarity with all the features you need.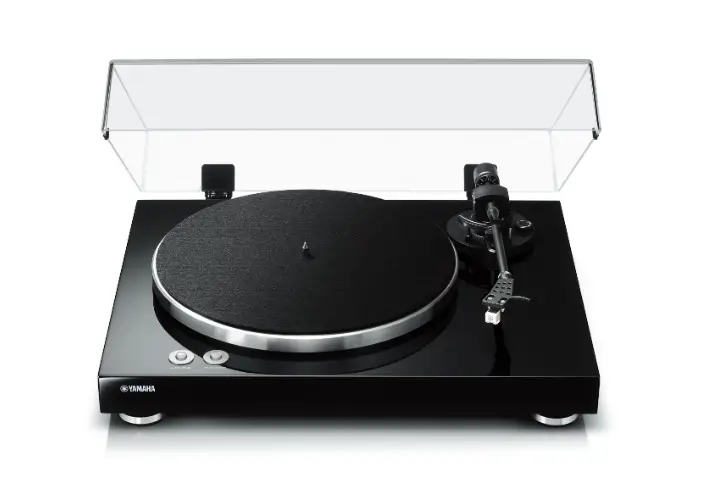 Pros & Cons
Has a well-built, sturdy cabinet which reduces vibrations
The quality of pitch and speed of music does not fluctuate on the Yamaha TT-S303
It can be used with external speakers
It does not allow you to play music via Bluetooth or an AUX pin
Limits one to the vinyl records
#2:
Pro-Ject Debut Carbon DC (For Minimalists)
The audio quality from this record player will blow your mind. It has a minimalist design with a modern and sleek finish. You can choose from a wide variety of finishes available to suit your color taste.
The Pro-Ject Debut Carbon is designed using the MDF (medium-density fireboard), which not only gives it a great look but also blocks any background noise that can alter the quality of sound it produces. It also rests on rubber feet, which helps reduce the vibrations – KEY for great sound!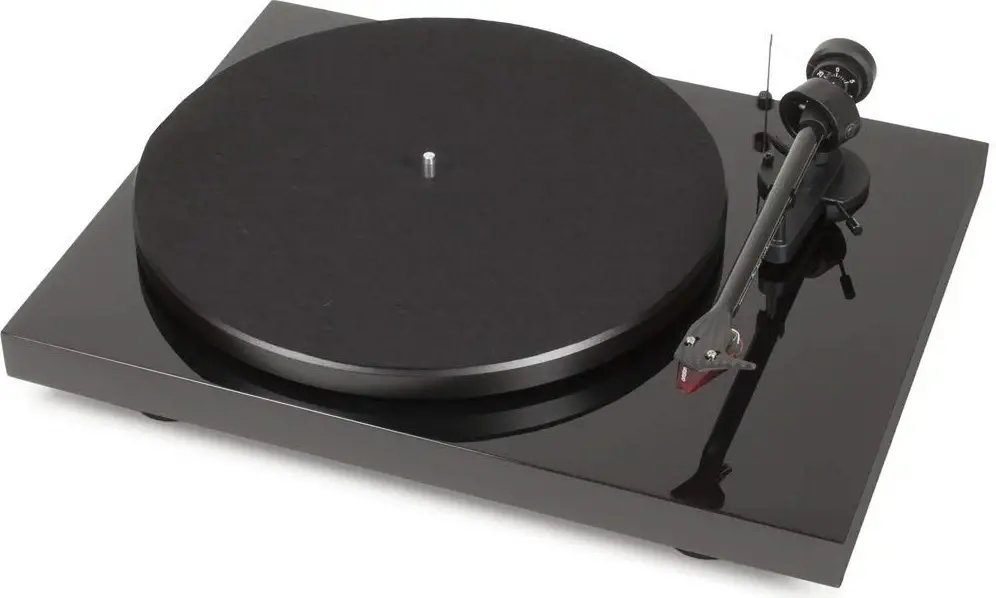 Pros & Cons
Designed with a sturdy carbon tonearm
Has a heavy and padded bottom which provides stability and does away with vibrations
Comes with a stock Ortofon 2M cartilage for enhanced sound quality
The stock cartridge is non-removable
#3: Audio-Technica AT-LP1240-USB
The Audio-Technica AT-LP1240-USB is often marketed as a DJ turntable, but you can also use it for domestic music needs. The fact that it can be connected to a mixer and has also been designed for DJ purposes makes it a great choice as it has professional features. It actually makes it to this list because you can do so much with it.
Pros & Cons
It is designed for professional use hence has great sound resonance
You can directly connect it to speakers
Supports USB functionality
It does not come with its cartridge; you are forced to buy and install your cartridge
#4: Fluance RT81 (For Vintage Lovers)
The Fluance RT81 has a fantastic vintage look for a record player is considered as the best vintage record player below $500. It is heavily studded, and there will be no annoying vibrations when using it. If you are the type that's into old fashioned equipment, with great sound, then the Fluance RT81 is an option for you.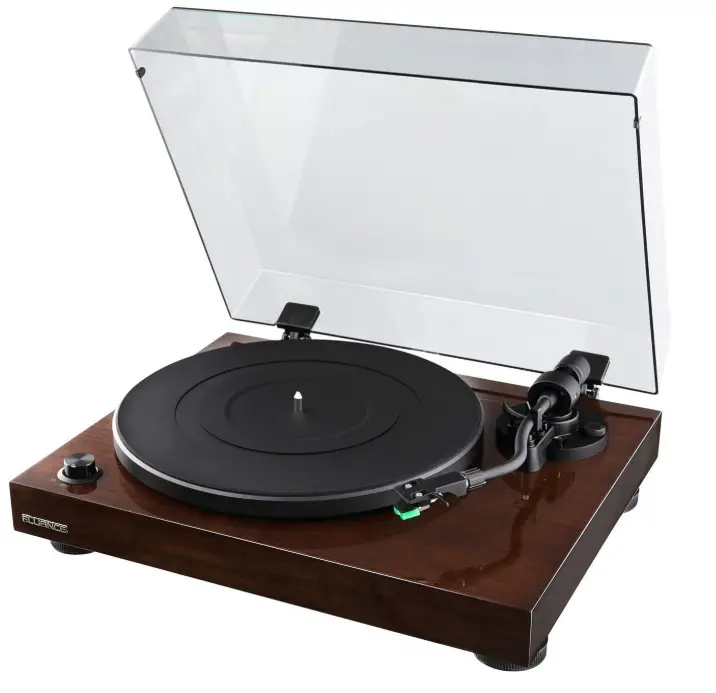 Pros & Cons
It has a stock cartridge that makes it durable
Has an S-Type tonearm which gives it immense sound accuracy
Designed with a plinth for stability and reduced distortion
It lacks digital features
It has low audio fidelity compared to other models that sell at the same price range
#5: Crosley K200 (Record Player With Speakers Option)
Unlike other Crosley turntable models that lack speakers, the Crosley K200 comes with its speakers as a package. It is important to point out that the Crosley K200 is a good option for you if you are not an audiophile. This is because its sound reproduction is not elite level. However, it has a variety of features, and a good number of users rave about the K200.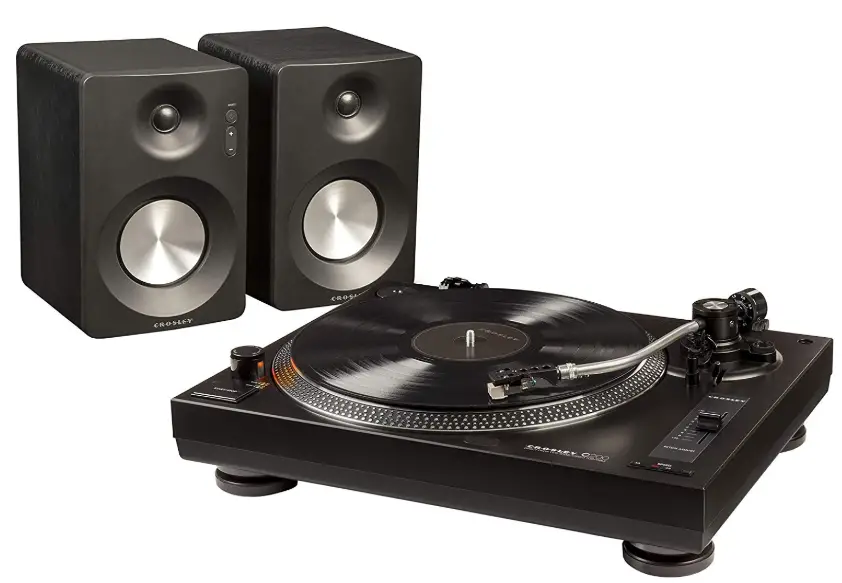 Pros & Cons
No hassle of finding separate speakers
It has both RCA and Bluetooth connectivity for speakers
Comes with a flip mat for protection against vibrations
It lacks a USB option for streaming mp3.
#6: Audio-Technica AT-LP5 (J-Shaped Tonearm Option)
The Audio-Technica AT-LP5 comes with a lot of features, which makes it a great option for anyone in this price range. Take it out of the box, put a record on it and let it spin – it is super easy to use. The AT-LP5 is loved by audiophiles and those that are enthusiastic about home audio equipment.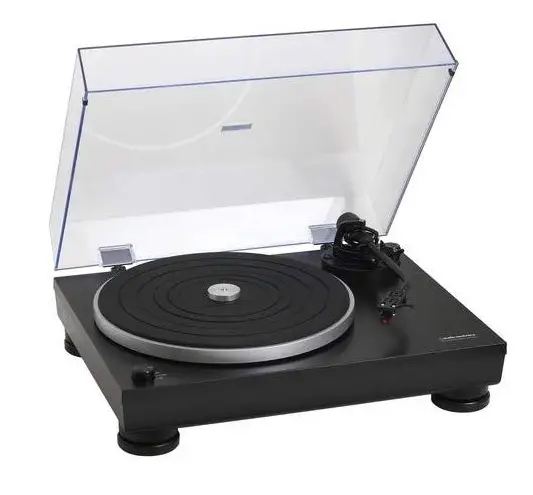 Pros & Cons
It has a USB output
It has a platter that's designed to improve the quality low-frequency sounds
It has a stock counterweight system
It is not possible to upgrade the stock preamp
#7: Pro-Ject VT-E (Vertical Turntable Option)
The Pro-Ject VT-E brings their innovation into the market; it is designed as a vertical turntable. The vertical design makes it possible to store it in a place with less space. Having it in your house will have your visitors talking about its nobility design, and it also has some great features.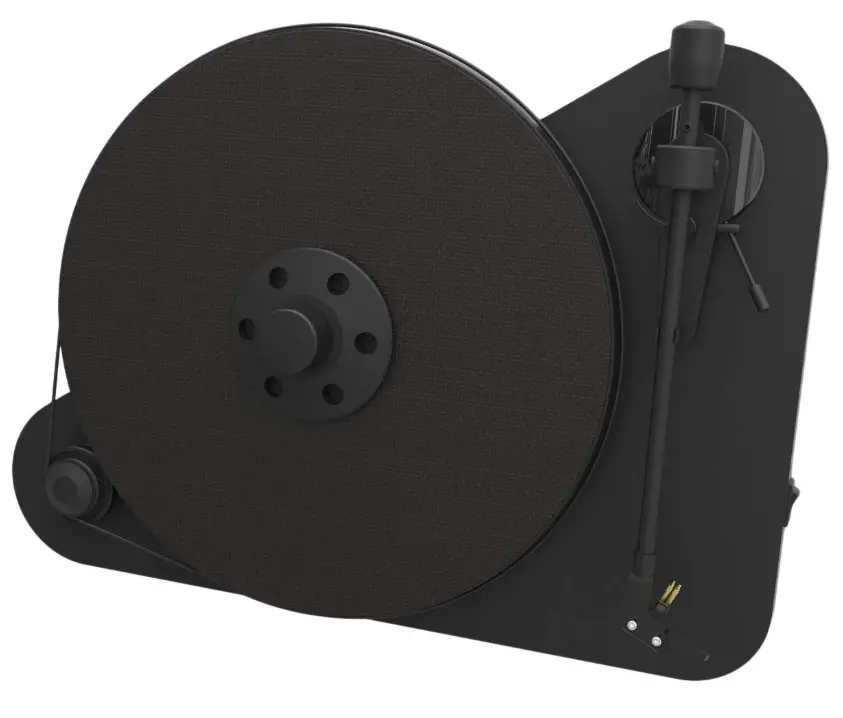 Pros & Cons
It can be mounted on the wall
Has RCA connectivity for speakers
It has a good quality Ortofon OM5e cartridge
Its tonearm is not premium quality.
#8: U-Turn Audio Orbit Plus (For Simplistic Music Lovers)
The U-Turn Audio Orbit Plus has a simplistic design and originated from a campaign that was aimed at moving away from producing plastic made record players. It is a good option for you if you want to enjoy good record music without the worry of having to change some components.
U-Turn Audio is a USA company and their products are assembled there. Look into the Orbit Plus Turntable by U-TUrn Audio, it's simple and affordable!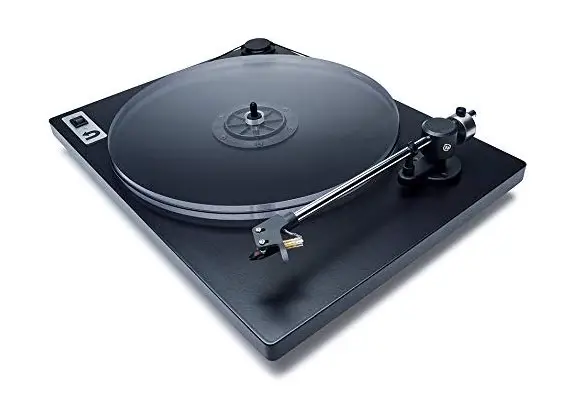 Pros & Cons
It is designed with high audio fidelity
Has an excellent stock Pluto preamp
Has a cover for protection against dust
Has an Ortofon OM5E cartridge for great quality sound
Lacks Bluetooth connectivity
It does not come with speakers
#9: Vestax Handy Trax USB
The Vestax Handy Trax USB is one of the top record players for DJs in the industry. It is portable and comes with a great option of features, including headphone connectivity. However, it is important to point out that the design of the Vestax Handy Trax USB is more focused on portability and not the quality of sound. Nonetheless, you can add your accessories to improve sound quality.
It is compact that has a built-in battery, which means you can use it even when traveling. You can also sync it with your computer and listen to your favorite playlist.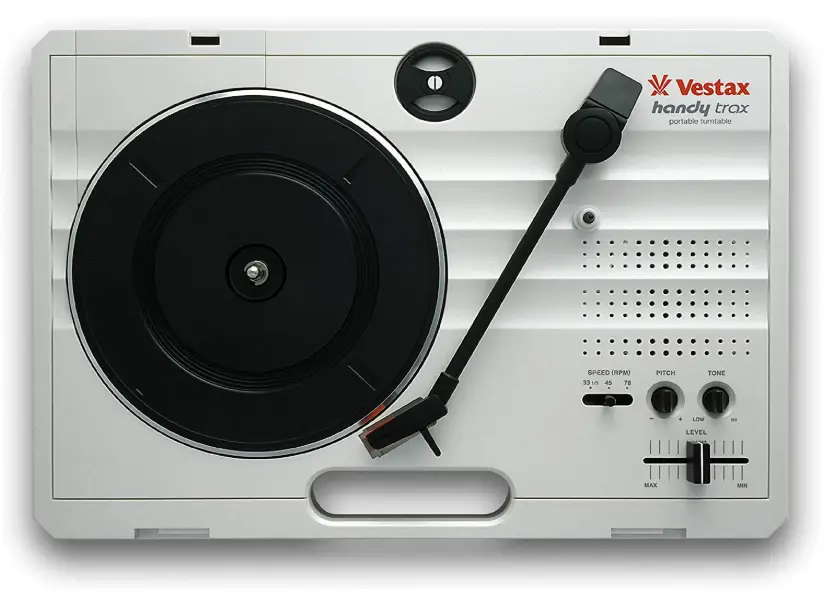 Pros & Cons
Has a great design
It's an awesome portable option
With the right accessories, it can give excellent sound quality desired
It does not come with software support from its manufacturer
Frequently Asked Questions
As stated above, it is not easy to shop for a good turntable. Aside from the price differences, other factors distinguish the top budget friendly vinyls. Here's a list of FAQ's that can help you choose a great option.
Should I Buy New or Used?
It is essential to point out that it is okay to either get a brand-new turntable or purchase an already used one. Either way, you will have a record player to play your favorite music.
What determines if you get to buy a new or used one is the budget that you want to work with, and how frequently you'll be using the audio player.
Lucky for you, there are several online stores like Amazon and eBay where you can get well maintained used products. It is important to note that buying used should be done with caution, and if you are not sure of what to look out for in a used turntable, buy a new one instead.
What is the Level of Technology Involved?
Most people feel that modernizing the technology used in record players takes away the vintage value that they hold. However, there are still several brands out there that have upgraded the record player by adding features like Bluetooth connectivity, headphone ports, and some even support the use of USB devices to play music.
If you want to enjoy a great user experience where you are not limited to the record alone, you should go for a more modernized player. However, you can still find the best vintage record player under $500 if you prefer the vintage designs.
How Much Storage Do I Need in My Home?
This might seem like a trivial factor, but it bears much weight on whether you get to buy a record player or not. If you do not have space or the means to have one stored in your house, then it is not viable to purchase one. It is essential to point out that they vary in size and weight, and thus different models have different storage needs.
How Much Additional Equipment do I Need?
If you decide to purchase one, it is not the end of the journey (in most cases). Your record player requires other equipment to work with.
You may have to purchase a power amp, speakers and cables. Just make sure you budget enough money for the extra expenses.
What Can You Expect From an Under $500 Record Player?
First and foremost, you can expect to enjoy the experience of listening to music with a record player. It brings you back in time, and provides a nostalgic feel.
From the list provided above, it is evident that you can have one that can do whatever you want it to do, in terms of listening to music with records. You can hook them up to speakers to generate powerful sound.
There's amazing value in this price range. It all depends on how you want to use it.
The big question is, can you get what you want with this price range? While you can find other record players with similar features, it's difficult to find everything you're looking for, especially at a lower price, such as below 300 dollar budget saving options.
You must understand that it is not only the features found in a turntable that make it great. The internal components used bring the considerable difference between the ones listed above and the cheaper options that you will find in the market. This price range will have higher quality component's which ensures that they perform better compared to the lower-priced choices.
It is not always about the visible features, but instead what's inside and that which you can't see. The small upgrades that are in the $500 make it a smoother record player. This may be unnoticeable if you are not an experienced audiophile, but get it from an expert, the small upgrades significantly affect the quality of sound produced by a turntable. There are even better ones under $1000, which can have some really powerful features.
You should also expect to get better designs for this price tag. In all honesty, 500 dollars is not a small amount to spend on a recording player, and manufacturers understand that. That is why they ensure that not only will your record player produce good sound but also have aesthetic value.
It is essential to point out that some are built with phono amplifiers, while some lack the phono amplifier. In this case, you also have to purchase an amplifier. The stock amplifier can be good, but buying your own choice of amp is better as you get to choose an amplifier that's powerful enough to produce the sound that you desire.
Final Thoughts
Spending this much money on a record player may not be possible for everyone. However, if you've been saving up to do so, you can be assured you're getting something special.
The list we created is tried and true on all accounts. Remember to know exactly what you're looking for and how you plan on using it. This guide should make your turntable shopping experience better, more fun and much easier!