Music is the best medicine to go for when you need something to soothe the soul. Be it after a tedious day at work or to simply celebrate an achievement or an event.
Coming home to the same old boring Bluetooth speaker can get old after a while. In addition, shopping for a brand new turntable takes time researching, not to mention perceived high costs. Furthermore, if you're a newbie, you may not know exactly what to look for.
To spice up your music listening experience, and "mix it up," we compiled a top eight list of record players that are below two hundred dollars. All packed with reviews and our expert audiophile opinions.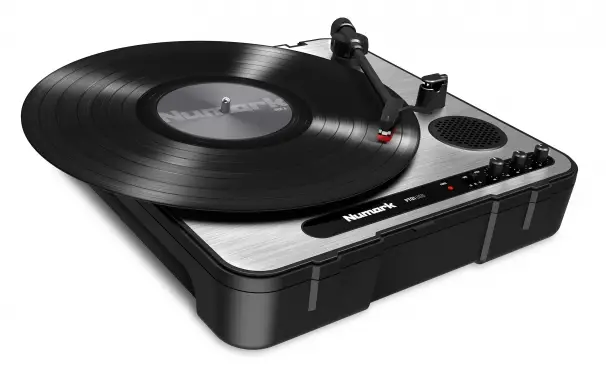 *Featured Below $200*
Numark PT-01
You may not get a better bargain out of this beauty that plays the wonderful sounds of a pure vinyl. Check out more on the Numark PT-01 by scrolling down or clicking the button below.
Looking for Below $200 Record Players?
When it comes to music, you want a device that will undoubtedly be what you deem fit and suits your needs. Some products out there work well for certain genres and lack for others. The best turntable under 200 dollars may seem to lack a number of features, but once you try them, you might cherish the experience every single day you use it at home.
Price may be a good indicator of the quality sound and performance you should expect from a turntable. However, this is not always the case. You can find budget-friendly record players that offer just as much, if not more, than those that go for $1000 or more. A number of pointers that you should consider when shopping for the best $200 turntables are discussed below.
The Brand / Manufacturer
Different brands have different traditions, and this can be evident from the quality of record players that they make. For instance, some of the brands that make the best turntables for your budget have a reputation for producing classic and straightforward products, while others are driven by getting vintage products out there to the market. So, when you go shopping, it will be a good idea if you do a little research before settling on a record player from a particular manufacturer.
The Design
The outward appearance of a record player might not affect the performance you get from this particular device, but surely is one of the factors you need to consider. This is because, in some way, it will affect how you use the record players. A turntable designed to be portable will be great if you need to carry it from one place to another ever so often. You would also not want to go for a turntable that does not appeal to the eye.
Extra Features
Some manufacturers put a lot of effort into adding a little extra feature on the best record players under $200; for enhanced experiences when using the turntables. This is a great idea and, in some sense, it encourages the creativity of a user. Similarly, a record player may also be designed to be easy to use and hence be ideal for beginners who are eager to learn and have in the past had a tough time with a certain model. However, this might not always be the case as they may come at the expense of what was the major use of the device.
The Best 8 Turntables Under $200
| Rank | Product |
| --- | --- |
| 1 | Numark PT-01 |
| 2 | Crosley C100A-SI |
| 3 | Pioneer PL-990 |
| 4 | Gemini TT-1100 |
| 5 | Music Hall USB1 |
| 6 | Audio Technica AT-LP60NV-BT |
| 7 | Numark TTUSB |
| 8 | Stanton T62 |
#1: Numark PT-01
This is another breakthrough music device Numark has released that will surely meet certain parts of the market's needs that no other can. Experience with it, and you will realize just how much freedom a user is entitled to; and thus, can be described as a top choice.
If this is your first purchase of a record player, or you're an experienced DJ, this is a perfect option.
It comes across as a music device that can be easily carried around and one which does not hold back on quality even though it is not that costly. Its elegant and flashy outlook makes it desirable and thus attractive when carried around. This is an excellent device for those who desire simplicity yet admire top performance in the quality of audio they get.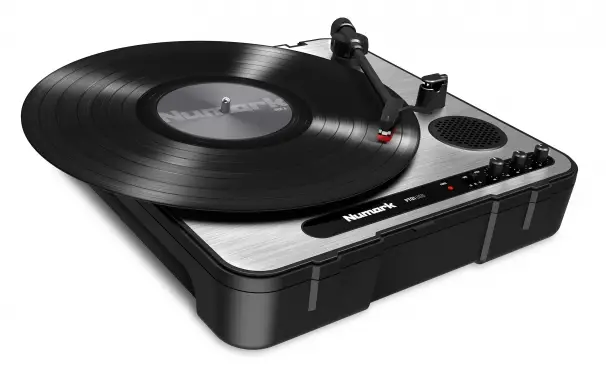 Pros & Cons
Comes with numerous handy features

Offer quite a lot of creativity to the user

Designed in a way that beginners can work with it well
Its outlook may turn out to displease some people
#2:
Crosley C100A-SI

​

This is a release from Crossley that tries to fix a variety of as many quality features as possible into an affordable record player. This is to say that if you buy this model, you get a device that is affordable but gives a sneak peek of quality performance you could get from a more expensive turntable.

The Crosley C100A-SI, however turns out to go a little average on some aspects, so do not be that too much excited yet. The audio quality is a bit disappointing and may not meet your expectations. However, if you love vintage, then this is certainly your type of record player.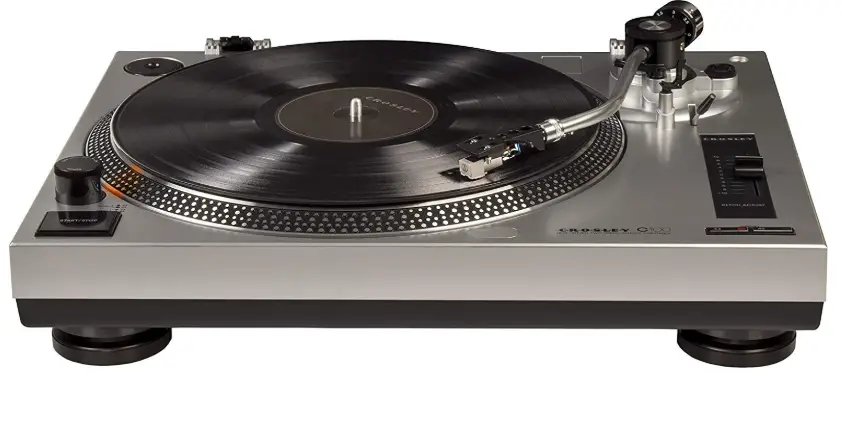 Pros & Cons
Great device for those who love old school products

Tries to offer users with as many features as possible
Disappointing audio output
#3: Pioneer PL-990
This is one music device that is designed to be simple yet of high quality. Its ability to offer great audio sets it apart from the rest in many ways. The main one being, of course, that users get to listen to quality sound from an affordable device. The manufacturers of this particular turntable go a long way to show that you don't need a lot of money to get a quality turntable.
These classic record players take the user back in the days when all one needed to hear was quality music when they relaxed at the comfort of their homes. It may lack all those varieties of highlights and any other additional features, but Pioneer does a tremendous work in the audio you get from this one.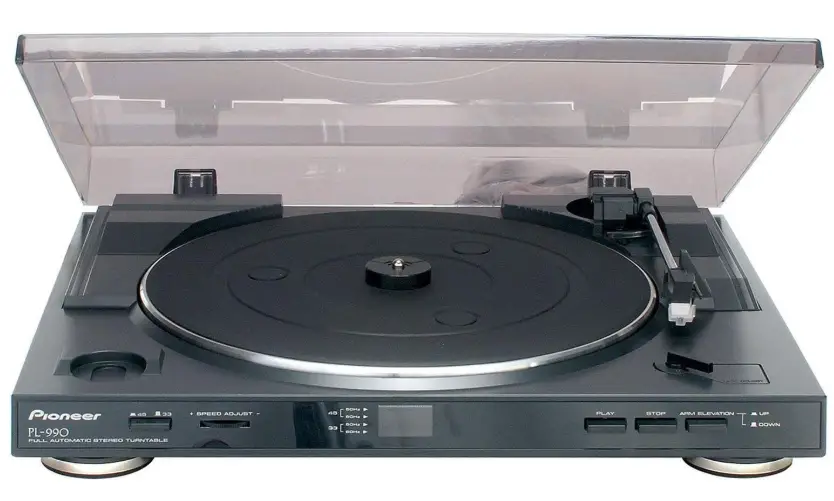 Pros & Cons
Classic and simple

Quality audio you can listen to all day long

Works great for any genre of music

Tonearm mechanism is designed to perfection
Lacks that modern feeling

An average device that may not please the new generation niche
#4: Gemini TT-1100
A look at the Gemini TT-1100, and you will surely fall in love with this piece even before you try it out. Its classic and elegant look will surely sweep you off your feet. Amateur DJs will be marveled at this particular one as it is easy to work with and enables them to try a thing or two on it. It also gives them the opportunity to try out new tricks as they grow in their jockeying career.
Another useful aspect of this record player is that despite the many years that it has been in the market, the Gemini TT-1100 has upheld its high-quality performance. Its compactness ensures that it is not prone to damage, and once you buy it, you will not be going for a replacement any time soon.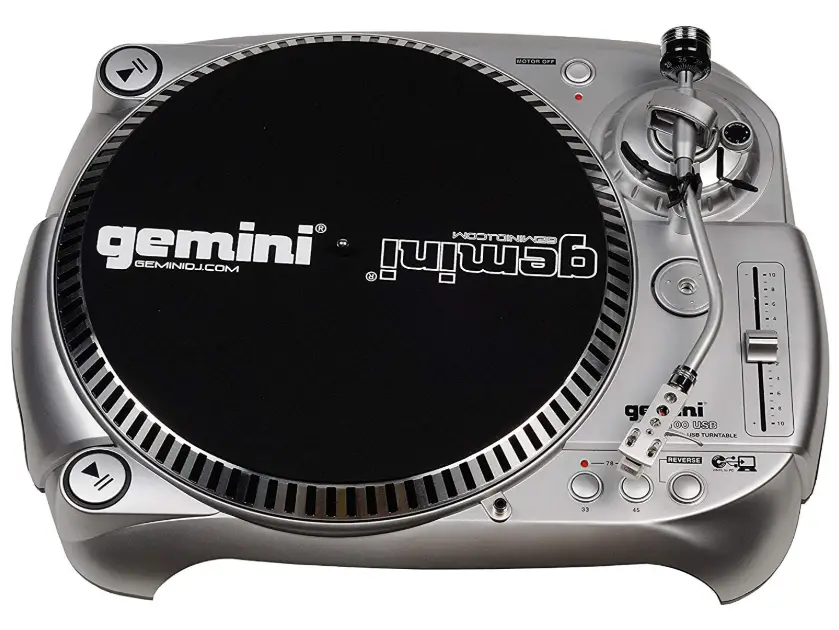 Pros & Cons
Aluminum platter compliments its outlook

Quality performance guaranteed

USB interface adds to the fun of features you get from this one
Its outlook will attract not everyone
#5: Music Hall USB1
From its name, the Music Hall USB1 record player gives users the opportunity to play their favorite music from their USB devices. It is also designed in a way that the user or the DJ has enough control over it.
This device is worth buying for any professional who does not want to be let down by their tools. For one, carrying it around is easy, as it is incredibly portable. Secondly, it is not easily prone to damage given the type of material of its hardware.
Pros & Cons
A great device for beginners

Users get to have as enough control over the output

Great performance
Its plastic base is a major let down given the competition level in the market
#6: Audio Technica AT-LP60NV-BT
The turntables already discussed allow users to play music in various ways, but this is a different one; you get to play and mix music through Bluetooth pairing. It has multiple features that are aimed at bettering one's listening experience and is a gem compared to many of its kind because of the quality of audio you get from it.
Audio Technica is one of those devices that has-it-all, and this is the good thing about it. You get most features in a single device in a way that is entertaining and fun to own one. Its wireless connectivity is just one of the many decent features that users get to enjoy.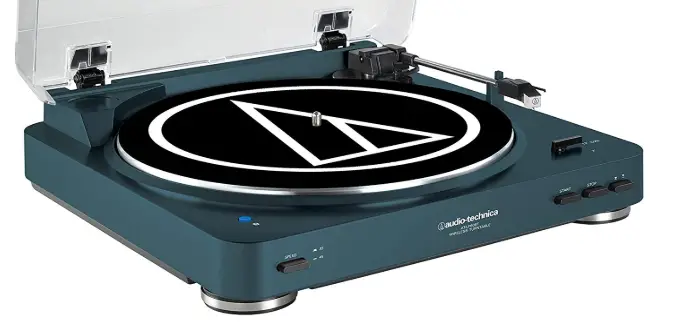 Pros & Cons
Decent outlook

Comes across as flashy and sleek

Has Bluetooth connectivity which works fairly well when connected successfully
Successful pairing can at times be a headache
#7: Numark TTUSB
Another Numark model, which shows just how much this brand is putting a lot of effort into getting quality and affordable music products in the market. This particular one is a great device for beginners who want to learn but also explore their limits in the field of jockeying. They get to try out scratching and many other fun DJ activities while mixing different genres of music. This model is designed to produce quality audio for any type of music. It is important to note that the Numark TTUSB can also be used by professional disc jockeys.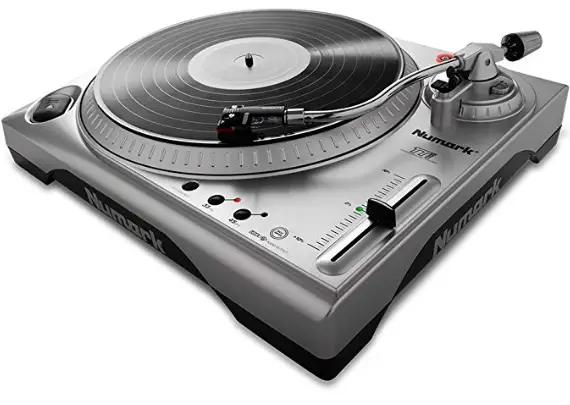 Pros & Cons
Quality features which ensure high performance

Decent and sturdy outlook

High performance that can be realized in the audio quality
Comes without a dust cover

Needs a little bit of sharpening on the features
#8: Stanton T62
This budget friendly record player is designed with a sturdy build that ensures its sleekness and durability. This makes it one of the best turntables under 200 dollars you can find in the market. Stanton T62 focuses more on its outward look, probably because it is the first thing a user interacts with; hence, they should have a great experience using it. It has an above-average quality in the output of music they get, and working with one of these is not as difficult as it is with other common turntables.
It is a compact device that makes it easy for users to carry around even as they use it, whether professionally or just for fun. The downside is on the part of the USB connectivity but not such a major one that can stop the fun.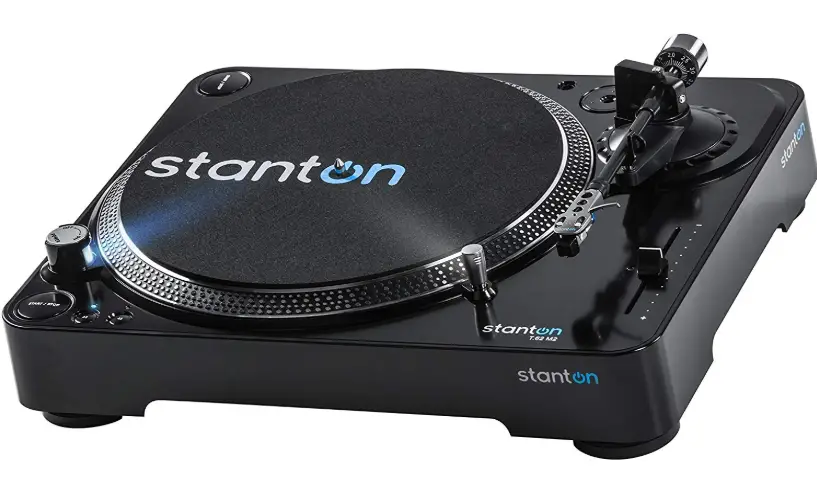 Pros & Cons
Has that modern feeling that is attractive to the eye

You get a great listening experience from the quality audio output

It is easy to work with and great for beginner-level users
Has no connectivity ports

It is quite heavy though portable
Expectations From a $200 Turntable
The above-discussed turntables under 200 dollars show just how much quality you get at affordable prices. When shopping for a record player, you should always go for one that attempts to offer as much as possible. However, be keen not to settle on one that sacrifices the principal focus, which is quality audio. Some have a lot of misguiding extras, which may not count in the end. In addition, a 300 dollar product will have more features, just like the under $500 record player would.
Most of the devices at these prices, as you will come to gather, have a user-friendly interface. They come across as both simple and has a lot to offer in terms of output quality. With these models, one may feel like they have a more expensive model in terms of the performance they get. So the next time you go shopping for one of these, consider one in this price range, and you will not be disappointed by the quality you get from it.
Final Thoughts
While shopping for turntables, one might not be expecting much, given the price level. However, as seen from the above models, you have to be careful when selecting a brand to work with as they offer different features. Use any of the record players listed above, and you will realize that there is no need to go for a costly record player since the ones above offer quite a high performance.