Music lovers are getting surprised by beautiful products being released almost every single day. From the latest apple music laptops to high tech headphones which offer unsurpassed user experience. However, one excellent way to play music that will surely amaze any music enthusiast is with a high-quality record player. Every music lover wants to play their favorite songs and mix hit after hit while enjoying every single beat and this is what a high performing turntable can offer. Let's start off this buying guide by showing you some of the highest quality record players for your particular budget.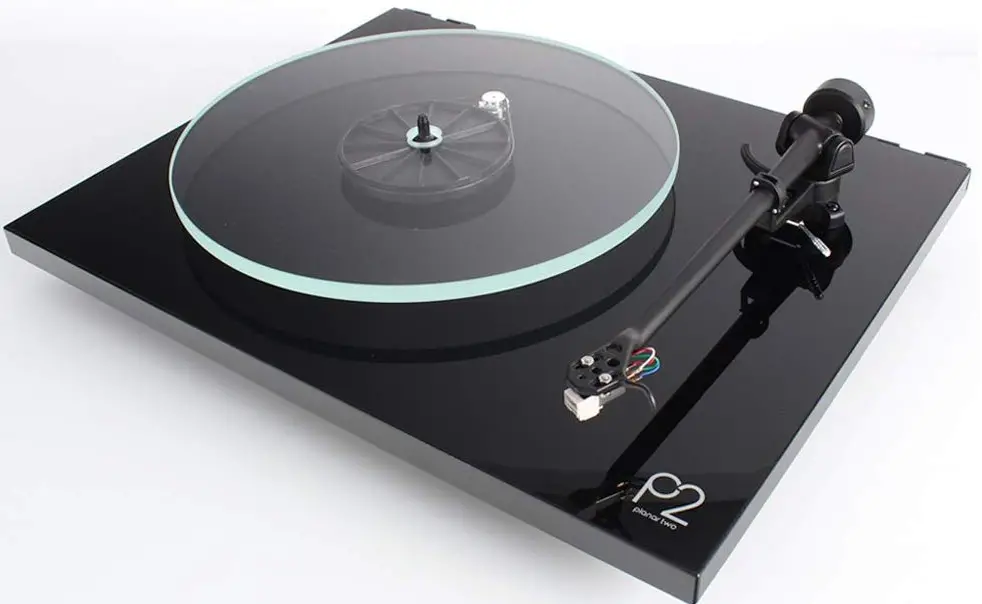 Featured Record Player Under $1000
Rega Planar 2
Bring your old vinyls to life with the Rega Planar 2. It may be a few hundred bucks more than cheaper models, but If you're an audiophile, the extra cost of the P-2 is worth it for sure!
As a sound craving enthusiast, you will most likely be pushed towards buying a top-notch record player; they come in a variety of brands and prices. One piece of advice that will absolutely help is going for high-quality audio. While the price is a great indicator of just what you can expect from such a music player, it might not tell the whole story.
Turntables Below $1,000: A Complete Buying Guide
Shopping for a record player is probably one of the most tedious tasks one can have to do and particularly finding the best turntable under $1000. This is perhaps due to the numerous features that these devices come with; one particular product might come with several great features but might also lack a handful of important ones. Therefore, a good way to spot one is undoubtedly through the price. Above all, we're going to break down exactly what you should be looking for so you can make a sound budget decision.
The factors below indicate what should guide you into getting what you want, and most importantly… what you need!
Technology integrated into its design
In this era, tech enthusiasts consider the level of technology included in the design of a product. Record players should also have quality and latest technology in their design which gives users a great experience working with them. It would be a let-down to buy a device that holds back into the experience it can offer because of its lack of high technology design-wise. However, some of the best turntables under $1000 have great tech integrations in them.
Is it a new or second-hand product?
A product might cost $1000 simply because it is being sold as a second-hand product and thus has already been used for a few years. It might be a good idea to buy into this deal, but one should consider the advantages of just going for a new purchase. New products come along as highly modern as they are integrated with the latest technology that is tailored to offer a great experience.
However, one should not rule out the capability of a used music player as it can offer more than they can imagine. For one, they might be classic since they were designed with technology that was used way back. Also, a properly maintained one might be so because it is not prone to damage easily.
Extra inclusions
As a buyer, would you go for a device that offers many exciting additions or one that is just plain in this sector even as both are of the same price? Of course, a rational buyer should consider the additional properties as they will make the user experience one of a kind as opposed to what the other can offer. For instance, you can get a music player that is best for a particular genre of music or one that has certain settings unique for a particular niche.
The 9 Best Turntables Under $1000
| Rank | Product |
| --- | --- |
| 1 | Rega Planar 2 |
| 2 | Audio Technica AT-LP7 |
| 3 | Denon VL12 Prime |
| 4 | Pro-Ject Debut Carbon Espirit SB |
| 5 | U-Turn Audio Orbit Special |
| 6 | Denon DP-450USB |
| 7 | TEAC TN 550 |
| 8 | Audio Technica AT-LP120XUSB |
| 9 | Reloop RP-8000 |
#1: Rega Planar 2
This is a typical record player that does not hold back on quality features because of its price level. Released from Rega which is one manufacturer who works to uphold its reputation in such products and has never let down its fans. The design indicates just how much hard work and effort that was put into it to give users an amazing experience which puts it into our fully researched list.
Unlike its previous release, it enjoys a number of upgrades that will probably work for users who were disappointed with the former. For instance, the cartridge seems way improved than the way it was prior.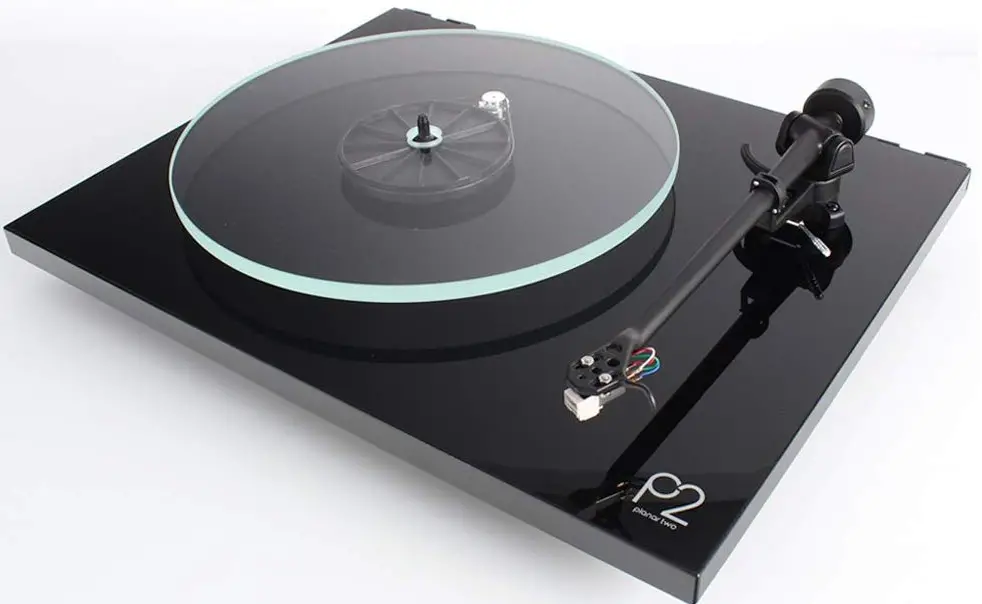 Pros & Cons
Comes out decent and elegant in design
Has a great bass output
High performance attributed to detailed design
Offers users with an unsurpassed experience
The upgrade is not that significant from the previous one
The cartridge upgrade does not provide as much significant change as expected
#2:
Audio Technica AT-LP7
This product upholds Audio Technica tradition of producing quality and high-end audio devices. It's one of those devices that stick to being old school given the fact that almost everything is manual.
This product is designed with a motor feature that contains a speed-sensor system which ensures an accurate platter speed rotation. It is designed with a relatively light-weight AT-HS10 head shell that is a little unique. The AT-LP7 has an approximately 20mm thick platter that is anti-resonance.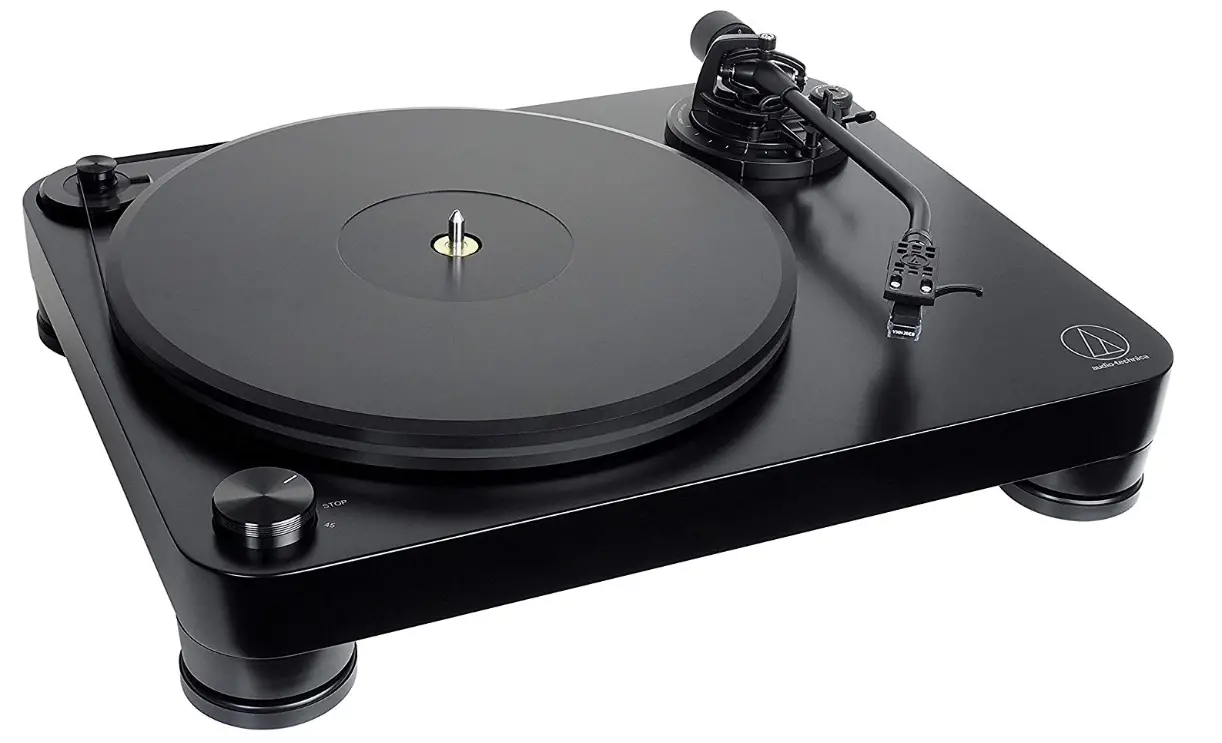 Pros & Cons
A highly digitized tech
Produces quality audio
Its motor feature ensures accurate speed rotation
Holds back onto a number of great features it should be able to offer
#3: Denon VL12 Prime
This is a special model that is an answer to every DJ's prayer, given the features it uniquely offers. For one, it is manufactured with a fairly powerful motor that guarantees high performance when being used. In addition, the Denon VL12 Prime also comes along with a one of a kind Quartz direct drive system.
Its design enables it to play loud music without causing damage to the product itself. This is a great product that will resonate well with any music enthusiast who simply wants to have fun mixing their favorite music even at the loudest volumes possible. The Denon brand just keeps improving every single year!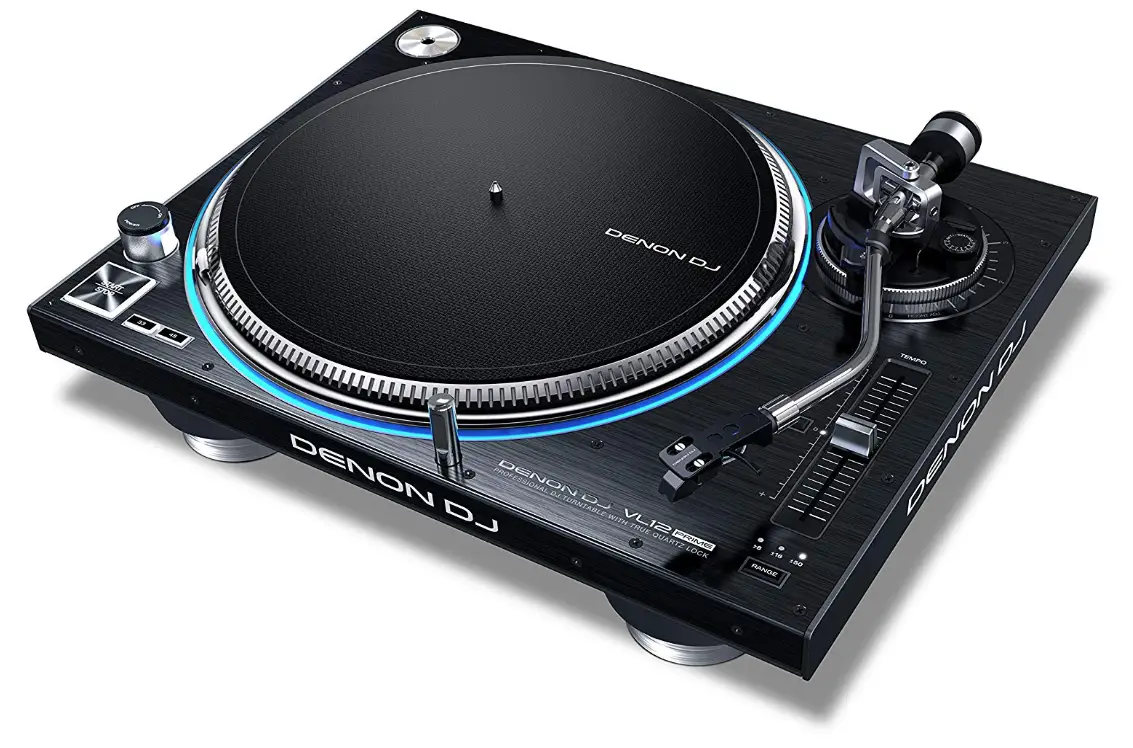 Pros & Cons
Proves to be among the top isolation solutions in the market
The freshly introduces features go a long way to making this a versatile product for users
Its hardware makes it unsusceptible to damage
Does not come with a dust cover
Can do much better in terms of audio quality
#4: Pro-Ject Debut Carbon Espirit SB
The Pro-Ject Debut Carbon Espirit SB is one of the most smooth turntables below the $1,000 price point. The brains behind it must have undoubtedly aimed at coming up with an all-in-one product. This is because its features seem to be an assembly of almost what every similar product out there has to offer.
The performance users get from this product is simply just out of this world. It is a unique one and might seem underrated when one considers its price level. Vinyl lovers will surely fall in love with this product and cherish working with it. You will realize that this is one of the best-selling turntables under $1000 considering even critics have nothing negative to point out in terms of design or quality.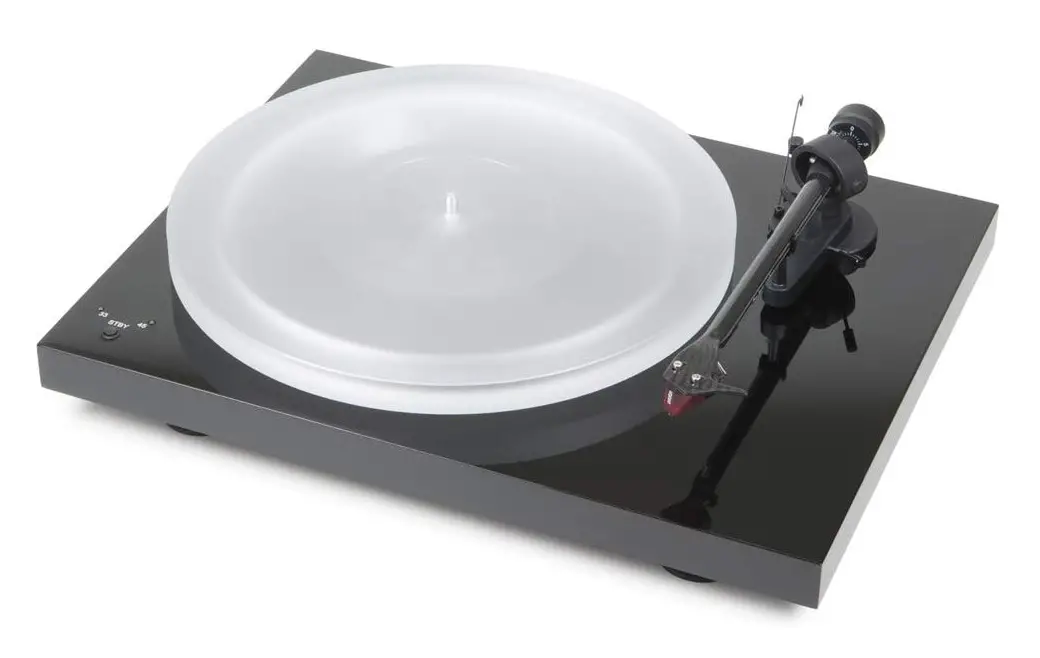 Pros & Cons
It has a great outlook
Its hardware is solid hence does not get easily damaged
Performance is guaranteed considering all the inclusions in its manufacture
Its user manual is a little bit tricky to use.
#5: U-Turn Audio Orbit Special
Experience with the U-Turn Audio Orbit special and you will surely describe it as being designed to enable user freedom.
This particular brand has a design that showcases elegant hardwood bases that users will surely fall in love with. It is also designed with an award-winning Ortofon cartridge that produces quality and unmatched audio. It is also designed with a cue lever that provides users with easy tonearm usage.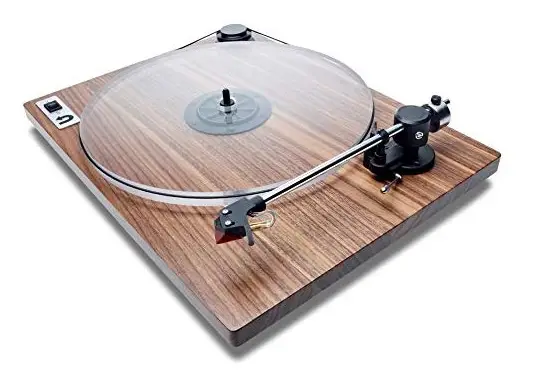 Pros & Cons
A great design which ensures users get value for their cash
Has a cue lever that ensures tonearm operation
Does not come along as a highly digitized machine as you would expect.
#6: Denon DP-450USB
This is another release from Denon that focuses more on digitizing the record player. Its ability to match what any modern equipment offers is just mind-blowing, and users get a new experience working with it.
Its design enables it to produce quality sound for whatever genre is being played. Vinyl enthusiasts will find it handy for their collection as it seems tailor-made for this niche. It also cancels the need for a computer when you want to record your vinyl. A few downsides, of course, one being that it has an internal preamp that exhibits a little too much-elevated bass. Another being the choice of software design.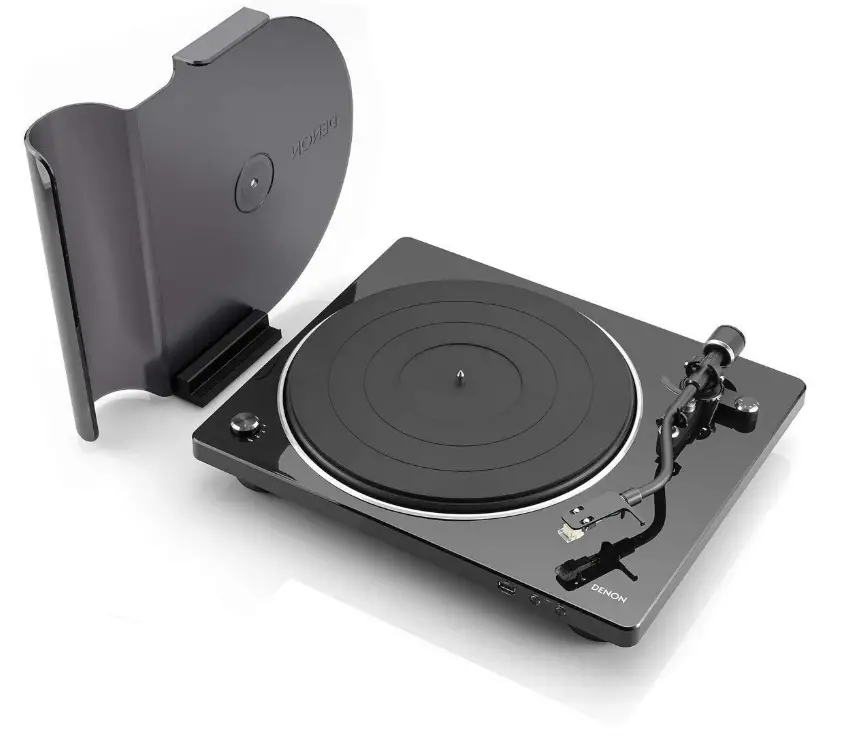 Pros & Cons
Great for playing vinyl
Its build ensures quality performance
Loud enough for a large audience
Poorly put together software
exhibits a little too much-elevated bass
#7: TEAC TN 550
TEAC has done it again with this particular product which comes along as an elegant and minimalistic device that is surely fun to deal with. The TEAC TN 550 is a top-rated record player under $1000 for its unique outlook and exemplary performance. This is one of those techs that does not beat around the bush but simply hits the nail on the head by producing quality audio.
This particular music player is designed for both consumer and professional niches; so, a working DJ or a simple user at home will have a great experience working with it. Its audio capability enables it to play different types of songs in a pleasing way, and the beats you get will just blow your mind.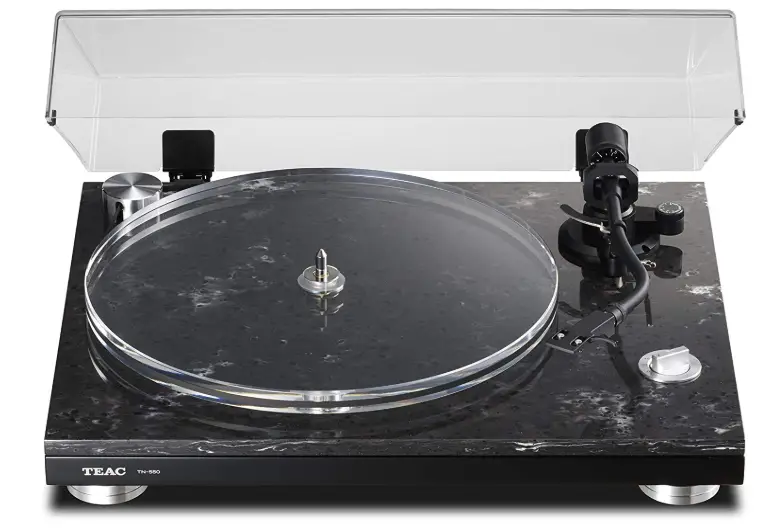 Pros & Cons
Designed with an elegant and interesting outlook
Enough work is put into details to ensure exceptional performance
Proven to produce quality audio for a variety of music genres
Is not designed with extra details
#8: Audio Technica AT-LP120XUSB
This is one of those devices that offers more than what their price indicates, and hence any user will be pleased to work with it. The Audio Technic AT-LP120XUSB is designed to provide users with a great time, especially for vinyl lovers. As a vinyl music lover, you will not enjoy playing music until you discover this particular product.
Its features make it fun for those new users who have difficulty in handling other types of record players. This is because it has a variety yet simplistic features.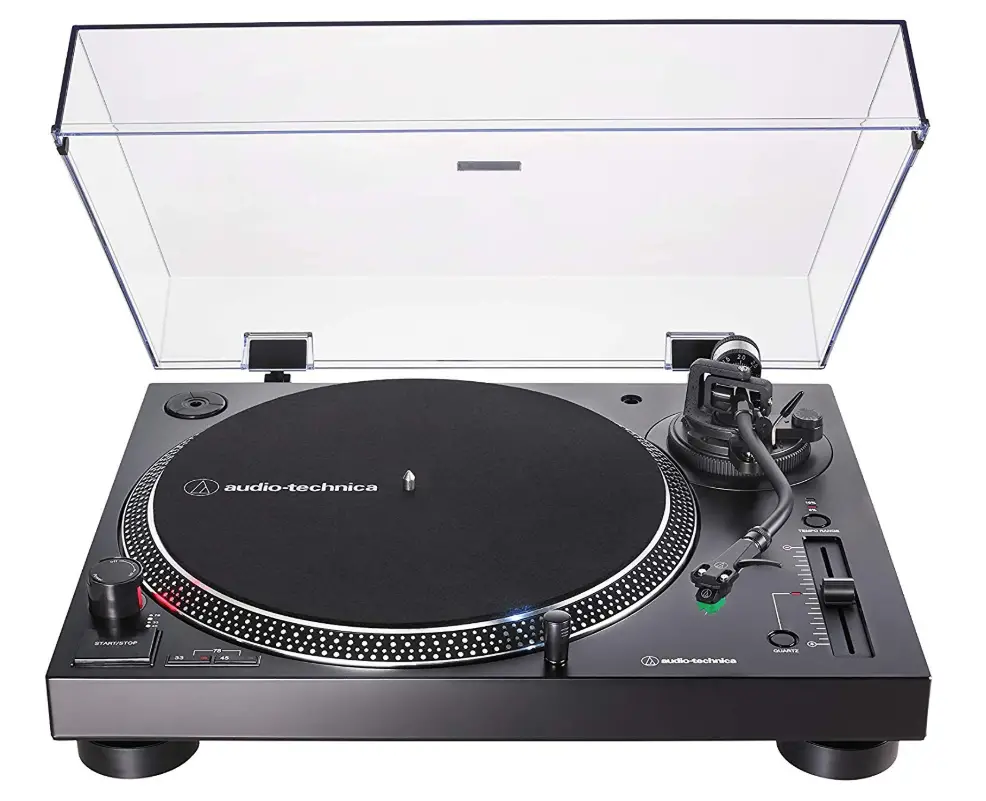 Pros & Cons
Comes with a variety of helpful features
Produces dynamic audio
Great for vinyl lovers
Poor bass controllability
#9: Reloop RP-8000
Reloop RP-8000 is one of those record players that gives the user the ability to be creative with their work. This is because of the details included in the design which ensure this is possible. Creative music mixers will find this record player ideal for numerous reasons. Its price seems a little high, but an experience with it will show its worth every penny it costs.
Its hardware comes along with a quality that is both robust and powerful, thus ensuring high performance altogether. Its quartz motor is responsible for the level of power that it possesses, thus guaranteeing high performance when being used. The only downside with it is that the manufacturers were somehow forced to compromise a number of features; not packaged with a cartridge, head shell or a needle. This makes it lack that classic look that users are used to.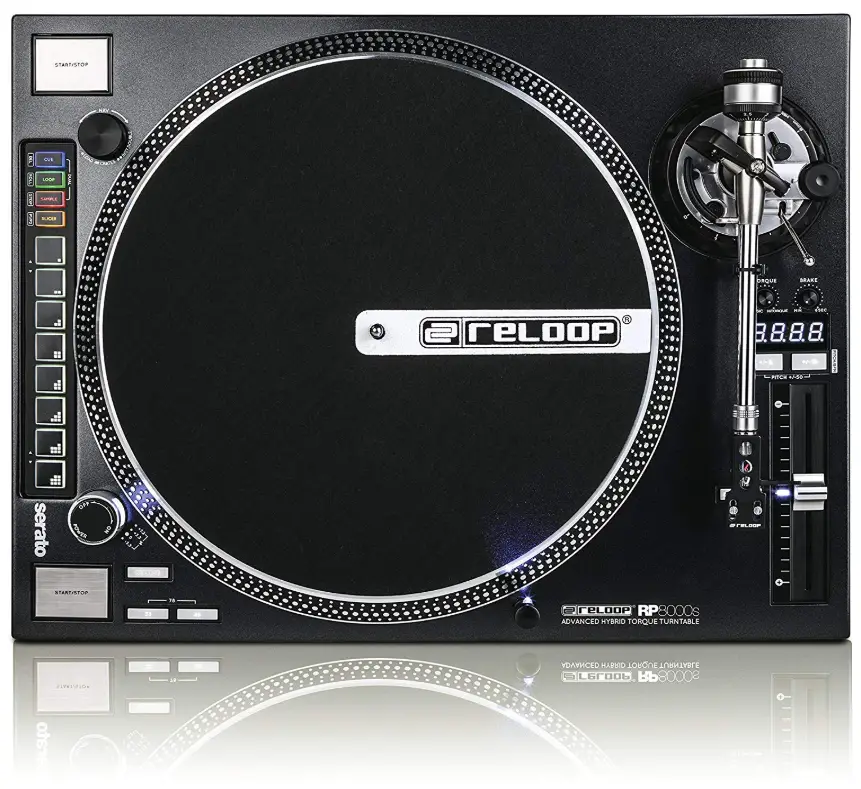 Pros & Cons
Gives users the ability to explore their limits in terms of experience
Its hardware is designed to make it less vulnerable to damage externally
Comes along with a highly powerful drive motor
Lacks classic features like a head shell, needle or a cartridge
What Can a 1000 Dollar Record Player Offer?
Going for $1000 budget turntables is a good choice to make considering some factors. For instance, a $500 product might seem a better product which offers almost similar features but not that much. This is simply because the manufacturers might have been forced to take things a notch lower for it to fit that price. This is what happens to almost all tech devices, be it a laptop or a smartphone.
What you get from a thousand dollar elite audio product will prove to be way better than you can imagine. First off, the output audio is probably a mile better than cheaper products. Secondly, users get a wonderful interface to work with that is surely improved and designed with high-quality tech. Lastly, a $300 may be a little better than a $200 record player.
On the upper side, products that are priced above the 1000 dollar mark may at sometimes be just overrated. This can be seen where a product that goes for, say, $2000 is merely expensive because of its design. For instance, one might have good looking platters or even interesting lighting but fails to meet the performance of any mentioned above that is priced way lower.
Final Thoughts
This article just introduces you to a mere handful of the top record players under $1000 in the market. as a true music lover, you should strive to find the best audiophile turntable under $1000 out there. There are many more, all you have to do is to compare each and every one and settle on one that will work for you and your music needs. The above are just a handful of record players that you can get at this price level and those of which offer a variety of features that you will find helpful for your needs.