Learning how to find and play the best tenor saxophone takes discipline, curiosity and persistence.
Anyone who is aspiring to be a beginner, intermediate or professional musician will need those specific traits, along with a desire to master such a beautifully sounding woodwind instrument.
If you have mastered the beginner stage, then it's time to upgrade to an intermediate tenor.
Are you a professional player? We consulted and helped hundreds of pro players find the perfect match.
This guide will give you clarity on which sax is right for you. It will help you figure out what you're looking for in a tenor saxophone.
These ten beauties we chose are, right now, among the cream of the crop. They are also affordable for the beginner student. So, get your popcorn ready because the show is about to start!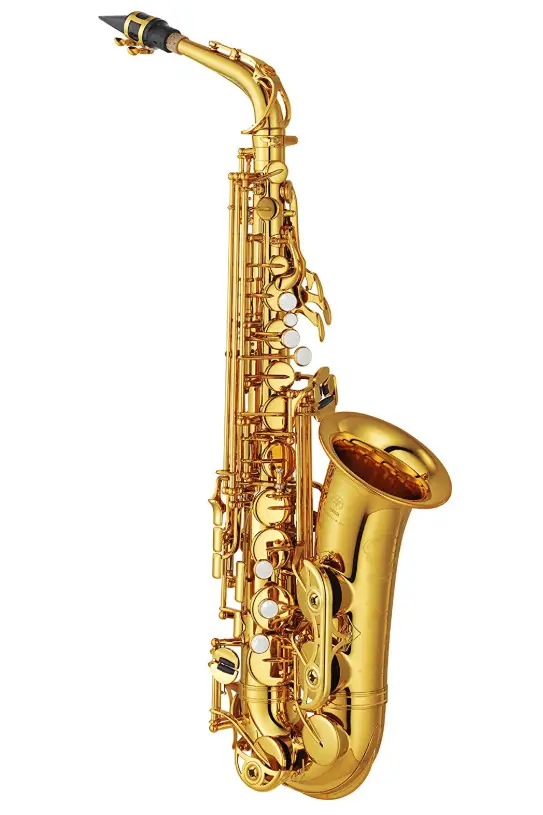 Featured Tenor Sax -Yamaha YTS-62III
This horn has everything you need to raise your skill level and become the player you always dreamed of. Take a good hard look at the Yamaha YTS-62III because it's affordable and dependable.
What is the Best Quality in a Tenor Saxophone?
The best qualities in a tenor saxophone are the tone, pitch and overall sound. It can be difficult to know which one can play fine tuned pitches and sounds and also fit you and your personality at the same time. Don't worry though, because this review article will give you every pro and con with each tenor sax for sale, so you can narrow down your choices even further.
Top 10 Tenor Saxophones for All Students (& Professionals)
#1: Yamaha YTS-62III
The first chair goes to the Yamaha YTS-62III Professional Tenor Saxophone Lacquered. Folks, this one is a gem! It is a professional player's dream to have one of these and has been band directors' favorite tenor for decades.
You can play all types of music with it, including jazz, rock, pop, classical and orchestra. The 62 really rocks! The neck is new and improved from previous models, allowing the player to hit almost any note imaginable.
This beautiful looking tenor is also a model upgrade from the 61 model. The YTS-62III is remarkable. It offers superior quality and durability, while at an affordable price point. In addition, this sax has some newly added features and is considered the best overall tenor sax for sale on the musical instrument market today.
Pros & Cons
Great for professionals.
Highly reliable performance.
Outstanding quality.
Long lasting (as long as you clean it)
Superb Tonality.
Affordable Price.
May need a better neck strap.
#2:
Yamaha YTS-480 – Students & Intermediate Players
Yamaha has been designing high-end saxes for decades, and they really nailed the YTS-480, especially for students and intermediate players. This tenor sax features an insane amount of accurate intonation. It also has a warm tone and quick response.
If you decide to go with this Yamaha tenor, you can play any genre of music. The designers created an improved mechanism from low B-C#. This helps ensure the consistent closing of the low C# and enhances a crystal clear response from the low-range notes.
An unsung feature of the YTS-480 is that it's lightweight, but durable at the same time. If you like wearing a neck strap, you won't feel a "heavy" sense from this tenor. In addition, the 62-style neck creates a more mature sound.
If you decide to go with this Yamaha model, you're getting a real bargain because it sits in the middle of the pack price range and carries some of the same features as some of the finest tenor designs in the world.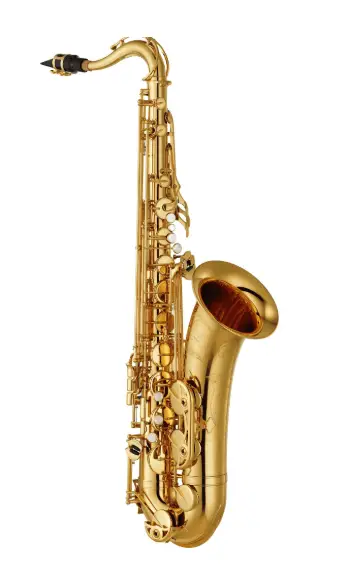 Pros & Cons
Produces a warm tone
Features a quick response.
Improved Low B-C# connection.
Features a new key guard.
Is compatible with other necks.
Takes a few practice sessions to break in.
#3: Jean Paul USA TS-400
Jean Paul USA comes through in the clutch once again with the Intermediate TS-400. This carefully designed tenor saxophone's main feature is easy playability, due to power forged and tapered pivot keys.
Playing this sax is an absolute pleasure. It allows intermediate players to produce jazzy sounds. You can play almost all types of music with it. Most advanced players use it to play in a jazz band, pop music, classical and in the orchestra.
It's extremely affordable. It is in no shape or form a "cheap tenor saxophone," but the low price probably encourages people to call it a cheap tenor sax for sale. Jean Paul USA has been developing tip top woodwind instruments for a very long time.
The intermediate Tenor Saxophone TS-400 comes equipped with a bunch of accessories including: carrying case, one reed (Rico), cleaning kit (cloth and swabs), cork grease and a mouthpiece.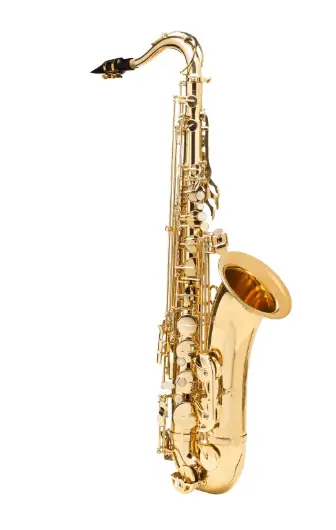 Pros & Cons
Affordable price (Under $1,000).
Power forged and tapered pivot keys.
Looks beautiful, boasting a lacquer finish.
Carrying case is a little heavy, but manageable.
May need to upgrade the mouthpiece after some wear and tear.
#4: Selmer STS280 La Voix II – For Concert Band
The Selmer STS280 La Voix II is ideal for concert band and solo playing. It offers the player pure intonation and fluid keywork. As a result, the player can play almost any type of music with more focus and ease of blending. To buy this tenor saxophone for sale, it will be one of the best decisions you will have made.
Great for beginner students, anyone who likes to do recordings and small chamber groups. A truly magnificent horn.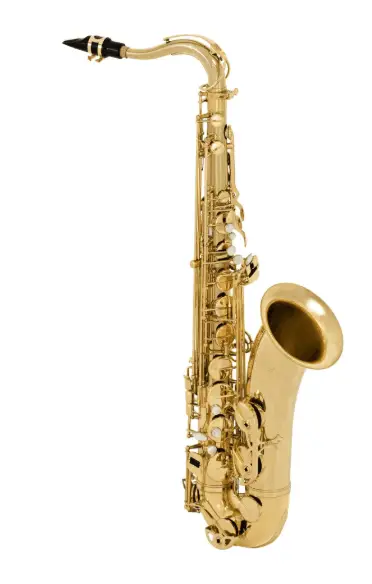 Pros & Cons
Amazing, unique and professional sound.
Cost friendly
Durable and lightweight.
High F# key.
Includes cleaning kid, trek type case, mouthpiece, ligature and cap.
The mouthpiece supplied is very basic, according to current owners.
#5: Selmer TS44 Professional Lacquer
The TS44 plays with a really nice rich, warm sound that you can use for both classical and jazz music. This horn features a genuine Henri Selmer Paris neck and it does come standard with a beautiful BAM backpack case, so you can easily transport it from your car to your lessons.
With this particular horn, you really do get a professional level and sounding instrument at an intermediate price. It's also available in a black nickle and a silver plated finish. A superb deal and a great, high quality musical instrument.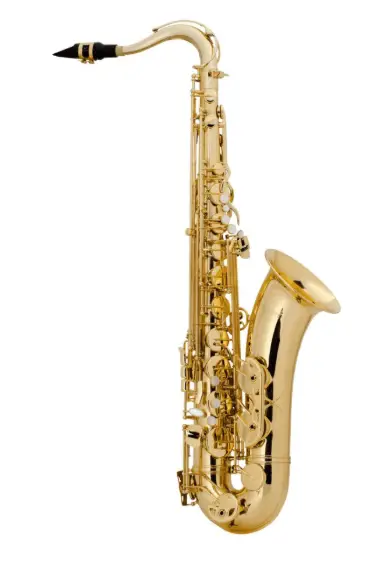 Pros & Cons
Affordable for a high level instrument.
Henri Selmer Paris neck.
Treated with leather pads.
Includes a BAM backpack.
Meant for jazz and classical music.
The mouthpiece may need some upgrading as it is a basic one.
Not as lightweight as most, but still light.
#6: Jupiter 789GN – Great for Starting Out
The B flat Jupiter 789GN student saxophone is one of the best tenor saxophones for beginner students. The tonation is very crisp and clear making it a relatively easy horn to play classical and jazz music.
It features nickel plated keys, high F# tilting G# keys, B flat table keys, upper and lower stack adjustable screws, metal tone boosters and an adjustable thumb rest. If you are just starting out, this is a great option.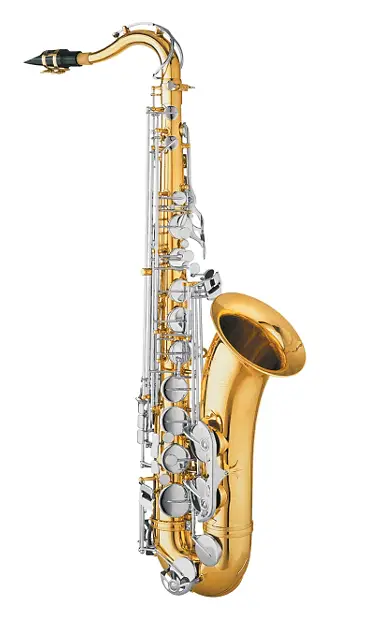 Pros & Cons
Includes a mouthpiece set, case and reed.
Comes with a padded neck strap.
Very affordable, not a cheap tenor saxophone.
Mainly for beginner players.
Will require more upkeep than better made models.
#7: EastRock – For Beginner Players & Students
What a great design by EastRock! Ideally for beginner players, users can enjoy playing classical and jazz music, which is perfect for a school band or jamming on the weekends. It is a beautiful instrument that provides amazing overall sound quality that enhances the already rich and smooth tone. This is a great fit for any level player, mainly because of the quality sound it produces.
This horn comes with a hard carrying case, one reed, white gloves, neck strap, mouthpiece, and a cleaning kit (cloth and rod).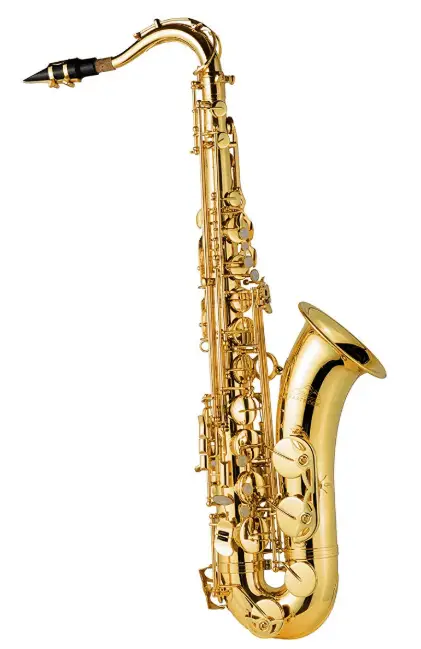 Pros & Cons
Handmade from high quality materials.
Ergonomic key design for enhanced comfort while playing.
Visually appealing.
Under $500
Ideally, this horn if for beginner players.
Average mouthpiece.
#8: Hawk WD-S411 – Great for Moving Up to The Tenor
If you play alto saxophone and are looking to jump up to the tenor, this is a perfect instrument to do that with. It's affordable (under $500 on sale), which helps make the curious transition a little more safer for anyone trying to find the best tenor saxophone for students.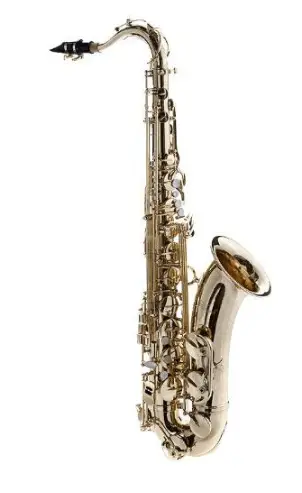 Pros & Cons
Affordable and great for beginner players.
Average 4 star rating on Amazon.
Not the best handmade quality material.
#9: Mendini by Cecilio MTS-L
The Mendini by Cecilio MTS-L is a great student tenor saxophone if you're just starting and want a good quality instrument. It's designed to be easy to play without spending too much money. Although it is under $500, it is still made with high quality handmade materials. In addition, this horn is perfect for marching.
This horn is available in a variety of finishes, such as gold lacquer, gold lacquer body with nickel plated keys, nickel plated body and black nickel body.
Pros & Cons
Cheap (under 500 dollars).
Great tonality and sound.
Perfect for marching band.
Not great for professional players
#10: Yanagisawa Brand
One of the best tenor saxophone brands in the sax market is the Yanagisawa. Some of the top tenors of the Yanagisawa brand can cost up to $20,000. They are very attractive for professional players or beginners who are looking to become intermediate saxophone players. The lowest prices are just under $4,000. Below is a list of the most affordable options.They also provide outstanding value. After all, the Yanagisawa is considered a professional quality tenor saxophone.
The traditional brass model (T-WO10) has top-notch projection and is affordable for intermediate players.
Also an affordable option for players who want to improve their ability from beginner to intermediate play.
9.5 of 10 StarsC
Yanagisawa Sterling Silver Body, Bell, Neck and Bow (MOST EXPENSIVE)
All the bells and whistles. The sounds and looks on this instrument are legit!
9 of 10 Stars
Frequently Asked Questions:
We understand this is a huge investment for you or someone you love. With that being said, there are questions that need to be answered in order to understand some of the lingo and what you will be purchasing. Here are the FAQs that we receive and questions / answers we have done research on.
What key is a tenor sax in?
A tenor sax is pitched in the key of B♭. The soprano is the highest pitch, followed by the alto. The tenor is pitched one octave below the soprano.
What type of tenor saxophone is best for professional players?
A professional player will need one that can play any note, tune to their liking, and be very versatile. It will need to have smooth key fingering so they can play for hours at a time (practice or performing live).
What is the best intermediate tenor saxophone?
In our opinion, the top intermediate tenor sax is the Yamaha YTS-480. The fact that is can hit every note imaginable, and sounds great while playing classical, jazz and current pop music, it can handle a great player.
What is the best way to clean a tenor saxophone?
The best way to clean a tenor saxophone is to have a neck swab and a body swab. First of all, your saxophone is like your silverware. You don't clean your silverware once a week, you clean it every day. Second, the more you clean it the longer it lasts. Lastly, you should strive to make cleaning your instrument a habit.
Once you have both swabs, your main focus is to try to get rid of all the moisture that accumulates while playing your instrument. The more you can keep it dry the cleaner it will be. For a more detailed guide, please contact us and we would be happy to give you more assistance.
What is the best tenor saxophone for jazz?
We mentioned that the Selmer TS44, Jean Paul TS-400, Yamaha YTS-62III and all the Yanagisawas are great for playing jazz. Whether you're in a band or like to rock out in your basement, be sure to check these exact models out to get the full experience.
What is the best tenor saxophone brand?
This is more opinionated than anything, but the majority of votes would go to the Yamaha brand. They have been around for decades and have some real high quality designers. It shows when you see some of the top players in the world using the Yamaha brand.
What is the difference between alto and tenor sax?
The main difference is what the instrument is pitched in. The tenor, as mentioned above is pitched in the key of B♭, while the alto is pitched E♭. They are commonly referred to as a transporting instrument.
Are there used tenor saxophones for sale?
Yes, there are used tenor saxophones for sale. Most of the time there will be wear and tear on used ones, but you will save a good amount of money if you decide to go the used route.
Where is the best place to buy a used tenor saxophone for sale?
The best place to buy a used tenor saxophone for sale is either on Amazon or a used instrument site. You can also look on ebay, as some musicians auction off their old instruments daily. Many people that buy used instruments do so on craigslist, so you can check there as well. Finally, the last option you can go with is going to your local music store and shopping around there.
Category / Accessories Breakdown
Cases
Finding and purchasing the right case is essential. You will most likely be traveling to and from school, band practice, lessons or a jam session. Look for lightweight cases that you can easily transport.
Mouthpieces
Not every tenor saxophone mouthpiece is great, especially the one you get that comes with your purchase. It is one of the most important pieces to playing really good music.
Mute
Practice anywhere any time with the mute. We write a whole review on it. Never worry about the sounds you create ever again.
Necks
Sometimes necks get damaged or you just need to upgrade them. Which ones will fit your instrument, and which ones are high quality to help you play better? We break it all down for you.
Neck Straps
Neck straps can help sooth your neck and help make you feel much more comfortable while playing for long periods of time.
Lessons (Online Video Courses and Live Lessons)
With all of the technology that we have today, anyone can pick up an instrument and learn how to play through online video lessons. We will tell you which ones are best and how much they cost.
Reeds
Reeds don't last forever, unfortunately. However, having a quality set around just in case one of them breaks allow you to keep playing, practicing and honing your skills.
Final and Overall Thoughts
There are plenty of different tenor saxophones for sale out there from reputable manufacturers all over the world. Our list can be a great way to find one that fits you, or it can be a great way to move you closer to a purchase. Either way, we want to help you out!
Our entire goal of this guide was to make sure we hit on all the important things in buying an instrument. Those are budget, quality and performance.
As you probably know by now, a great quality tenor sax will end up costing a few thousand dollars. We tried really hard to keep a budget-friendly mindset while creating this list. As a result, we left out some of the most expensive brands and models.
Most of the time in music you get what you pay for. The instruments on our top ten list is our honest opinion and we believe brands such as Yamaha and Selmer design and create some of the best tenor saxophones for sale on the market today.
If you need additional help finding one that fits and suits your needs, shoot us a message, and we will be happy to include it in the next review series.