My Ten Best Floorstanding Speakers For High Powered Sound Quality
Movie fanatics, music lovers and audiophile nerds assemble because our list of the world's best tower speakers will supercharge your sound system. After all, that is what most of us are seeking – a way to enhance your favorite Marvel movie and listen to the sounds as the director, artist, or composer intended it to be.
How about a featured three to get started? Check out the table below. How it works is the left (or top if on mobile) spot is the "high-end" tower speaker that we all dream of, the middle spot is our "value choice" and the right spot (or bottom if on mobile) is sometimes the cheapest (depending on the time of year) on our top ten list.
On a Budget?
Jump to our Category Breakdown to find tower speakers in your price range.
The Featured 3
Best Overall Value
The Dream Tower Speaker
Great for Your First Pair
We're going to get right into our top 10 list because we don't like wasting time. Before we do though, our list is compiled by analyzing hundreds (if not thousands) of reviews on more than 200 highly rated floorstanding speakers.
There's isn't necessarily a speaker on this guide for every budget, but if you have a specific price range, such as under $1000, then see our category breakdown section and find the budget you are interested in.
Top 10 Floor Standing Speakers
Click on one of the products below if you want to learn more about about why the rock and what makes them worthy enough to be on our top ten list.
Keep in mind that there is more in depth information on each individual floor standing speaker review. Remember, your mission is to find a speaker that will make you happy for the LONG TERM. We're here to help you with that!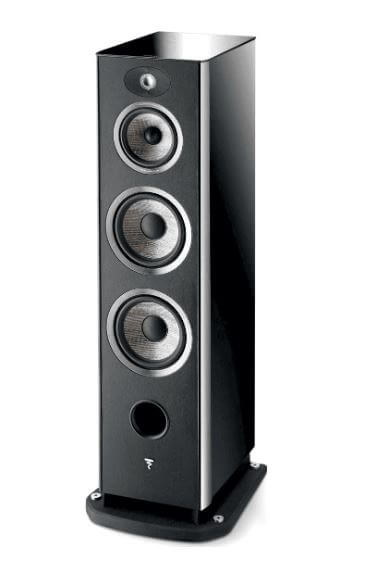 It's tough to actually make a top ten, and then to have to make a number one choice is almost impossible. With that being said, there are so many worthy tower speakers out there that can all be deserving of this position. However, we did ultimately choose the Focal Aria 948, but why? What's great about this floorstanding speaker is the clear, crisp and smooth sound it produces, especially after you are done breaking them in (yes, you need to break in speakers). The 948 will supercharge your home theater, and there's no question you will hear what the director's or musician's music truly intended for you to listen to.
If you love home theater in general and watching movies with super sound quality, you literally can't go wrong here. The same can be said with using these speakers for music. The sound is incredible and impressive. Their "intense bass" that Focal uses for marketing the 948 is actually spot on, mainly due to the fact of how good their drivers really are.
Furthermore, this hi fi pair of speakers have outstanding mid range with a reasonable price point. If you have a listening room, you would be very impressed with the high quality full range sound this puppy can generate. Just make sure you purchase the right amp (technology can make a difference). This pair of speakers really is one of the best floorstanding speakers you can buy.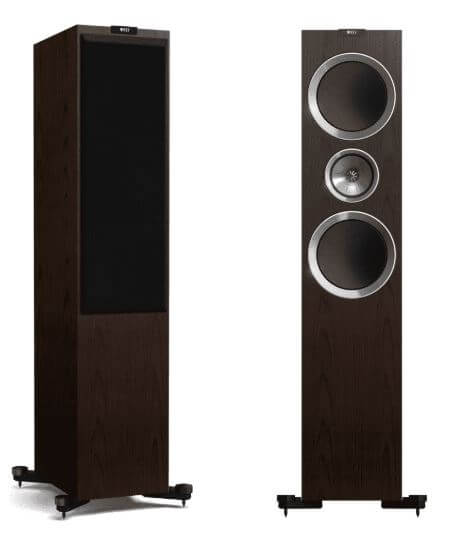 There's so many awesome things to say about the Kef R900. For starters, they are so precise in terms of hearing every nuance of each vocal, instrument or beat the music or movies. Second, the R900s provide unbelievable depth. Lastly, you don't have to sit in the perfect spot, or have the speakers point directly at you to hear every detail because the dispersion is excellent.
The mid range sound is good, full range is great and the bass goes perfectly.
If you power the Kef R900 with the Parasound A21 power amp and P6 pre-amp, along with the right subwoofer (SVS SB3000 is a great choice), you're looking at an absolutely stunning audio sound experience.
Obviously this should be in our featured three list, but the Focal Electra 1038 best tower speaker is a BEAST! It's also the most expensive (as of 2020) on our top ten. Remember, we organized tiered budgets so you can narrow down your choices even easier.
Now, there are also the Focal Chora, Sopra and Kanta which are all amazing models – also all beasts! If you ever see the Focal commercials for the Electra 1038, they always say it is a three way speaker that is focused around performance, but which speaker isn't focused around performance?
Full review coming soon!
The best thing about the Focal Electra 1038 is their latest acoustic innovations. All hail to better technology, that's for sure. But, with these latest innovations you will experience probably the best precise, detailed and warm sound you have ever heard in your life – take that to the bank.
Why isn't this our number one choice? It probably should be, but we don't like putting the most expensive product at #1 because not everyone can afford it. This is, without a doubt, the tower speaker we all dream of having in our living room. Being a STAR requires some kahunas. Like my audiophile mentor always told me… Go BIG or Go Home!
Talk about impressive, the KLH Kendall are all that and more. The KLH brand itself was founded in Cambridge, Massachusetts and have created some of the best selling speakers in the world.
What makes the Kendall so great is that they are super clear at all frequencies. If you listen to music, you'll be able to hear every instrument as they all sound distinct and not in any way blurred together.
Full review coming soon!
An excellent quality that almost every KLH Kendall owner raves about is the stereophonic soundstage. Most owners will tell you it is extraordinary, and right they are. If you decide to get a pair of the Kendalls, they get so loud (we we love) without distortion and maintain their clarity, which is impressive to say the least.
We had to put the Focal Aria 926 in the top five for sure, it's one of our favorite tower speakers of all time. While they take about a month to break in, they give out incredibly brilliant sound. It is truly impressive. When you hear the music or sounds on a movie for the first time you will seriously be shocked.
If you get a quality amp/DAC or AVR with these it will immensely improve the audio experience. In our full review of the Focal Aria 926, we provide some free information on which power amps pair near perfectly.
They are very comparable to the Monitor Audio Gold 300s and quite possibly the silver 300s. But, in our humble opinion, the 926s are better than the Monitor Silver 300s. Focal is one of the big dogs when it comes to floorstanding speaker brands, and they have created a masterpiece again with the Aria 926.
Price fluctuates frequently in the home audio / technology world. Sometimes you can get a ridiculous bargain with the Klipsch RP-280F. There are times during the year where you can find these floorstanding speakers under $500. Klipsch is a phenomenal brand in the sound biz, but what makes the RP-280Fs so great?
Get your old music out with these beauties because you will hear things you've never heard before. If you're a real movie love, you can't go wrong with these tower speakers as you will hear the true meaning of clarity.
If you had the Motion 40s, you will absolutely love the 60s. Specifically, the 60s have a completely different tweeter than the 40s. If you like bright (powerful) sound, the Martin Logan Motion 60XT is a great option, but what else is so special about the 60s?
Full review coming soon!
You know the tweeter we just mentioned? Well, it's an advanced resolution Folded Motion XT tweeter. It's designed to play louder, lower and with steadfast accuracy. The design is super elegant and looks beautiful in any room inside your home.
If you decide on purchasing these, you will experience engaging and encompassing sound that you have probably never heard before. For music and movies, you will get the full emotional effect.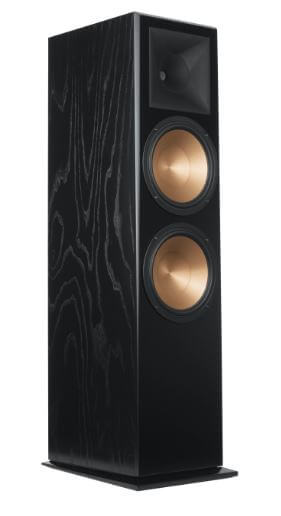 Feel like living on the edge? Go ahead and buy the Klipsch RF-7 III because once you start listening to the sweet, clear noises on an ever-day basis, it will blow you away.
Featuring an all new Tractrix horn, which improves higher frequency response and extension, the rf-7 iii is legendary. It's also dying for you to bring it home!
Designed with premium furniture, the RF-7 III features wood veneers. It's actually quite nice on the eyes and can fit in almost any room in your home. The 10" cerametallic woofers provide a lower, clearer and richer sound. Hard to imagine this is number eight on our list, but like we said before, any of these floorstanding speakers are a great choice. We love the Klipsch brand, so pull the trigger and go for it.
This was a tough one, but we just couldn't keep the SVS Ultra Tower off our list. It is one of the best sounding floor standing speakers we have ever encountered. You can get them in a piano gloss black finish or black oak veneer finish. Both look amazing of course, so it's really just up to your style and preference.
Full review coming soon!
When we listened to music on the SVS Ultra Tower, one word came to mind – Commanding. There was this deep, articulate bass coming from them, but with extremely clear and crisp sound. It was a blend of audio that was near perfect. Hundreds of five-star reviews on a boat load of sites out there, so don't you dare hesitate to pick these up while the price is still right.
Last, but not least, is one of our favorites – the Klipsch RP-8000F. These tower speakers feature a powerful cinematic sound which is a perfect characteristic for movie lovers. You'll never have to fluctuate the volume controls ever again after you set these up.
Full review coming soon!
Dual binding posts and a flexible removable magnetic grille make the rp-8000f a true winner. The one thing that most Klipsch owners love about their speakers are the copper woofers. It just makes them look more powerful. You'll be inheriting their hybrid Tractrix horn technology, which provides higher frequency and just makes the overall listening experience that much better.
Category Breakdown
Under $10,000 (click for more)
Under $5000 (coming soon)
Under $2000 (coming soon)
Under $1000 (click to see the full review): Here, I break down a few different options that are dynamite choices.
Under $300 (coming soon)
What goes into our Best Floorstanding Speakers Review Guide?
We take our guides very seriously because we know how important this purchase is going to be for you. Whether you are buying a pair for the first time, or you love buying more speakers, we aim to give you enough details to make the right choice.
With that being said, everyone has different preferences, goals, and room sizes. The tower speakers we list on all of our budget guides were intensely researched by our Music Audio Star staff. We analyzed thousands of reviews and tested hundreds of products. Although a fun and exciting project, it took a lot of time, effort and focus (because you have to remember what each of them sound like).
Frequency Response Testing
Even after all of that research, it was still super difficult to put together a top ten. Mainly because there's so many great options. If you check out all of our category breakdowns, there are awesome options for any budget.
It all comes down to hearing the sounds that the director, composer or artist intended it to be. We know for a fact that you can get that with any of the floor standing speakers that we recommend. All floorstanding speakers on this top ten guide have high end frequency response that will power up your home theater.
Speaker System Requirements
It's important to know that some speakers are powered and others need power. If you purchased powered floorstanding speakers, you'll be able to take them out of the box, hook them up via bluetooth and start hearing the sweet sound you intended to hear. In order for you to get detailed sound quality with non-powered speakers, you'll need to power it up with an AMP or receiver. You'll also want to buy cables for the best quality sound.
Conclusion
When we decided we wanted to find a pair of floorstanding speakers, it took us a while to compare and contrast. It isn't easy finding a match because at the end of the day you should be testing them all out.
Unfortunately, not all of us have that kind of time and money, which is why we created this list. At the very least, it's a great starting point. If you can't afford the ones on this particular page, check out a budget that fits you best.