We're all looking for better sound for our music, movies or video games. After all, it does enhance our entertainment experience.
Imagine high quality bookshelf speakers that can ROCK your world under the five hundred dollar price point. In our top nine list, we'll help you get one step closer to improving your home audio sound system.
At the end of the day, our entire goal is to help you choose the right bookshelf speaker for whatever it is you need it for. So, whether you're using it for surround sound in movies, or cranking up the volume for your music, we have something for everyone.
We also have individual reviews if you see something you want to explore a tad bit more before you buy. Upgrading your sound system is an exciting time in anyone's life, not just audiophiles in general. With that being said, let's get right to it and start off with our featured bookshelf speaker.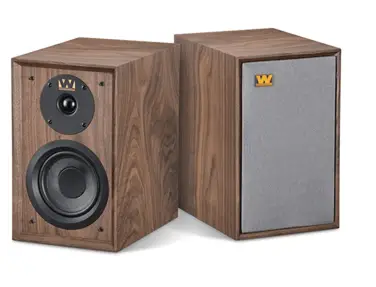 The Featured Spot
Wharfedale – Denton 80th (Walnut)
The United Kingdom is becoming well known in the audio industry and Wharfedale doesn't disappoint. The crisp and clarion clear sound that comes from these book shelf speakers is unheard of for the price.
Top 9 Best Bookshelf Speakers Under $500
Sneak Peak
| Rank | Product |
| --- | --- |
| 1 | JBL Studio 530 |
| 2 | PSB Imagine Mini |
| 3 | Definitive Technology SM45 |
| 4 | Wharfedale – Denton 80th (Walnut) Book Shelf Speaker Set |
| 5 | ELAC Uni-Fi UB5 |
| 6 | Edifier S1000DB |
| 7 | Audioengine A5+ |
| 8 | Definitive Technology ProMonitor 1000 |
| 9 | Wharfedale Diamond 220 |
One of the most impressive sounding bookshelf speakers you will ever get your hands on, especially under five hundred dollars. This baby performs well above its price tag.
The Bass alone is freakishly good. There's really not enough good things to say about it, and many audiophiles would strongly agree. In fact, it is a discontinued item, which makes it extremely difficult to find a pair for sale. Keep your eye out for them, and if you find it, be sure to jump on the opportunity.
Pros & Cons
Outstanding Bass (freakishly good)
Great for music (especially classic rock)
Powerful engineered horn
A discontinued item, making it difficult to find. Get one while you can.
Listen, not everyone is going to agree with me on this one, but here's the deal, the PSB is affordable and produces some serious sounds. This is because the speaker has given considerable attention to the quality of its audio production components as well as the cabinet for the internal components, which is equally important. Most importantly, the sound quality from the PSB Imagine Mini is fantastic.
Even though the PSB Imagine Mini has an excellent audio performance, it still lacks on its dynamics. This is evident by how the sound gets some minor distortion when blasting your music at volumes towards the upper-end. However, when listening to music at normal volume levels, the audio performance is quite subtle. Otherwise, lacking in dynamics is not a deal-breaker.
Pros & Cons
Built with a great design available in several color variations.
It is small-sized, which makes it exceedingly versatile.
It produces a powerful and high-quality sound.
It still has room to improve its dynamics
Definitive Technology has not disappointed with their SM45s model. The model produces arguably the finest sound quality among all bookshelf speakers in this price bracket. Additionally, it is made with a minimalistic design, which makes the speaker quite versatile.
Similar to other bookshelf speakers, the Definitive Technology SM45 does not have the best bass response because of its small form factor. So, if you are looking forward to some heavy thumping in your room, this speaker may disappoint you a little bit. Aside from the not-so-good bass response, this speaker will deliver a good listening experience for you.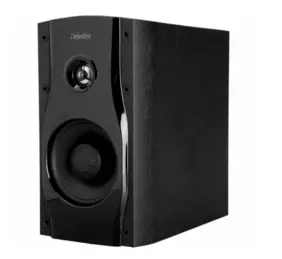 Pros & Cons
Has a fantastic and straightforward design
Produces quality sound that's hard to fault considering the price of the speaker
Its form factor is versatile and perfect for different uses
The quality of bass produced is quite lacking but kay for a $500 bookshelf speaker
Backtrack to when Wharfedale was launched, this speaker rocked the market, and to date, the performance it has is still top-notch. A factor that's ensured that this speaker stays relevant for a long time is that the Wharfedale company uses innovative solutions combined with high-quality materials. If you are after a brand that just gets it done when it comes to audio equipment with a great appearance and performance, the Denton 80th (Walnut) should be on the top of your list of options.
It is important to note that the Denton 80th delivers a balanced response across the range, which is unlike most bookshelf speakers in the $500 bracket that lack good bass response. Ultimately, the amount of power produced by these speakers is perfect for a small or medium-sized room.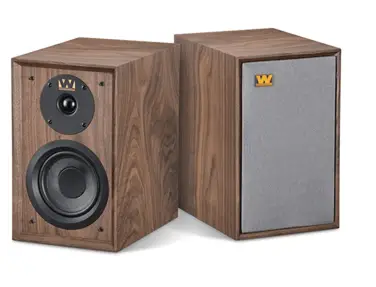 Pros & Cons
The speaker has an excellent build quality and design
Has good transducers and high-quality components
Produces good sound response across the range
Still not a good option for large rooms
The cooperation between ELAC and Andrew Jones has been of great benefit to the two parties and also to the end-user. Together, they have created one of the finest bookshelf speakers in the market, the ELAC Uni-Fi UB5. The ELAC Uni-Fi UB5 has a three-way configuration which has a coaxial tweeter that enhances the quality of sound produced. It is important to note that if combined with a good woofer, this speaker can provide some great thumping when playing your favorite audio.
The design and aesthetics of the cabinet notwithstanding, the cabinet limits the sound reproduction of this speaker. This is caused by the hardware used is compacted to maintain the speaker's bookshelf factor. You can get the sense that if the speaker had slightly more space between the components, it would produce a much better audio quality. Nonetheless, this is a fair limitation to a $500 bookshelf speaker.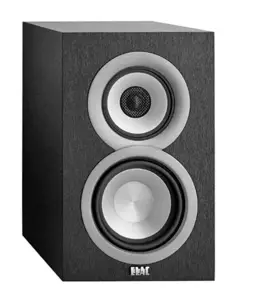 Pros & Cons
It has a three-way setup
Delivers quite a good performance
The tone is balanced and can be controlled
Its cabinet has some limitations
Edifier has once again produced a great set of speakers that will give you amazing listening experience. Their S1000DB has been created in such a way that it provides high-quality audio and meets the versatile demands in the market. Additionally, the speaker also has some of the best transducers and a powerful in-built amplifier. So as to give customers something great, Edifier has also used the best design on this speaker.
Technology has made it easy to find the best audio listening equipment, where you only need to plug and play. The Edifier S1000DB falls into this category, which is a good thing. However, the speakers require more time to achieve the best audio performance.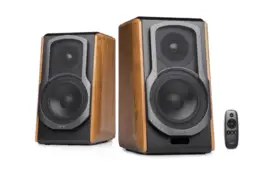 Pros & Cons
Provides several connectivity options that make it so versatile
Minimalistic but attractive design
A relatively good performer across the range
It has a longer burn-in period
The Audioengine A5+ falls into a category of rare active speakers that have a lot to offer. Notice that the speaker has 100 Watts of RMS power, which makes it a compelling speaker for home use. Generally speaking, the speaker provides a balanced sound response and especially the bass response.
It is important to note that the Audioengine A5+ performs differently under varying room conditions. As a result, it can be a challenge to get the best audio performance in the room you are in, given that these speakers lack when it comes to acoustic control.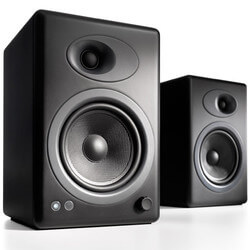 Pros & Cons
It offers great performance
Simple design that focuses more on functionality rather than the size
Gives the user a lot of power
It does not have acoustic controls
The Definitive Technology ProMonitor 1000 is one of the best speakers in the $500 price bracket because of the amazing features that it has. One thing that makes the ProMonitor stand out is that it ensures that there is a good bass response despite its compact form. Most importantly, its priced well for what it has to offer.
Even though the term 'bookshelf speaker' implies that they should be placed on shelves and other confined spaces, most people prefer to mount them on the wall. Therefore, it is disappointing to find that the Definitive Technology ProMonitor 1000 does not have a wall mount bracket. Though not a grave concern, it can be a factor to consider when deciding whether or not to buy this model.
Pros & Cons
The speaker has functioning planar radiators
A good sound response across the range
Perfect cabinet design for small spaces
Does not have wall mount brackets
In the past, Wharfedale has had issues with the bookshelf speakers it has been releasing into the market. However, their latest release, the Diamond 220, has redeemed the brand by dealing with the numerous issues that plagued the models that came before it. The speaker has better sound drivers, the cabinet design is improved, and generally better audio performance.
The improvements might not have made it the top dog, but they surely have made it a great pick for audiophiles. The speaker has a great bass response, which can be significantly felt in a room. It is important to note that the good bass response was not an expected feature of the Wharfedale speakers, but it shows that the company is keen on becoming a serious contender.
Pros & Cons
The tone quality is quite impressive
Has a good cabinet design
It has slot-loaded ports
Has a solid wood cabinet that makes it durable and enhances its aesthetics
What Level Of Performance Can You Expect With this Budget?
It is important to note that there are cheaper bookshelf speakers in the market. However the five hundred dollar set is a superior option because most manufacturers make use of better components when making this set.
We love companies that can create pure beautiful sound with a smaller budget. That's the list we gathered for you. It's a list that any audiophile would love to have.
With that being said, it is important to note that for the manufacturers to use good quality materials, so they have to cut down on some costs like the cabinet design. As a result, they may be less appealing compared to less expensive alternatives, but be assured that the most important thing, which is the audio performance, will be better.
While the more expensive bookshelf speakers are considered superior, you will still notice that the speakers in the $500 price range are comparatively equal to some of the more expensive speakers. This implies that it has become easier to get high-quality performance at a relatively affordable price.
In essence, buying the a pair you love will definitely satisfy your needs even if you are an audiophile. Nonetheless, you should take note of the miniature features that differentiate the different models in the market.
The $500 bracket is a very competitive one, which has forced bookshelf speaker manufacturers to produce good quality speakers all-round. There are those brands that will even go over-board to create exotic designs to edge-out their competitors, and all these are in favor of you, the consumer.
If you have a bigger budget than this price, then you'll want to check out our top under $1,000 bookshelf speaker list.
Obviously, you have to understand that the higher you go in terms of price, the more assured you are of better performance and, most importantly, the power of output. This is because expensive speakers are usually optimized for use in large rooms, and for that reason, they cost more.
However, unless you really need a speaker that can saturate a large room with quality sound, you should not hesitate to go for the top quality sound and audio that can also give you quality performance. In addition, this is the reason why the $500 speakers are much sought after in the market.
One other thing that you should expect from a $500 set of speakers is that most of them come with crossovers, which significantly enhances their performance. All things considered, leaving the cheaper options for this price range is a logical choice anytime, and in the long run, you will be glad you made it.
Conclusion
The big speakers may be able to produce the mightiest sound you desire, but some factors like space and budget can significantly limit you from acquiring them. It is undoubtedly true that big speakers are costly compared to smaller ones, and finding a good position to place them in your house can be a major road block. That's why a smaller set of speakers, bookshelf speakers for that matter, are a perfect option considering the quality performance that they can deliver.
As you can already tell, you can get a good set of speakers in this price range, which makes shopping for them very exciting. They do not compromise on performance and have amazing features, which makes them a favorite for many people, and that's evident from the models listed above. Confidently speaking, the models listed above can compete directly with bookshelf speakers that retail at double their price. Regardless of what music genre you are hooked to, having the best bookshelf speaker under 500 will guarantee you high quality, BOOMING sound.