One thing on this planet is for certain, the quality of music you listen to is greatly affected by the audio output equipment that you have. You can take that to the bank! This means that in order for you to enjoy beautifully crisp sounding music, the speakers have to be BOOMING and high quality.
Most audio lovers will agree that you get what you pay for. We'll show you our top ten list, as it is possible to find similarly high-quality bookshelf speakers at an affordable price.
Nonetheless, when you buy your first pair of these bad boys, rest assured that there is more value in it compared to the cheaper speakers. This guide is going to focus on really good bookshelf speakers under $1000, their features, pros, and cons. But first, let's get the ball rolling with the featured speaker.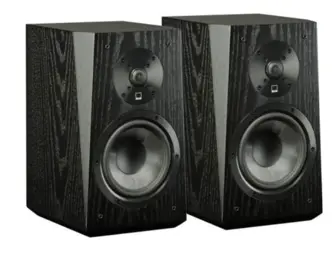 Featured Bookshelf Speaker Under $1,000
SVS Ultra
Pump up the volume with the SVS Ultra. Once you get your hands on these babies you'll quickly realize why they are our featured bookshelf speaker.
Top 7 Best Bookshelf Speakers Under $1000
Reveal Our List by Clicking Here
| Rank | Product | MAS Rating |
| --- | --- | --- |
| 1 | SVS Ultra | |
| 2 | Pioneer Elite SP-EBS73 | |
| 3 | MartinLogan Motion 15 | |
| 4 | Audioengine HD6 | |
| 5 | KEF Q150 | |
| 6 | Klipsch RP | |
| 7 | Tannoy Revolution | |
#1: SVS Ultra
The quality performance that you get from the SVS Ultra bookshelf speaker can only be found in those speakers with the best components. The components are not only good in producing quality sound but are also aesthetically impressive.
If you are a true audiophile, then this speaker should quench your thirst for good music because it has precise, accurate, and nuanced sound.
Another significant aspect of this speaker is that it has exceptional tone balance. You can therefore play any audio and be assured that the bass and treble will come out just fine. It is important to note that no matter the frequency of the audio, these speakers will not produce distorted sound because of its crossover frequency feature. If you are looking for ultra sound to buy for your living room, then this is one of the best options available for you.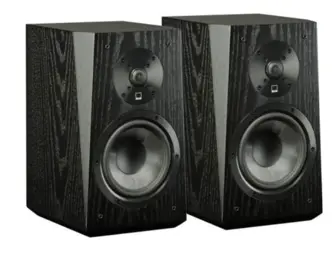 Pros & Cons
The components used are heavy duty and will not spoil easily
Accurate sound
The image projection is overly focused
If there is a downside to this speaker, then that could be the image projection that it has. Its image projection is pretty focused, which makes it challenging to find the best place to have it in a room.
Aside from this, there is no other major complaint about the SVS Ultra speaker. In fact, the SVS Sound brand is highly respected in the audio industry.
In terms of design, the SVS Ultra speaker matches its price. The design is sophisticated but classy, which makes the speaker a valuable addition to your office or room. It is also designed to survive ages because of the high-quality components used. It has a domed bottom, which is meant to improve the quality of sound that it produces.
It is also important to note that these speakers are not as heavy as they only weigh nineteen pounds. However, they are not portable because of their dimensions, but you can move them around your room.
#2:Pioneer Elite SP-EBS73
Features
The Pioneer Elite SP-EBS73 is held in high regard and falls within the under 1000 dollar price range. With its five-way crossovers, the speakers can produce quality sound in any frequency range. It is not easy to find a speaker that can do what this Pioneer Elite SP-EBS73 can do.
It is important to point out that no feature deserves to be disliked in this speaker. This is not a normal thing in the bookshelf speaker market, where most manufacturers sacrifice some important aspects to make their speakers cheaper. If you have the financial muscle to purchase one, do not hesitate, get yourself these speakers today.
Design
​When looking at the design of the Pioneer Elite SP-EBS73 bookshelf speaker, it is justified to conclude that it is impressive. This is evident with the domed grilles it has, which gives it a sophisticated look. You should note that compared to other bookshelf speakers in terms of size, the Pioneer Elite SP-EBS73 has a decent size and does not weigh much. Additionally, it has curved sides, which improves its appearance and increases the sound projection in a room.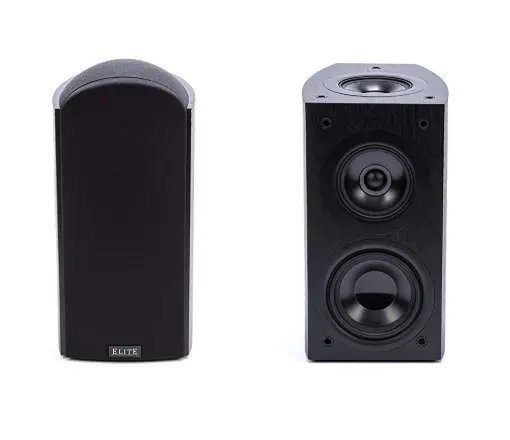 Pros & Cons
It has a five-way design that has sophisticated crossovers which consequently produce perfect sound
High-quality cabinets for enhanced sound
Offers real value for money
Many people find it to be limited sound wise
#3: MartinLogan Motion 15
Features
For a long time now, MartinLogan has been producing excellent audio speakers and the Motion 15 lives up to the expectations. The fact that you've decided to spend $1000 on speakers warrants you a right to the best performance and design in a speaker. The Motion 15 can offer you this, but compared to other bookshelf speakers under 1000, their bass response is not as good. If you are a lover of bass, you can add an extra subwoofer to boost the bass from this speaker.
The MartinLogan Motion 15 is highly recommended by many audiophiles when it comes to high-frequency sounds. However, it is essential to point out that sounds that are below 70 Hz are challenging to listen to because of the large size of the speaker. Still, an amazing choice.
Design
The Motion 15 speakers have one of the most elegant designs in the bookshelf speaker market. They have a sleek top, which reduces in size towards the back of the speaker. The speaker cabinet is also finished with a high-gloss veneer, which gives the speakers a luxurious appearance.
The speaker also has an aluminum dome at the front, which enhances the aesthetics of the speaker. Additionally, the speaker has a flat back for easy loosening of tightening of the binding posts.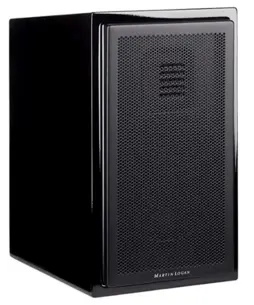 Pros & Cons
Has a luxurious and minimalist design
Exceptional sound quality
Has a versatile form factor
The bass quality is not that good
#4: Audioengine HD6
Features
The Audioengine HD6 speakers are more than just speakers. They can be used as a home theater system because you can connect your phone or computer to these speakers and enjoy your favorite music and shows.
Design
For a $1000 speaker, Audioengine has a great design. You can find it in black, cherry, and walnut finish, and each finish has a stunning look. The speakers are easy to use as they come with a remote, which allows you to control the volume and your playlist from the comfort of your seat.
Another fantastic feature is that the Audioengine speakers have Bluetooth connectivity which allows you to stream your music wirelessly from your smartphone without any sound distortion.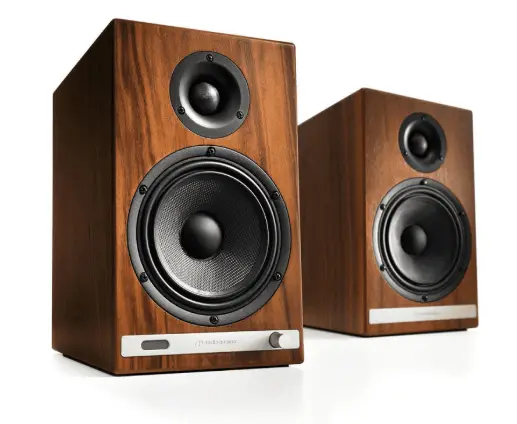 Pros & Cons
It is a versatile speaker
The speaker has a great response
Has a stylish and executive design
It can overheat in some parts
Features
If you are looking for a warm and smooth sound, the KEF Q150 is for you. The bass isn't booming, but that's not why anyone would by this bookshelf speaker. It has a fair bit of detail, but not overwhelming by any means. The treble is near perfect and these are fantastic for music lovers. This speaker is not for large rooms. We recommend it for medium-sized to small rooms to get the most out of them.
Design
The design is really nice. There are piano black, white and walnut finishes. They will pretty much blend in with any room you have.
Despite the sophisticated appearance, the speakers won't be the center of attention in a room with other décor as the design is minimalistic. Aside from the great look, it is also fun to use it for music and movies.
Pros & Cons
It produces excellent sound at high frequencies
Articulate, smooth and warm sound
Sophisticated design
Bass response is good, but not great
Features
The Klipsch speakers are the best option if you want to listen to chilled music because they are good with vocal audios. Essentially, this kind of speaker is good for magnifying small details in music, which creates a significant difference in how the song sounds. It is also important to note that the Klipsch RP-160Mspeakers can produce good bass if connected with an external sub-woofer.
Music is supposed to arouse emotions, but that can only happen if the quality of the sound is good. Klipsch speakers ensure that sound comes out with beautiful tones and pleasing to the ear. The speakers are especially good with mid range notes, which makes it sound like you are listening to a live performance.
If you love rock music, the Klipsch speakers are a great under $1000 choice that you can buy for your home. The speakers maintain the quality of sound even when you increase the volume.
Design
Design-wise, the Klipsch speakers are quite heavy, but it shouldn't be a problem using them as long as you have enough room. Aside from the size, the speakers are made of quality materials like polymer veneer. Also, the tweeters on these speakers are made from aluminum to enhance the quality of sound it produces.
Finally, the speakers are covered with a fabric which helps to protect it from dust and debris, which ensures that the speaker lasts for long.
Pros & Cons
It is excellent with high frequencies
Great with slow tempos
Great design
Does not have the best bass
#7: Tannoy Revolution
Features
Tannoy speakers were designed primarily for use in parties because of their high-power sound they produce. It is important to note that even at high volumes, the quality of sound is still maintained though some distortion may be there, but not likely. These speakers ace it when it comes to low midrange sounds, as it produces excellent bass even in heavy-rock songs.
Because of the powerful sound and the high vibrations that the speakers produce, the Tannoy speakers are not suitable for apartments.
Design
Being in the list of the top seven under $1000, Tannoy speakers have not disappointed in terms of quality design. Though they will occupy more space in your living room, they are an excellent aesthetic addition and will become a great focal point. The only downside on the Tannoy speakers is that it has spikes which can damage wooden surfaces. You should therefore be cautious on where you place them.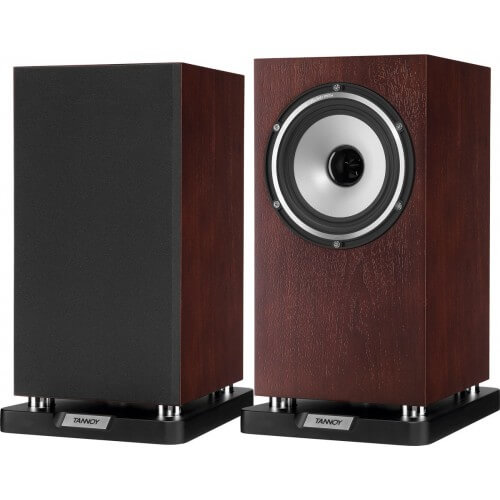 Pros & Cons
It produces a powerful sound which is great for parties
It has a good outlook
It shines at low frequencies
It is not suitable for use in apartments and shared spaces
What Can You Expect With This Budget?
With a big budget, comes big sound! Sometimes bigger is better! Well, let's take a closer look at what you can be expecting.
Additional Features
The quality sound alone does not give the best bookshelf speaker under 1000, a cutting edge; it is the extra features that they have which make them a better option compared to cheaper options. Most bookshelf speaker brands integrate extra features like custom designs, and you can also upgrade the speakers anytime.
Power and Quality Performance
The amount of power that these $1000 speakers can handle is enough to ensure that music, even in a large room, is not distorted. You may be investing a lot, but the performance you are guaranteed to get from having the any in the price range is top-notch.
Quality
Nothing is left to chance with the quality of these speakers. The components and even the speaker cabinet are of high quality, which ensures that the quality of sound is perfect. Bookshelf speakers that retail at this price range have high-end finishes, and even the woofers are of a larger capacity.
Conclusion
Here's the deal, with any of these options you are getting some real high-powered sound. The type of sound that will literally rock your world. So, whether you are going to use them for music or movies, get ready to have a whole different experience! If one thousand is too much money, then check out our under $500 bookshelf speaker options.
If you have to decide on whether to buy the best bookshelf speakers under $1000, then decide on your own, without the influence of other people. If you are comfortable spending the extra coin for better performance, then the speakers listed above are the best for you to choose from.