Listening to music on old, beat-up speakers is something we've all been through. The static sound and horrible bass makes you want to turn it off and listen with your same old boring headphones.
We all reach a boiling point, and it's easy to when your speakers aren't performing like they should. When you finally decide to make the leap into a world of booming bass, clear, crisp sounding bookshelf speakers powered with the right amp, your life will literally change for the better.
You see, music written by a composer, artist or songwriter is meant to be heard a specific way. The way they intended it to be.
Perhaps you're looking to watch the latest Marvel movie with a killer sound system, but need to complete the surround sound aspect.
Before we get into our top picks, there are a few things you should know before you buy any bookshelf speaker.
Whether you are new or not to buying speakers, it's important to understand that there are two types of bookshelf speakers.
Passive (Unpowered)
Active (Powered)
Passive bookshelf speakers are unpowered. This means you will need an amp or receiver to power them up and play music or sound. There are a few positives that come out of a passive type of speaker.
First, you can get the full potential of a bookshelf speaker that is powered by the right amplifier. Second, you get the full experience of hooking up your speakers to your amp or receiver. Lastly, you get to sit back, relax and enjoy that sweet, wholehearted sound you've always dreamed of.
Active, or powered bookshelf speakers, do not require an additional purchase of an amp or receiver. You can take them right out of the box, hook them up to your phone via bluetooth (if they have that capability) and start playing music. This is a great option for those who are just getting their first pair or those who have a budget for just a set of speakers and not an amp.
Imagine listening to music in your home with some of the best sounding bookshelf speakers that produce amazing quality sound. The bass is clear, the sound is crisp and finally you can sit back, relax and enjoy what you love hearing most. That sound that you hear is, well, next-level sound! And we have a little secret for you… you don't need the biggest speakers for the biggest sound.
Get ready to set the mood via music with our heavily researched and recommended bookshelf speakers. We have some of the best brands you'll find, all right here.
Top 10 Best Bookshelf Speakers (Powered and Passive Options)
We will have mainly passive speakers, but a couple active pairs on this list. Also, we will label them for your reference. With that said, our top three will be our recommended selections. After that, they are in no particular order, but are tried, tested and true from our team of audiophiles.
You will also be able to click on the "full review" link on each individual bookshelf speaker, as we give an in-depth look at each one. Without further ado, let's begin.
Type: Passive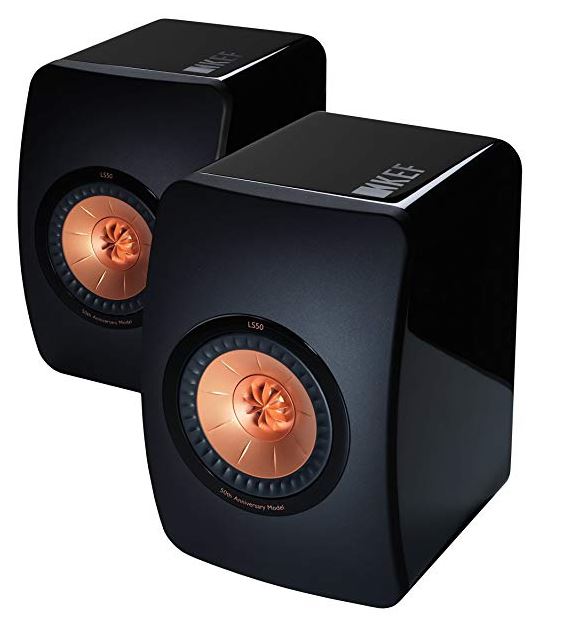 The most wonderful, small set of bookshelf speakers we have ever heard, period.
What's our take on the sound The KEF LS50 produces? It's like you're in Heaven! We were STUNNED what was coming out of them and they exceeded our expectations.
Have you ever wanted to hear your favorite musicians from the comfort of your home? Well, we're here to tell you it's possible these days, especially with the LS50 by KEF. The clearest, yet brightest sound we've heard to date from bookshelf speakers.
It's amazing how small they are, but how powerful their sound is. With that being said, we recommend an amp than can handle 4 ohms, even though they say 8 ohms. They have power!
If there is anyone out there that complains about the price on these, you're out of your mind and there is probably something wrong with your audio stack. These are our #1 choice and we feel confident recommending them to audiophiles or not.
Pros
Crisp, clear sound
Bright, but not overwhelming
Sleek and small design (can match any room)
Outstanding Sound Stage
Cons
Can be a little too bright for some audiophiles
Need to stack with the right amp (check our full review for tips)
Type: Passive
Our second recommended pair, the SVS Ultra Bookshelf Speaker, has as much power as speakers that are double their price.
The range on these babies are out of this world, especially for the price. From lows (40-45db), to (50-65db) to highs (65db and above) – everything checks the box of what a true budget audiophile would be looking for.
The sound stage is AMAZING and so is the Tweeter. Powered with the right amp, you will be able to get the most out of your music and dialogue.
Listen, we aren't crazy about the design. Some people that buy them are, but they are a little too bulky for our taste. The piano black color is beautiful and can match any room in your house or office.
Pros
You don't need a subwoofer (if placed correctly)
Crystal clear sound
Bright (powerful) sound
Amazing Sound Stage
Cons
Brightness can deter some people
Must stack correctly
Type: Passive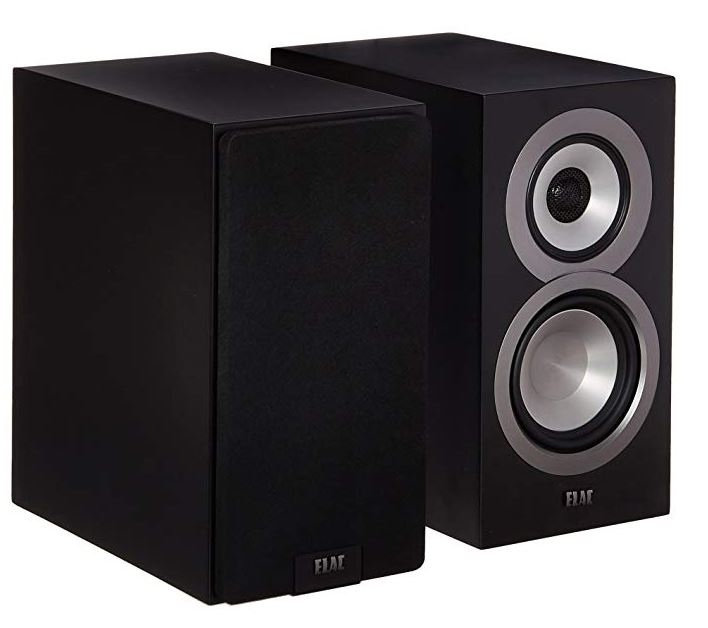 Any one of these speakers on this list from here on out can be in this position.
When you read the reviews at Amazon, you'll find amazing testimonials that may get you to pull the trigger. On the other hand, you'll find so-so reviews that can easily put you on the fence.
Like any speaker you are about to purchase, you need to consider the more important things rather than other people's reviews. For example, the size of your room, your gear and your tastes are far more important than anything else.
We're here to tell you that the Elac Uni-FI UB5 are tried and true audiophile bookshelf speakers. They may not necessarily be crowd-pleasers or party animals.
If you stack them up the right way, like with a 14 gauge speaker wire and an amp that is designed to power 4 ohm speakers, the UB5's have a chance to win your heart over.
Pros
Without question, the best bang for your buck
Amazing lows
Very well balanced
Remarkable detail
Unbelievable imaging and Sound Stage
Cons
Tough to get the speaker placement perfect (which makes a huge difference with these)
Performance can vary due to conditions and pairing with other gear
Need to know your power amps
Type: Passive
The M10 can be your entry into high-end audio. It's the most compact model of the Emit range. They look beautiful, which matches its sound.
One of the best traits about the M10 is how easy it is to pair with virtually any amplifier, as it features a 6 ohm impedance.
We'll say this, they work very well with lower powered systems and you will be able to pump out high quality sound. However, they are better with 60W RMS or more, with 80W being the sweep spot. If you can get that kind of high flowing current into your budget, you're in for a deep, full sound without losing too much agility.
We enjoy every Dynaudio speakers, but these are probably our favorite choice because of the detailed and clean sound without ever sounding harsh. They are probably worth 2x more (price) than what they are.
If you are going for warm sound, these are the speakers for you.
Pros
Easy to drive!
Well balanced
Great detail
Clear, precise sound
Cons
Lack an extra oomph for classic rock music, but with the right sub you can get what you want
Position is key, takes a while to test trial them out
Type: Passive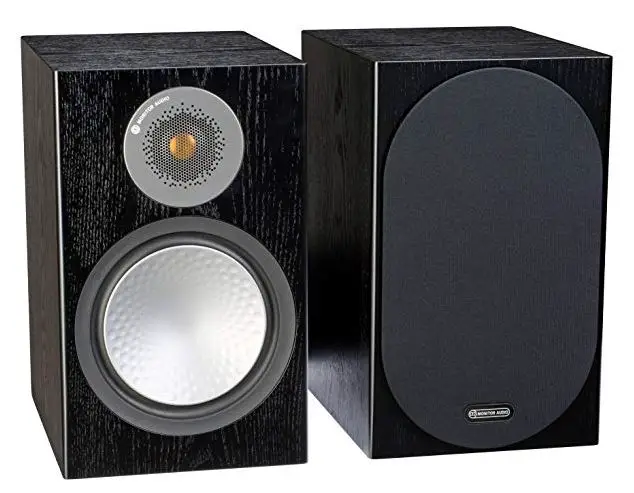 Incredible high frequency sound. Very comparable to the KEF LS50 (our first choice), the midrange is just as good.
The Monitor Audio Silver 100 are brilliant bookshelf speakers. The treble is as cool as a cucumber, and with the right sub, the bass is near perfect. If you are looking for a bright-type set of speakers, these are for you. In addition, these are great for acoustic jazz and we liked classic rock while listening as well.
Be prepared to have a good amount of space for the Silver 100s. They are very nice looking, don't get us wrong, but they are big, so plan accordingly. You may want to get sturdy stands for them.
We thought number five is a great spot for this pair. They are definitely audiophile speakers, but can also be great for music lovers that don't consider themselves audiophiles.
Pros
Terrific bass (large 8" woofer)
Easy stacking
Beautiful design
Deep soundstage
Cons
Bulky, heavy
Takes a while to break in (give them 40+ hours)
Type: Active
We had to put this pair in the top five because of how versatile they are. We're talking bluetooth wireless capabilities, active (powered), easily connect them to a computer, laptop, TV, phone and they are great speakers for turntables (if you have them).
The Sixes deliver legendary sound without a receiver, although you can get some extra power out of them with an amp or receiver. With that being said, this is the bookshelf speaker that you can finally get without the hassle of a receiver. The power that is behind these will blow you away.
Their sleek size are near perfect and are on the smaller end, so you can easily place them almost anywhere.
These speakers are great, but we recommend these for non-audiophiles.If you are just looking for a set of speakers to play music when you get home from work, these will sound amazing to you.
As for audiophiles, there's just not enough output capabilities to power them up, so go with a different choice. If you don't feel like buying an amp or receiver, go with The Sixes!
Pros
Great for easy, simple listening
Does not require a receiver
Amazing sound
Bluetooth wireless easy pairing
Beautiful design
Cons
Not really for audiophiles that want a component system
Some say they are over bright in sound
Type: Passive
This is a high-end audio manufacturer from France. Everything, and we mean everything is made in-house.
The recommended room size is 160 square feet and from a listening distance of 8 feet. As far as sound goes, you can expect a sweetness about them that is very inviting!
If you are looking for an all-around natural sound, the 906 by Focal is a perfect fit. The mids are out of this world and will seriously impress the most advanced audiophile. The one word that we wrote down in our notes that keeps popping back up, is "richness."
Probably our favorite looking speaker on this list, and to be honest, they can easily be chosen as #1. Focal is the real deal with arguably the best technology vs their competition.
Pros
Focal makes everything in-house
State of the art technology
Amazing sound, highly recommend for audiophiles as well as casual listeners
Fantastic mids, pleasant highs
Cons
If you don't pair properly, you may think they are inferior (you're wrong)
We like just about everything with these
Type: Passive
For years, speaker enthusiasts have labeled Klipsch's speakers to be a little too bright. Well, we can attest that the RP-600M are very well balanced and not overly bright.
If you are looking for a set of speakers that will deliver fantastic sound without breaking the bank, this should be your number one choice. They are super easy to stack with an amp or receiver.
The design is a classic Klipsch look with the copper woofers facing in. It's a sleek look and they aren't overly bulky. They would be able to match almost any room in the house.
Pros
Super efficient and easily connected to any decent amp or receiver
Extremely dynamic
Affordable
Great for home theater use
Well balanced
Cons
Bass can be muddy if you crank it up
For audiophiles, they may not live up to "power" standards
Type: Passive
Talk about good looking bookshelf speakers, KEF nailed the design with their fairly new Q350's. It's a very sleek and modern design.
Alright, enough about how they look, let's get to how they sound.
When we tested these out (along with over 200 others), we absolutely loved them. The two things that stood out the most was the smooth treble and a super clean, accurate bass.
If you don't want to spend LS50 money (our #1 recommendation), these are a great option. You will be able to get amazing sound for the price.
Type: Active
Hands down the best seller on Amazon. With over four thousand reviews and a price that anyone scrap together, the Edifier R1280T bookshelf speakers are great for a beginner studio.
You won't need a power amp or receiver, all you have to do is get them out of the box.
Looking for Super-Charged Sound?
Everyone wants to upgrade their sound for movie watching or music listening. At the end of the day, the right sound can really touch your heart in ways you cannot describe. The bookshelf speakers that we promote in our budget options are ones that are tried and true.
We like to make our lists short, sweet and to the point. After all, we did do a ton of research to bring it all together. With that said, our best sounding bookshelf speakers for the money will have everything you are looking for.
Here's three great options that will literally ROCK YOUR WORLD! These are our 3 favorites by far (as of right now). We are always trying out new brands and models to get that information back to you!
JBL Studio 530
An amazing bookshelf speaker at an affordable price. Read our full review to see all the features and why every audiophile would love to own a pair of the 530s.
Dynaudio Special 40
Oh, what lovely sound these babies produce – especially if you power them up with the right amp. Although you don't necessarily need an amp. Check out our review on them here. We go super in-depth.
KEF Q150
One of our favorite reviews we ever did was on the Q150 by KEF. Seriously, what an amazing speaker. Very clear, very bright and super natural. If that's your thing, then this is for you. Here's our review on them.
Category & Budget Friendly Breakdown
Take the time to find the category below that suites your budget. We have something for everyone!
After analyzing hundreds of speakers, our experts broke down our favorite ten bookshelf speakers under 300 dollars. We provide active and passive options for anyone looking for either one.
You can really find some hidden gems with a budget under five hundred dollars. There are some really good options in this price range and we are proud to have put together a list for you to shop around. Our sole intention is to save you time and money, while also finding an under $500 that fits what you are looking for.
You can find some of the best bookshelf speakers for the money under $1000. Sometimes spending a little more cash on higher quality speakers can make a huge difference in sound. There are plenty to choose from and we put it all together in an easy to read guide.
Choosing High Powered Bookshelf Speakers Advice
Here's the deal folks, there's a lot of "noise" out there on specific brands and models. The one thing you should always remember is that you need to get what will make you happy. There's literally no reason to keep chasing the loudest, most crisp and clear sound. With that being said, there are some things you should consider.
Finding a bookshelf speaker that will give you everything you need will depend heavily on the specs of the speaker. It will also depend on the specs of where you're putting them. For example, your bedroom, office, or living room.
One of the most important things you will want your speakers to have is updated technology. In order to produce clear, vibrant and crisp sound, a speaker will need high-tech and updated specs. This alone was one of our main focus points as we researched and analyzed over a hundred different bookshelf speakers. Finally, we organized the list up , and even broke it down by price (as you will see below).
Before Buying Guide
Before you buy anything, please understand the type of speaker you are purchasing. You should know if you need to buy an amp or receiver. The last thing you want to do is buy one, then realize you need to buy something extra that costs twice as much.
Read the reviews and the questions so you can feel great about your purchase. In our honest opinion, you can take our word for any speaker we recommend and you won't be disappointed because we try and test them out. However, we do recommend that you go to your local audio store and test them yourself.
Specs to Look For
Here are the main specs we used to put together our top ten list. It's not all about the specs, but for those who want to compare and contrast, you can't go wrong with our method of madness.
Impedance – this is measured in terms of ohms. Most speakers will have 6 or 8 ohms, and popular receivers and amplifiers are perfectly happy driving speakers with 6 or 8 ohms. It's when you start getting into the 4 ohms that you will need a serious power amp to get those babies going.
Sensitivity – this is how loud a speaker can play per watt. The lower the sensitivity, the more power it will require to get them to loud volumes.
FAQs
Do I need a power amp for my new bookshelf speaker?
We'd like to refer you to our types of speaker section of this article, so you have a clear understanding of what you are buying. With that being said, passive bookshelf speakers will require an amp or receiver to power it up. On the other hand, active (powered) bookshelf speakers will not require you to purchase an amp or receiver to play your music or sound.
What is the ideal room size?
If you are using bookshelf speakers for a large room, they better be for surround sound. Otherwise, the ideal room size is small to medium size rooms.
Where is the ideal placement of my speakers?
While their name suggests bookshelf, they don't have to be on a bookshelf. However, you should place them on a raised surface. There are specific stands you can get as well. The only thing we would advise against is up against the wall, as that can hinder the sound significantly.
Can I use these for my TV?
Most experienced audiophiles use bookshelf speakers for surround sound, and they work perfectly for that. They aren't really made to be the main source of sound. You would want to get tower speakers for that.
Can I use these as my computer speakers?
Although there are monitor speakers that are specifically made for computer speakers, you can still use bookshelf speakers as your new computer speakers. You'll need a lot of desk space though, as bookshelf speakers are much bigger than the speakers that come with your computer.
Final Thoughts
Well, we poured our guts out on this article for the top powered and passive bookshelf speakers out there. The goal is always to find the best available that works for you and your unique situation. By now you should be well aware of what to look for and you can check out our top picks! Good luck out there, and as always… ROCK ON!