Everyone always wants to know when they buy their first alto, does it come with a mouthpiece that can hit every note and produce the tone I'm looking for? The answer depends on what brand and model you buy.
With that being said, if you are serious about investing in a great alto saxophone and becoming the best player you can be, then you will want to check out these mouthpieces, providing you VERY even tone throughout the full range of your horn.
Our Featured Mouthpiece for All Skill Level and Genres
JodyJazz JET Alto Saxophone Mouthpiece Model 6 (.080 Tip)
Keeping play-ability in mind first, then making sure it can fit your budget is exactly why this piece is here. After analyzing hundreds of reviews (good and bad), this is the best choice by far. It's great for all skill levels (beginner through professional) and excellent for all genres, including jazz and classical. The Altissimo range sounds great with Model 6!
Below is our list of the top selling saxophone mouthpieces with keeping your budget in mind. We'll start the guide by showing you which piece is better for certain genres and skill levels (beginner to professional). The whole point to getting a better piece is to have more control and better overall tone, so you can take your skill to the next level.
The links will guide you for purchasing on Amazon.com, which is where most musicians buy many of their music gear (and of course everything else).
The prices on amazon are probably the cheapest and super competitive. In addition, if you have a Prime account, you can get these mouthpieces with free shipping and easy returns with no hassle.
Top 3 Jazz Mouthpieces for Alto Saxophone Players
For many saxophonists, they will be the first to tell you that they picked up this instrument strictly to play jazz music. It's a beautiful thing when you can mix and match tones fluidly to create beautiful music. Most professional saxophonists that play jazz gigs around the world will also tell you to invest in quality, proven equipment.
Whether you're about to join the jazz band in high school, or about to hit the road to play at your next gig, now is the time to find an elite alto sax mouthpiece for jazz!
Below, you will see the top three (3) jazz mouthpieces. It will help narrow down your search. If you use any one of these, it will improve your play. Again, this is hours of research and analyzing hundreds of reviews, so take advantage and enjoy!
D'Addario Select Jazz Alto Saxophone Mouthpiece, D6M
Vintage inspired and a true jazz style music mouthpiece for alto saxophone players. There is a HUGE difference between a regular mouthpiece and a jazz one. This is a known fact in the woodwind industry.
One of the elite brands, D'Addario did it again! They crushed it with this model as the Select Jazz line is milled from solid rod rubber using their high-tech computer-controlled creation technology.
If you know how good the Klums are, this Select Jazz sounds just as good and plays very even better. In addition this mouthpiece generates beautiful sound, it's super simple to control and the intonation is pitch-perfect. These reasons alone make this piece a great value and an excellent first choice for playing jazz music.
JodyJazz Super Jet Alto Saxophone Mouthpiece 7
Compared to the D'Addario, the JodyJazz Super Jet 7 is a much better and more powerful mouthpiece for jazz music, but will cost more money. If budget isn't an issue, we highly recommend the JodyJazz 7 strictly on the ability to hit any note with so much control that playing jazz has never been easier and more fun. Here it is in action (video below) with Jody Espina, a wonderful player.
Vandoren SM811M A5 Medium Chamber V16
This one is the least expensive of the three, but is still a wonderful choice (especially for jazz). The budget-friendly option that is under $150, can be a major upgrade from any mouthpiece that comes with the purchase of your new saxophone. Sometimes, it's just flat out smarter to invest in a better one that will help improve your tone and give you more control.
In fact, most players who are just getting serious about playing jazz will invest in the Vandoren SM811M A5 Chamber V16, and it will almost never disappoint because it will prove as a significant upgrade. There are over 50 reviews on this product and most are five-star ratings. Take a look at these recent customer reviews for the V16 mouthpiece below: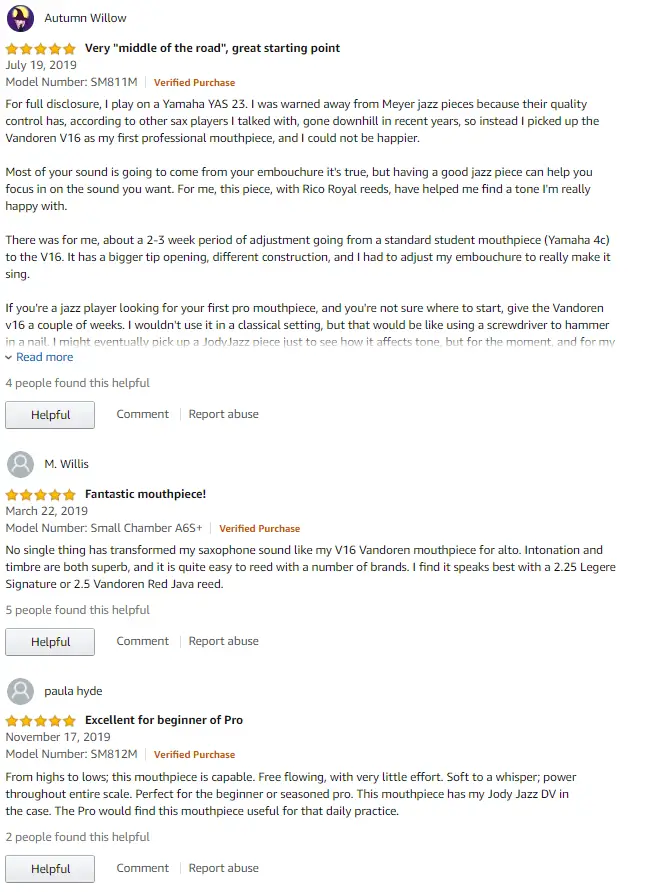 #1 Professional Mouthpiece
Most professional alto players are afraid to try metal mouthpieces because they are afraid it is too bright (too much power). The JodyJazz DV Alto is so free blowing and so smooth. One of the reasons it's so special is because it has all this horsepower, including brightness, power, yet fullness. And that fullness comes from the secondary window, which is patented.
The JodyJazz DV Alto is a very versatile all-around mouthpiece and the reasons we recommend this for professionals is because of the warmth, power, and clarity that you can generate with this special mouthpiece.
Pros
Unbelievable Altissimo

Secondary window, providing extra power and warmth

Proprietary CNC facing technology

Cleaner Articulation

Effortless Playing

Improved Intonation
Cons
It is Made of Metal (can be difficult to switch to)

May not fit your budget (Sells at $550)

Must make sure this fits your playing style and what you're used to. For example, Meyer 6 players, will usually play a DV Alto 7

Be prepared to use a harder reed than you normally do due to the free blowing nature of the DV alto.
[tcb-script type="text/javascript"]amzn_assoc_tracking_id = "musicaudiostar-20";amzn_assoc_ad_mode = "manual";amzn_assoc_ad_type = "smart";amzn_assoc_marketplace = "amazon";amzn_assoc_region = "US";amzn_assoc_design = "enhanced_links";amzn_assoc_asins = "B0017H776U";amzn_assoc_placement = "adunit";amzn_assoc_linkid = "a5d355f41b5af24fef4a32c4ef5ccebd";[/tcb-script][tcb-script src="//z-na.amazon-adsystem.com/widgets/onejs?MarketPlace=US"][/tcb-script]
Top Choices for Beginners
There are times in a saxophone player's life that shed light on their journey of reaching greatness, and that time is choosing the right one. We're all aware by now that the mouthpiece that comes with your instrument is just another average one. The thing is, musicians have a mentality to be great, and an average mouthpiece isn't the answer.
No more stressing out while playing with one that just won't hit the notes you're looking to play. It's time for an upgrade. Maybe it's your first purchase, and if that's the case, you should always start off with a piece that fits you best.
So, without further ado, here are the Top 3 choices for beginners. We list these in order of budget first! That means, the cheapest one is at #1. However, they are all excellent choices for beginners. They are also great for intermediate players, and some professionals use these mouthpieces as well.
An outstanding choice for beginners, as well as intermediate players. The Yamaha 4C has over 300 positive reviews mainly because of how much easier it allows you to play your alto. Hitting the right tone with the right power (as we all know) can be difficult without the right equipment. The 4C gives you every opportunity, especially if you are just starting out. Whether you are a student in high school or an adult ready to embark on a musical instrument journey, the Yahama 4C is affordable (under $30) and a perfect starting point.
#2
Bundle this with the right ligature and cap and you are looking at an exceptional value. The YAC AS4C fits any brand of standard alto saxophone and is easy to obtain a balanced, yet clear and focused tone in any octave. This one in particular is made for beginner players and will allow you to focus on practicing, instead of worrying. Easy blowing along with state of the art manufacturing makes this a wonderful beginner alto sax mouthpiece.
One of the biggest perks of purchasing a Meyer mouthpiece is that they all come with a ligature and mouthpiece cap. The MR-402-6MM has VERY clear response ranging from the lowest of notes all the way to altissimo. There are so many great players out there that rave bout the MR-402-6MM, mainly because it is very easy blowing and produces rich and full tone quality. The price makes it affordable (under $150), especially since you won't need to buy a separate ligature and cap. It's really a great overall choice for beginners. 
What Are the Top Brands You Should Know About?
Choosing a brand is like choosing which pair of brand shoes you like. It all depends on what your preferences are and how your body responds to the particular style. With that being said, we also believe that there are better brands out there for mouthpieces specifically. In addition, there are brands you should also avoid, especially if you are looking to play at an extremely high level.
Here's our quick list of top, reputable brands that you really can't go wrong with. Most of them are on our list.
JodyJazz

Vandoren

Ted Klum

D'Addario

Meyer

Yamaha

Selmer
Final Thoughts
We analyzed hundreds of reviews on our way to this list. Our enthusiasm has never been higher because we believe this is the best list out there. The entire goal was to break it down by skill level, budget and genre (mainly jazz).
Only you will know when the right time comes to upgrading your equipment. When you do make those choices, chances are your performance will also improve. That's the beauty of new technology in the musical instrument industry.
Finding the right mouthpiece isn't easy. The one thing that you don't want to do is waste a bunch of time searching around for one. At the end of the day, you're going to have to go out there and test some out to see which one you like the most. Every successful musician will tell you that once you do find the right one, you won't ever have to get another!