Finding the best alto saxophone without knowing the top brands can be a major challenge. This instrument has gained massive popularity in recent years mainly due to its smooth, but upbeat sound that provides energy and entertainment for listeners. For sax players, whether you're a beginner or an intermediate student, it's one of the most rewarding woodwind instruments to learn, master and perform.
The music from the alto saxophone players have lived in jazz clubs for years and carried over into today's popular music making the saxophone an instrument to be adored, respected and admired in all genres.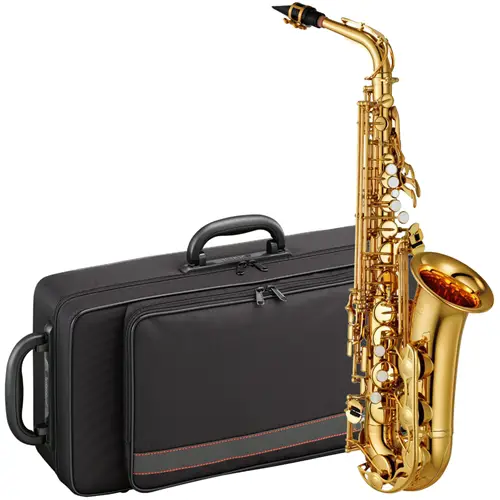 Featured Alto Saxophone
Yamaha YAS-280 – Experts in Sound
Produce pure saxophone sounds with amazing tonality. The look and feel of this alto sax is great for the high school student and adult beginner.
Find the Best Alto Saxophone from our Top 10 List
The alto sax is the best saxophone for beginners. First off, if you or your child wants to become a high performing talent in the jazz world, you will need to dig in deep with the best brands and specific models by going through hundreds (if not thousands) of reviews.
We've gone through all the research in buying our own alto sax. This took creating a list of questions we wanted answered and hundreds of reviews analyzed.
After years of being in the music industry and playing the alto since high school, here's my authentic review on which alto sax you should spend your hard earned money on. Listen, musical instruments aren't cheap (believe me… I get that)! With that being said though, you absolutely need to invest in a good piece.
We have a few "cheaper" options on this list, along with some of the top brands that are outstanding (if you have the budget for it). So, take a look around, read my reviews and good luck shopping. You can't go wrong with any of these choices.
The amazing, most beautifully sounding woodwind instrument Yamaha YAS-280 student saxophone. It is mainly for beginning players. However, it is on the pricier side. Students looking for the smooth, rich sound that the Yamaha brand provides, can easily put their hands on this bad boy and produce some serious beautifully sounding notes.
This particular also saxophone is built with high quality materials and is designed to last under the musical player is ready to upgrade to a professional level sax. If you decide to start off with the Yamaha YAS-280, then the "intermediate saxophone" is unnecessary. In addition, this model is perfect for players that plan on performing in the high school band or playing small gigs.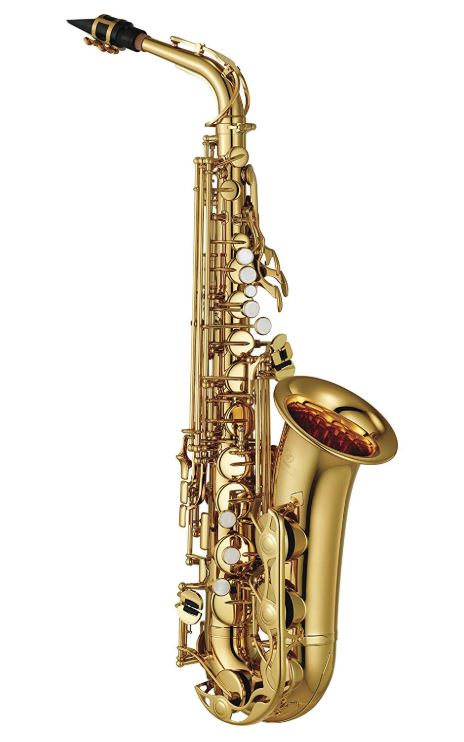 Pros & Cons
Provides an excellent action for relieving pressure against the student's fingers and hands.
Made of high quality material and will outlast the normal wear and tear any instrument gets.
This sax has a sound that is similar to a professional saxophone that can run you 5 times more in price, so you're getting a real good bargain.
Easy to find the necessary accessories for this sax, and are affordable.
Depending on where you purchase this specific sax, it will come with a neck strap and a cleaning kit.
Shows a shiny, smooth and clean look so you can look your very best on stage.
Not for professional players.
Tabs can be a little different for some players with saxes that may not be tested properly.
This particular Yahama, the YAS-280, is one of the best beginner alto saxophones on today's current, yet competitive market. There's a reason why you are looking to play this beautiful instrument, and this one will give you the sound that drew you here. You will not be disappointed if you decide to go with the YAS-280.
A perfect mid-level alto saxophone option for the serious student – the Jean Paul AS-400! This sax does cost more than a budget-friendly saxophone, so the player should show discipline and a seriousness about sticking with learning this fine instrument. The last thing you want to do is waste your time and money on something that's only going to be pulled out of the case just a few times.
Looking to play a little smooth jazz and blues like a professional saxophone player? This Jean Paul AS-400 alto sax is extremely popular and is a favorite choice to play those genres because this particular model is built for jazz and blues.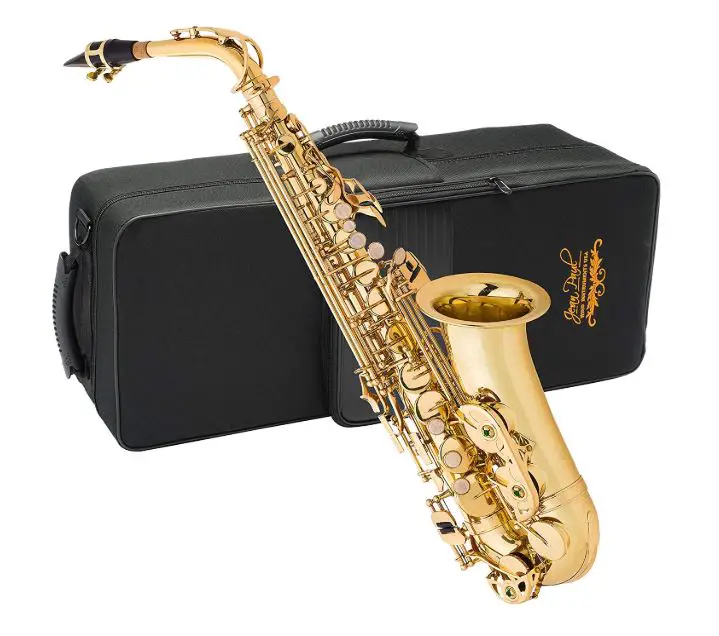 Pros & Cons
Choose between 2 finishes: Standard brass with lacquer, and a silver lacquer finish. Either choice will give you a clean and professional look.
Yes this is one of those saxophones that are more expensive, but the sound and tone are astonishing with this model, and well worth the price.
Simple tuning: this sax is easy to tune and stays in tune while you play or practice with the band or on your own.
Smooth Action: The Jean Paul AS-400 provides comfort and relief for your hands, so you can play for hours at a time.
Easy to access accessories – comes with a list of pieces you need to play the instrument.
Comes with (includes) a reed, neck strap, mouthpiece, carrying case, cleaning kit, cork grease, swabs and gloves.
Genius key placements by Jean Paul AS-400 and will allow the musician to handle as many notes as they can in a short amount of time.
If you're looking for a beginner or intermediate saxophone, this is a great choice for any player in any genre. It's a great instrument to purchase if you're on a strict budget, but also looking to spend a little more for a top-notch product. Jean Paul has been around for a long time, and they strive on creating high-quality saxophones that can look, feel and play like professional level instruments.
The customer service has been outstanding for years. Sometimes our instruments take a back seat on us and need replacement parts for repairs. This company will work hard and fast to make sure your instrument will be ready to play again for your next lesson, if anything happens to it.
Picking up and learning any instrument requires focus, determination and persistence. If you are wanting to learn the sax, and you're on a budget, then the Mendini by Cecilio MAS-L is literally one of the greatest choices you'll ever make. It's an outstanding woodwind instrument to start the learning process with, and it's a great budget-friendly option.
Without question, it has everything an alto saxophone for beginners should have at an affordable price. Do you want even better news? Okay, you twisted my arm enough, I'll spill the beans.
It's sold as a kit! This means the new and exciting user can get all the accessories needed in order to play this instrument literally right out of the box!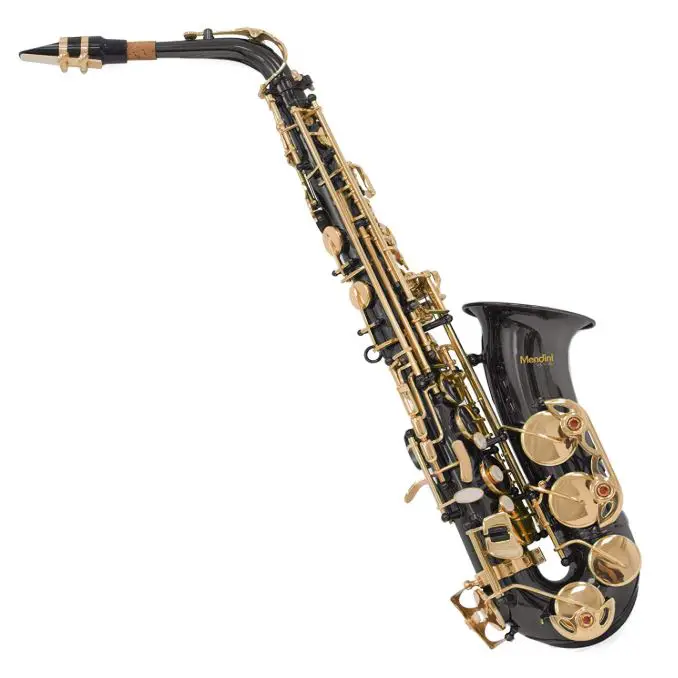 Pros & Cons
This sax has really good sound quality.
Easy Tuning: Can and will stay tuned for a significant amount of time.
High quality materials have been invested in this instrument that will help make it last a long time.
Tons of beginners looking at this specific model, so you won't have any issues re-selling it, once you upgrade to a better model of course.
Includes a mouthpiece, neck strap, a tuner, reeds, gloves, and a cleaning kid. In addition, it comes with a hard case so you can lug it around to practice and lessons.
Outstanding price (probably the biggest PRO) especially with everything that comes with this sax. It's also one of the best sellers on pretty much every musical instrument website among beginner saxophones.
The inlays are a kind of a knock off, which we should all expect with this price, but still a negative attribute and one we should notice.
Even though the sax is equipped with a tone booster, the sound is not as sharp as some musicians would like, but as a beginner sax, it will do the job at a fine rate.
Not as good of materials as you would see in a more expensive saxophone.
We said it once and we'll say it again, if you're a beginner and looking to take up playing the saxophone, this sax is a perfect fit. It's very budget-friendly and you can create awesome music that even your band teacher would be impressed with.
It's really an easy decision, especially if you have high aspirations to move on to the next level (professional) saxophone. Save your money for now, invest in this one, practice like a mad man and you'll soon graduate on to the next best sax.
Moving on to the next level playing this instrument is a rewarding experience to say the least. The Yamaha YAS-480 is an intermediate alto saxophone that fits the mold of a high school or college student who is performing in a concert band, jazz band, or symphony.
The design of this model derives from inspiration by the high-end Yamaha saxophones and features accurate intonation with quick kick back. The reason why this is an intermediate sax and not a beginners one, is the fact that it carries a more mature sound. Musicians can choose from using the Custom Z or Custom EX Yamaha necks. This model boasts the 62-style professional style neck, which is one of the main reasons for such a mature tone.
Pros & Cons
Super high and accurate intonation.
Super quick response.
Very cool design and feel.
62-style neck included.
Separate key guards complimented with screw cap stoppers that are adjustable.
Left hand seesaw key helps increase comfort to play for hours.
Improved low B-C# mechanism that was derived from previously made models.
Lightweight and easy to carry case. It's soft and padded, which is better than a hard shell.
Higher priced model, especially for students who are still in school.
Ready to Upgrade Your Student Model?
This is a fantastic choice for the next grade up. Upgrading is fun because you accomplished the beginner stage. You can have even more fun playing the Yamaha YAS-480 alto saxophone and carry it around even when you become a professional musician. There is no question this is an excellent choice for the intermediate student.
With that said, please don't get scared away by the price. There is a reason why these instruments are priced the way they are. This particular saxophone can and will last you a lifetime, especially if you take care of it the right way. In conclusion, buying a Yamaha saxophone will grant you one of their warranties. It's a win-win.
Musical instruments can be affordable as well as being dependable, if you know what you're looking for. Credible musicians world wide tag this model as arguably the best cheap alto saxophone on the current market, The Kaizer ASAX-1000LQ is also the best options under $500.
If you are a beginner, spending thousands of dollars on a new sax shouldn't be considered a viable option. However, these budget-friendly saxophones are perfect for exploring the world of creating beautiful sounds from a musical instrument.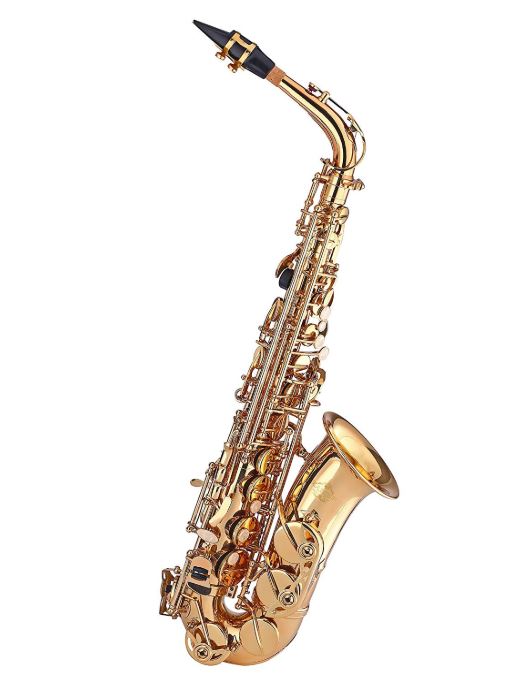 Pros & Cons
This sax is sold with and includes accessories that help you begin playing the instrument on the right foot.
The saxophone comes with a case that is molded to the product. This makes it easy to store and carry it around.
Includes a mouthpiece, a cleaning kit, and gloves to help maintain its quality (Take care of your instruments kids).
Refund guarantee for 45 days.
Lifetime warranty, and it stays with the product, no matter if you bought it used or new.
Made with solid brass, which helps create a better quality sound from a budget sax.
Fast action, great response and pro pads. This gives the product intonation control.
Designed for band players / musicians.
Researching the reviews, some users have expressed air leaks, which diminishes the sound.
The metal of the sax can be a little too soft. This can result in a lower sound quality.
Who is this Saxophone for?
This sax is for students that are just starting in band. For parents, if your child isn't quite sure if this is an instrument they will stick with for the long run, this model is for you as well. Purchasing a budget alto sax is a smart decision for students that want to explore its potential.
For the adult that wants to pick up a new musical instrument, this is a great option. If you find out you're a natural and want to keep pursuing your new hobby, there's always room to upgrade to the next higher model.
Prelude by Conn-Selmer AS711 is a student model and is arguably the perfect alto saxophone for beginner players. It is known for and built to be durable and easy to play. It features a gold / yellow brass finish with high F# table keys and articulated C#.
This affordable option for students is mainly for an entry-level, soon-to-be alto saxophone player. In addition, the AS711 is lightweight and only weighs 3 pounds, making it relatively simple to carry around from your home to practice lessons.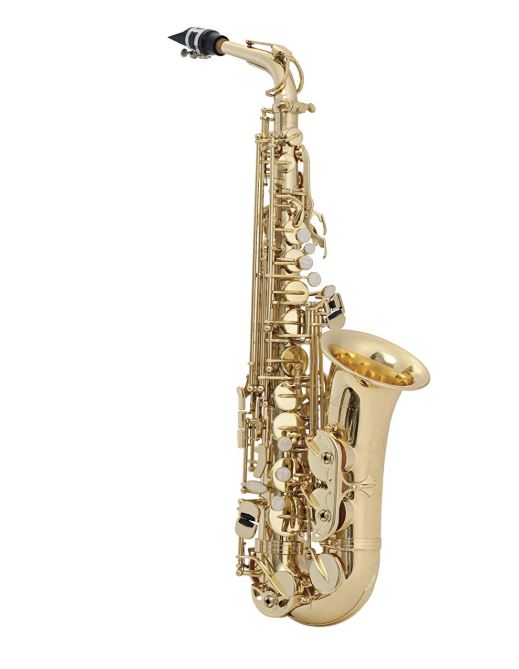 Pros & Cons
Comfortable hand positioning and key fingering.
Budget-friendly choice for students and beginner alto saxophone players.
Includes case, mouthpiece, cap and ligature.
Built to be durable and easy to play.
Conn-Selmer has amazing brand recognition amongst musicians.
Not many cons. May have to purchase an upgraded mouthpiece, since the piece that comes with the horn is a bit basic.
Outstanding brand, great affordable price, super high-quality horn in the Conn-Selmer AS711 Prelude Student level alto saxophone. You cannot go wrong with this choice as there are far too many 4 and 5 star reviews out there on this specific brand and model. Go for it!
One of the most prolific, stylish, super cool looking alto saxophone is the Selmer SAS280 La Voix II. This model is all jazzed up with looks, durability and most importantly (drum roll please), sound quality!
Considered an intermediate saxophone, it has an unconventional look that would attract anyone who wants to be a little different out there in the competitive world of musical chairs.
The main features of this Selmer sax include fluid keywork with perfect intonation and a traditional sized bell. Looking for a sharp, focused tone blended with beautiful sound? Well, you're in for a real treat with the SAS280 La Voix II horn.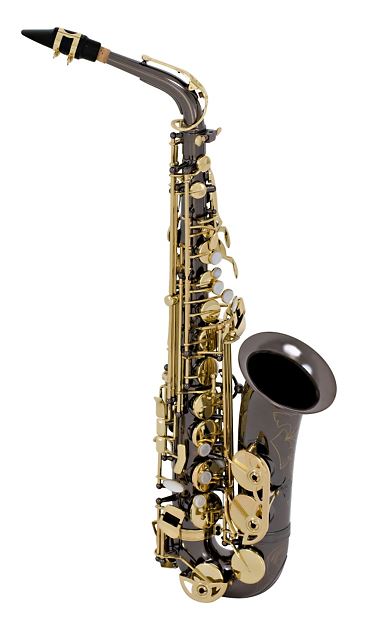 Pros & Cons
Like we said before, perfect intonation.
Ability to generate amazing key fluidity.
Leather case included (backpack style).
Intermediate key styling for accurate fingering
Includes mouthpiece, cap and ligature.
Not many, the one thing we know of is the tone can get out of whack at times, but can be controlled by an experienced alto saxophone player.
Selmer is a phenomenal brand that is known for high-quality musical instruments. The Selmer SAS280 La Voix II is such a good model to begin the next phase of your playing career. It is a much more professional sounding horn and can really improve the play for the intermediate student. It's hard to find a great sax like this one. They often go out of stock, so act quickly and believe us, you will be making an excellent choice.
There comes a time in a young players career to make a decision on making the next step in their music career. To become great at anything, you need the best technology, teachers and talent. The Jupiter JAS1100SG provides the opportunity of a lifetime for aspiring intermediate alto saxophone players that want to reach the next level and play beautiful tones that can ultimately make you a lot of money.
A silver plated Sona-Pure neck that's made with artisan tooling, the JAS 1100SG will literally knock your socks off after you fool around with it for an hour or two. It's a beautiful, sleek and professional look that is just waiting for a great player to take it over and produce lovely sounds.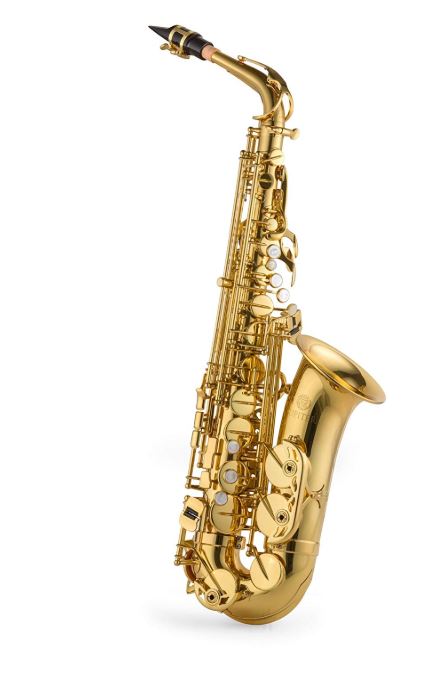 Pros & Cons
Outstanding playability.
Rocker Arm for comfort and added agility.
Great for jazz players.
Beautiful look, feel and sounds.
Extremely comfortable fingering.
High F#, front F, tilting G#-Bb table keys.
Upper and lower stack adjustable.
Includes artists series wood framed case.
The price. This baby cost more than $2,000 (believe us, it's ABSOLUTELY worth it), but can make this an unrealistic option for some alto saxophone students / players.
The Jupiter brand is the real deal. They have been creating musical instruments since the early 1930's and one of the most trusted brands in music. They specialize in woodwind and brass instruments and focus on making them easier to play.
What they do best is create instruments that have the capability of producing professional sounds and allow the user to create awesome jazz-sounding music. It's perfect for advanced students or semi-professional adult players.
For the beginner students who love playing this instrument, the Yamaha YAS-26 alto saxophone is a sound choice. This specific model isn't necessarily a cheap alto saxophone. However, it would be a really good investment for your future, and we'll get into the pros and cons here shortly so you can see exactly what we're talking about.
What makes the YAS-26 so great for an entry-level saxophone player, is that it can produce some surprisingly accurate and responsive tones. It's a great starter alto sax for beginners and relatively easy to play, due to the manufacturing of the instrument. In addition, the Yamaha YAS-26 is lightweight and has a newly designed neck receiver.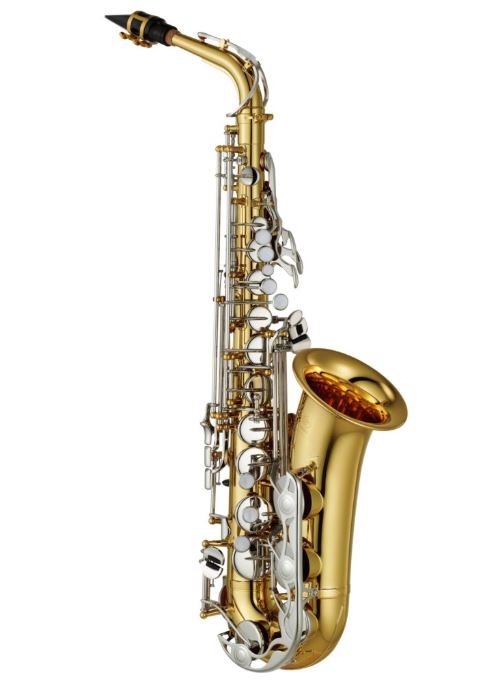 Pros & Cons
Improved B-C# connection
Amazing adjustable thumb rest to help players play longer.
Newly designed neck receiver.
Amazing durability.
Lightweight, easy to handle.
Included in your purchase is a strap, neck, mouthpiece and case.
If you're an advanced player, you may need a better mouthpiece to get the tones you're looking for.
This model, the YAS-26, is great for beginner students. It is also a minor step above cheap alto saxophones that costs only a few hundred dollars.
Yamaha is obviously a great musical instrument brand and manufacturer. If you choose the YAS-26, you're going to spend a little more money than another entry-level sax. However, you will reap the benefits and it will last a little longer than the cheaper models because this model can be considered an intermediate saxophone. Make sure you don't overlook that.
You will not be disappointed with this model if you decide to buy it. Yamaha is reputable and reliable and the brand itself makes this alto saxophone the best bang for your buck, especially if you decide on playing for the long haul.
We wanted to make our last review one that holds value at almost every important attribute you should be looking at. The Etude EAS-100 student saxophone is, you guessed it, very specifically designed for students who want to learn, improve and master. The EAS-100 comes with everything a player needs to get started playing. It includes a case, mouthpiece, ligature and products to take care of the horn.
Generally, you can find one of these value-packed saxophones brand new for only a few hundred bucks. First of all, it can be one of the most affordable instruments to take up. Second, is also sets you up perfectly to play it right out of the case because it's equipped with everything you need to get playing. Take a look at the Pros and Cons to see for yourself why this model is value-driven!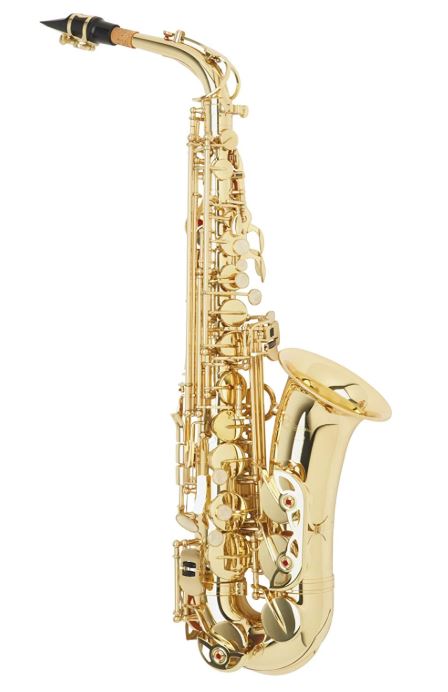 Pros & Cons
Outstanding tone.
Durable.
Lightweight.
Really nice looking with a brightly colored lacquer finish.
Includes reeds, case, neck strap, mouthpiece and cleaning materials.
Some customers complain about the neck strap being too short.
You may need to upgrade to better reeds.
May need to upgrade to a better mouthpiece.
We truly believe that this student alto sax has the best overall value, especially for students who are just getting started with an instrument for the first time. It's less than and under $500, which is hard to find in a high quality horn. You can be sure you are making a great investment with the Etude EAS-100.
Buying Guide & FAQs
An alto saxophone, also known as the alto sax, is a member of the woodwind instrument. It is pitched in E flat and is smaller than the tenor saxophone, but larger than the soprano saxophone. In addition, the alto is the most common saxophone to play.
The notes are the same and so are the fingering positions on each type of saxophone, which is awesome because you won't have to worry about learning new keys or notes. The only difference between them are the size and sounds.
For example, if you play C on the Alto, it will sound different than playing C on the Tenor. However, the C is in the same spot on both instruments.
Why is the Alto Saxophone the Best Type for Student Beginners?
The main reason why the alto saxophone is the best type of saxophone for beginners is because of their popularity. Notable players such as Kenny G, Dave Sanborn and Joshua Redman have inspired many young players to choose their alto.
Today, there are multiple sax players that play new pop music and can be easily recognized. Unlike the old days where you needed to listen to jazz music just to get an idea of what the saxophone would sound like.
If you're a high school or junior high school student, and are thinking of joining the conert, jazz or marching band, your school will most likely start you off with the alto, instead of the tenor and soprano. Again, it's the most popular and common of all the saxophones.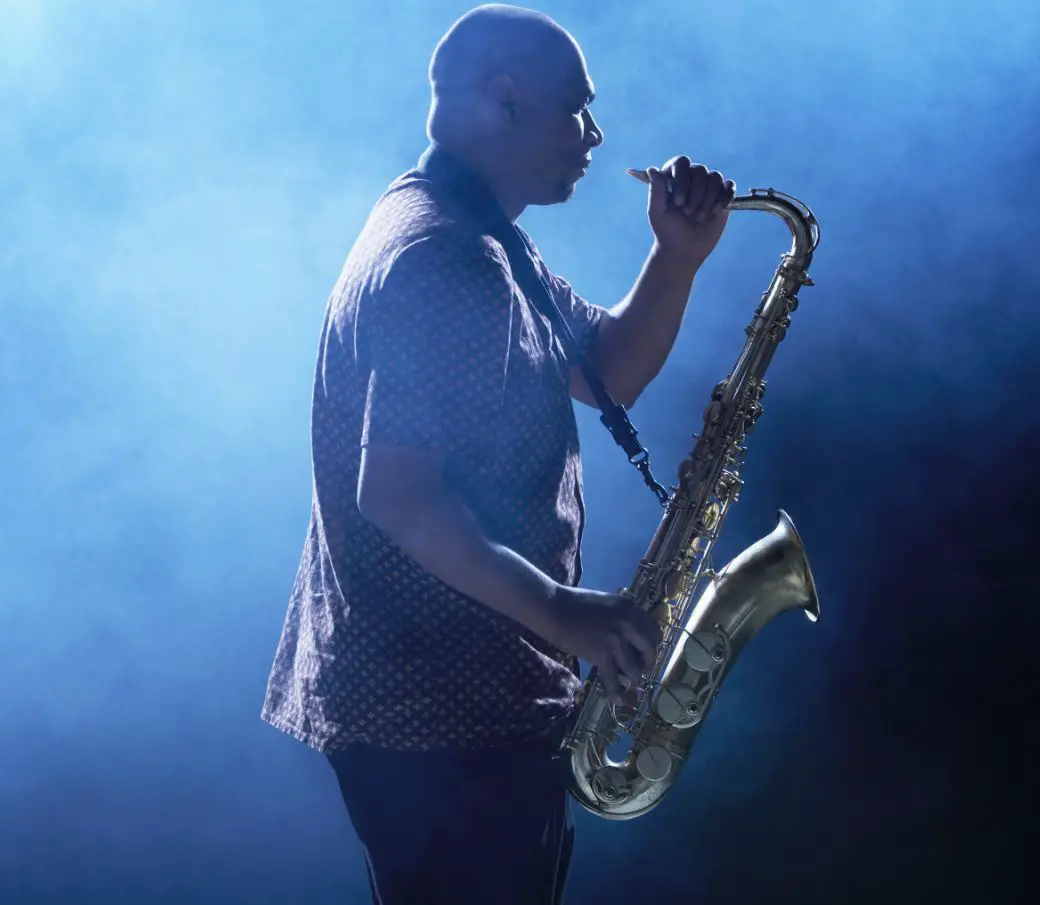 How Much Should You Spend on Your First Alto Saxophone?
The amount of money you should spend on your first alto saxophone depends on your budget, level of commitment and your persistence.
If you're looking at new alto saxophone that are made for students (student models), they can easily average around $300. Some of these options are great cheap saxophones for kids who are just testing the instrument out, or maybe making a one year commitment. If you or your child doesn't really know if they are going to continue to play alto saxophone, or music at all, then cheaper models are great.
As an adult deciding if you want to play a musical instrument, it's usually legitimate. In this case, you should invest in a very nice (high quality sound and durability) alto saxophone. This way they can practice, learn and continue to grow with a sound instrument.
Maybe you're good enough and are fortunate enough to purchase a professional alto saxophone. However, they can run up to thousands of dollars, which is why we suggest you keep it under $1,000 when thinking about buying your very first alto saxophone.
What are the Best Brands?
When looking at the best alto saxophone brands, there are five very popular brands that the music world respects. Every one of these brands manufactures professional quality alto saxophones and ensures their players will be well equipped when performing.
Here are the best saxophone brands for beginners:
One of the most popular brands for young beginners, the Yamaha brand produces fantastic options for kids and students who are starting off and finding an interest in the instrument. Perhaps they are in the band at school or starting a jazz club up at home. Regardless, Yamaha is the top brand.
The music shops will be heavily equipped with the Yamaha brands and rightfully so. After all, they have been producing super high quality student instruments at outstanding prices.
2. Conn-Selmer
These used to be two separate brands, but they have come together as a merger, and have positively impacted jazz music. Many legends of the past encourage youngsters to go with the Conn-Selmer brand as it has brought them to the place they are today in professional music.
The Conn-Selmer company produces amazing quality saxophones are are known for their tone and sound. In addition, they are hand made, making them very unique.
3. Mendini by Cecilio
Best for a saxophone on a budget or those who are looking for a cheap alto saxophone, the Mendini by Cecilio brand can be a great option for you. You can buy these alto saxophones on Amazon, which is great for all of us.
4. Yanagisawa
This company produces some of the finest woodwind instruments after being known as brasswind company for years. Yanagisawa has been producing some of the highest quality saxophones in today's music world.
The sound quality you will get when playing a Yanagisawa sax is pure gold. It's a trustworthy brand and getting one of these can help any player out.
5. Jupiter
Rising to the top of the musical instrument producing companies, Jupiter has really stepped up their game. High schools and junior high students have raved about these instruments, especially the alto sax.
Category / Accessories Breakdown
A quality case is so important so you can keep your alto in great shape for a long time. Find something that is compact and easy to carry around from you car to band practice. We prefer and recommend a soft case (like this one), rather than a hard case.
There are major differences in alto sax ligatures. At the end of the day they must do two things: First, they must hold the reed to the mouthpiece. Second, they must give you good vibration for playing. We discuss all the extra bonuses that a great ligature can provide. In addition, we answer some really insightful questions.
Finding the right mouthpiece for your alto saxophone is key to playing better notes, tones, and altissimo. We break down all the top mouthpieces for professionals, beginners and jazz players.
Conclusion
This has been a lot of fun, and we hope you enjoyed it as well. Moreover, we hope you find the perfect alto saxophone that fits your personality and musical preferences. Whether you're a young student beginner sax player, or a savvy veteran ready to get to the next level, there's a best alto saxophone for all of us.